How Tim Allen Came To Roseanne Barr's Defense After She Got Canceled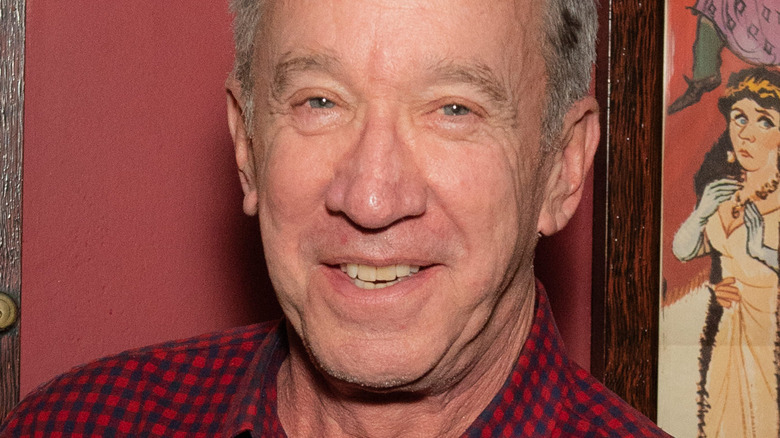 Elyse Jankowski/Getty Images
Tim Allen's political views have long divided fans. The legendary comedian has been open about his Republican leanings, even praising President Donald Trump for being polarizing. In 2021, he told Marc Maron, "Once I realized the last president pissed people off, I kind of liked that." So, when fellow conservative comic Roseanne Barr was canceled by ABC due to a controversial tweet, it's no surprise she had swift support from Allen. As you'll likely recall, Barr was yanked off the air and essentially lost her career in a matter of minutes when she tweeted about politician Valerie Jarrett's looks. "Muslim brotherhood & planet of the apes had a baby=vj," she shot off, according to The New York Times.
There's always been a long list of folks who couldn't really stand Barr and as she turned on her co-stars and went on rants against ABC, that list only grew. Soon enough, it became clear that a big comeback would not be happening. Then, Fox News gave her a chance. In February 2023, Fox Nation began streaming "Roseanne Barr: Cancel This!" an hour-long stand-up special in which the disgraced comedian got to share her side of the story. It's unclear whether the show will have a lasting impact on her career, but many on the right (including Allen) will likely agree with her proclamation: "We can't let them kill comedy."
Tim Allen thinks Roseanne Barr was wrongly canceled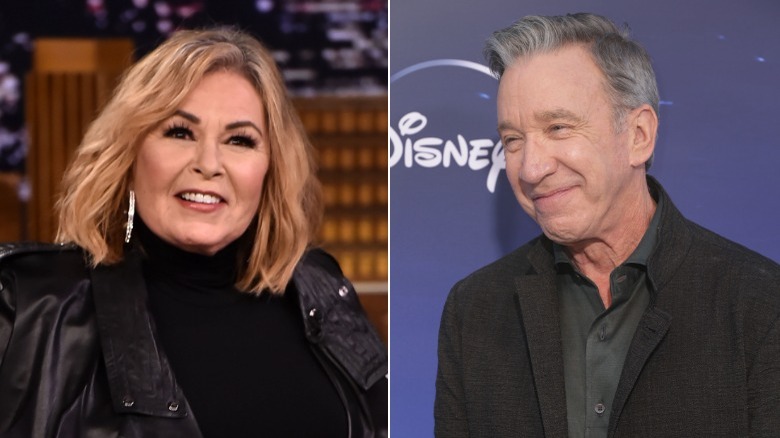 Theo Wargo/Getty Images, Momodu Mansaray/Getty Images/Getty Images
When Roseanne Barr and her namesake show were first canceled back in 2018, Tim Allen was asked about the drama during the 2018 Television Critics Association Summer Press Tour. Speaking with several outlets, including Page Six, Allen proclaimed, "She was the most diverse and tolerant woman I've ever known for a long time, so whatever got in her head isn't the Roseanne I know." 
The "Home Improvement" star went on to criticize cancel culture in general, noting, "As a stand-up comic, it's a very dangerous position for me to be in because I like pushing buttons and we're all very sensitive." And while he said he would respect ABC's decision, he was adamant that it was the wrong one. "I know Barr, and she's just not that person," he told reporters.
Allen wasn't the only one to publicly support Barr. In the days following her cancellation, she was backed up by tweets from fellow Republicans, like Ted Nugent, Anthony Scaramucci, and Tomi Lahren. As for Barr herself, she blamed her medication. In a since-deleted tweet, saved by Time, the comedian argued, "Not giving excuses for what I did (tweeted) but I've done weird stuff while on ambien." Sanofi, the maker of Ambien, clapped back, tweeting, "While all pharmaceutical treatments have side effects, racism is not a known side effect of any Sanofi medication."
Tim Allen needs his own support right now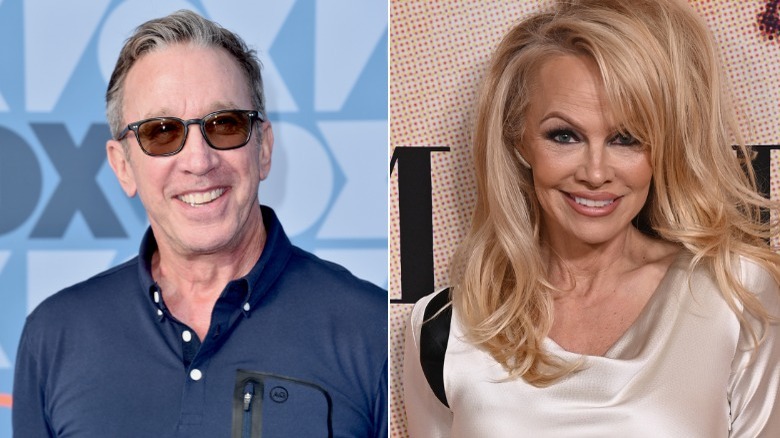 Alberto E. Rodriguez, Roy Rochlin/Getty Images
Tim Allen's own comments and actions have often been questioned and, in 2023, he needed his own dose of support as former co-star Pamela Anderson accused him of flashing her on the 1991 set of "Home Improvement." Allen quickly responded to the claims, telling Variety, "No, it never happened. I would never do such a thing," but Anderson stood by her bombshell allegations.
The exchange brought to light a number of previous instances in which Allen stirred up serious controversy. Like in 2021, when he told Jimmy Kimmel he had attended President Trump's inauguration and compared Hollywood to Nazi Germany. "You gotta be real careful around here," he said. "You get beat up if you don't believe what everybody else believes — this is like '30s Germany." Then, in 2017, when "Last Man Standing" was canceled despite its good ratings, he told "Norm Macdonald Live" that it was all about politics, according to The Hollywood Reporter. "There is nothing more dangerous, especially in this climate, than a funny, likable conservative character," he argued. Many fans believed him and even started a petition to boycott ABC unless they kept the show. Jump to 2021 and politics were again blamed for Allen not being cast to voice Buzz Lightyear in "Lightyear," despite being the "Toy Story" OG. Allen received his own support from famous pals, like Patricia Heaton, who tweeted, "Disney/Pixar made a HUGE mistake in not casting my pal Tim Allen in the role that he originated, the role that he owns."