What's The Age Difference Between Dick Van Dyke And His Wife Arlene Silver?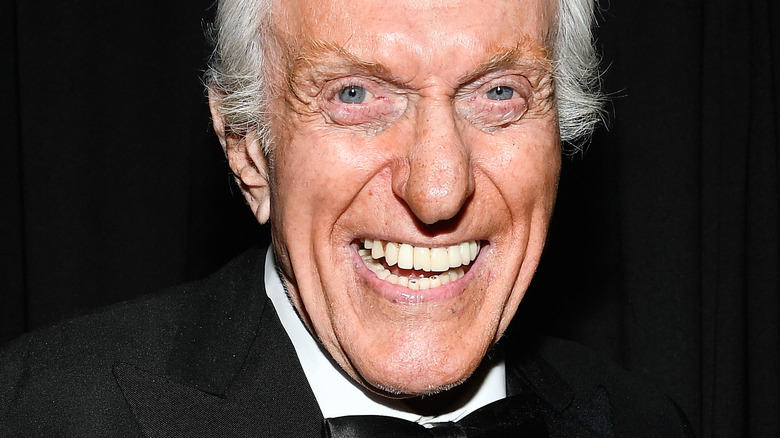 Frazer Harrison/bafta La/Getty Images
Dick Van Dyke and his wife, Arlene Silver, share a lasting romance. Before these two got together, Van Dyke was previously married to Margie Willett. In 1974, Van Dyke spoke about tying the knot with Willet, whom he knew from his school days, on "The Dick Cavett Show." "I really married my high school sweetheart," Van Dyke said. He then discussed how he and Willet got married on a radio show called "Bride and Groom." "I was a starving nightclub actor at the time," the "Mary Poppins" star said, before adding, "They gave you furniture, the ring, they paid for the license, and they sent you away on a week's honeymoon, all free. That's the only way I could get married. I had no money at all."
In his 2011 memoir, "My Lucky Life In and Out of Show Business," Van Dyke reflected on having an affair with a secretary of his talent agent, which led to his divorce, according to the Daily Mail. Since then, he has found love again with Silver, a makeup artist. The pair first encountered each other at a Screen Actors Guild Awards celebration, according to HuffPost. After this, Van Dyke invited Silver to do the makeup on the set of some of his acting projects. Though there's a large age difference between them, a romance soon sparked between Van Dyke and Silver.
There's a 46-year age difference between Dick Van Dyke and Arlene Silver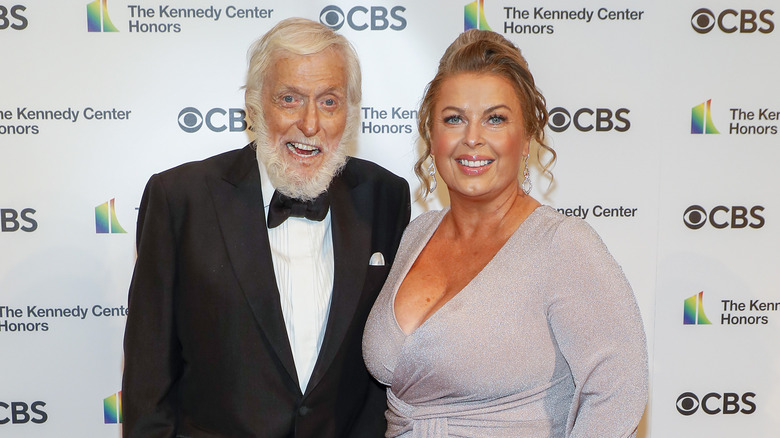 Paul Morigi/Getty Images
To Dick Van Dyke and Arlene Silver, age is just a number. The love birds, who officially got hitched back in 2012, share an age gap of 46 years. In a 2013 "Access Hollywood" interview, Silver described how she initially thought a relationship with Van Dyke would "never work." However, after they got past the age difference, it turned out better than she could have ever imagined. "It works so well, it's frightening that it's just easy," Silver said before adding, "Once we gave up the whole ... the age thing, it just worked so well."
In addition, Silver revealed to HuffPost in 2013 that the instant companionship between herself and Van Dyke paved the way for their romance. " ... We got along immediately as friends, so it didn't feel like he was so much older than me," Silver said. In his 2022 interview with Closer Weekly, Van Dyke stated that he and his wife possess a similar energy and enjoy the same hobbies. "We share an attitude," Van Dyke said. "[Silver] can go with the flow. She loves to sing and dance, which we do almost every day. She's just delightful." Throughout more than a decade of marriage, the couple has continued to build a blissful union.
Dick Van Dyke and Arlene Silver have a marriage filled with 'positivity and joy'
Dick Van Dyke and Arlene Silver keep each other young. As of early 2023, Silver is 51, while Van Dyke is 97. Van Dyke was asked by Yahoo Entertainment what his tricks are for remaining youthful in February 2023. The legendary actor credited having good genes, hitting the gym three days a week, and receiving encouragement from his wife as the reasons he's remained healthy and vital. "Having a beautiful young wife half my age to take care of me — that works! My positive attitude, I get that from my wife," Van Dyke said. 
The spouses also enjoy collaborating for creative projects. In February 2022, Van Dyke and Silver performed in a music video for "Everybody Loves a Lover," which was sung by Silver and the Vantastix, and featured Van Dyke and Tony Guerrero. They also sang "Young at Heart" at Capitol Records back in 2018. Furthermore, the duo took the stage at the Malibu Civic Theater and danced during a 2014 show for the Melanie Kareem Middle Eastern Dance School. In 2019, to honor of their seven-year wedding anniversary, Silver posted a throwback photo of herself and Van Dyke cutting their wedding cake (above) and wrote a sweet message. She described the marriage as "a life together filled with laughter, music, dancing, kindness, positivity and joy," and then said to Van Dyke, "I love you so dang much, it hurts."