Hoda Kotb's Kids: Meet Her 2 Adopted Daughters With Ex Joel Schiffman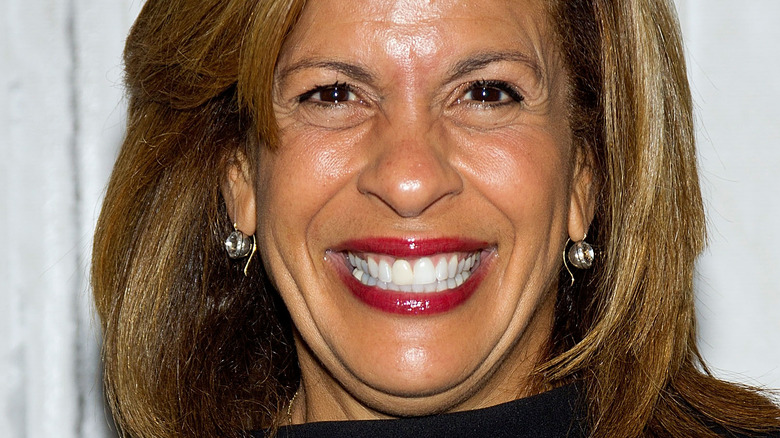 SD Mack/Shutterstock
Hoda Kotb is a beloved figure on "Today," and she has a huge fanbase that loves hearing about her life. In 2019, Kotb's longtime boyfriend, Joel Schiffman, popped the question, and Kotb happily shared details of the proposal with People. "Joel got down on his knee and he looked up at me and we were both crying," she told the outlet. "He had tears coming down and he could barely get it out. He said, 'Will you be my wife?'"
But only a short time later, the two called it quits. Kotb shared the news with viewers on "Today" in 2022, revealing that she and Schiffman broke up after nine years. "Joel and I have had a lot of prayerful and meaningful conversations over the holidays, and we decided that we're better as friends and parents than we are as an engaged couple, so we decided we are going to start this new year ... on our new path as loving parents to our adorable, delightful children, and as friends," she said. 
Even though things didn't last between Kotb and Schiffman, that doesn't mean they aren't working together to co-parent their two children. "We have a really great working relationship when it comes to holidays," she told Us Weekly in 2022. "We speak a lot, and we make sure that we divvy it up so that it is great for him and great for us." So, who are the two kiddos that Kotb and Schiffman co-parent? 
Hoda Kotb's eldest daughter, Haley Joy, is a kind soul
When it comes to cool moms, Hoda Kotb ranks up there with the best of them. The mother of two regularly gushes over her two adopted daughters on social media, in interviews, on television, and pretty much whenever she gets the chance. It's easy to see her kiddos hold a soft spot in her heart. The TV host adopted her eldest daughter Haley Joy in 2017, and she introduced the adorable baby to the world on "Today." Clearly, there was not a dry eye in the house as Kotb surprised her co-stars with the news live on air. During the introduction, Kotb called Haley the "love of my life."
Haley seems to be a kindhearted kid, and on an episode of "Today," Kotb shared her daughter's thoughtful act after she saved up her allowance. Instead of buying something for herself, she used the money to purchase an ice cream cone for a man named Mo — who runs a restaurant in their neighborhood. How cute is that? In February 2023, Kotb shared a sweet photo of Haley's artistic skills in a colorful drawing for Valentine's Day. Again — Haley is a sweetheart. 
The television personality also celebrated Haley's third birthday in 2020 with a super touching tribute on social media. "I believe in miracles. My first one happened three years ago. My only request... is for you Father Time ... pls slow down," she captioned a post with a carousel of images.
Hoda Kotb's daughter Hope Catherine is just like her sister
After Hoda Kotb adopted Haley Joy, she later welcomed a second child, Hope Catherine, in 2019. And, Hope is every bit as adorable as her big sister. Following in the same suit as she did with Haley Joy, Kotb introduced Hope to her co-stars and fans on an episode of "Today" as she expressed how happy she was to be a mother of two. "Hope is sleeping soundly...and i am reading all of your beautiful messages. I am overwhelmed with your kindness ...thank you for the love you have shown us," she later wrote on Instagram.
In an interview with People, Kotb revealed that being a mom the second time around was a big change from her first. "I forgot everything!" she admitted, adding that she had to Google a few things (like swaddling) to make try and remember what to do. "I just can't believe how in a blink, life changes, and all of a sudden there are two babies in this house. I'm just overwhelmed with joy," she added.
Kotb also shares plenty of photos and videos dedicated to Hope on Instagram, and after Christmas, she shared a video of Haley Joy and Hope rocking out to Walker Hayes' hit "Fancy Like." In the video, both of their personalities really shined through. Kotb has said that she's open to adopting more in the future , and the only question is — where can we submit our application?