Oscars Showrunner Discloses Why Lady Gaga Opted For A Stripped-Down Live Performance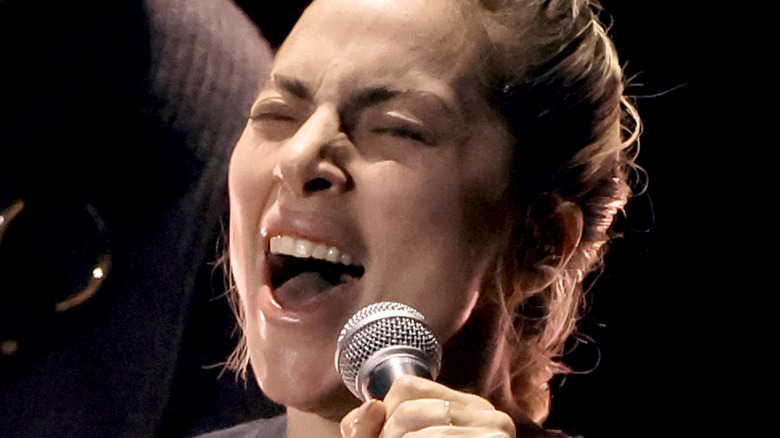 Kevin Winter/Getty Images
Lady Gaga has always been known for her over-the-top looks on and off the red carpet, but she surprised everyone at the 2023 Academy Awards when she appeared on stage make-up-free and in casual attire.
The "Bloody Mary" singer was up for Best Original Song at the awards show for "Hold My Hand," which was featured on "Top Gun: Maverick." She took the stage to deliver a powerful performance of the track, telling the audience that the song was "deeply personal" for her. "I think we all need each other. We need a lot of love to walk through this life. And we all need heroes sometimes," she said. "There's heroes all around us, in unassuming places. But you might find that you can be your own hero, even if you feel broken inside."
Gaga — who once showed up to the MTV VMAs wearing a dress made of raw meat — was donning a regal gown from Versace before the show kicked off. But come performance time, her updo transformed into a simple french braid, her face void of even a stitch of makeup, and her outfit was only composed of a tee, jeans, and sneakers. According to the Oscars showrunner, appearing casual was a deliberate choice by Mother Monster.
Lady Gaga wanted her 2023 Oscars performance to be raw
As it turns out, Lady Gaga's performance at the 2023 Academy Awards was a spur-of-the-moment decision. Speaking with The Hollywood Reporter, Oscar producer Ricky shared that Gaga had approached their team about doing a live performance for her Oscar-nominated track — and wanted it to be as stripped-down as possible.
"[On] Thursday, at four-something, we got a text that she wanted to try something, didn't have time to put together a big performance, but wanted it to be raw and people to see the real Gaga," he said. "With a voice like that, you don't need much more than that." And he was right! The audience was able to focus on the emotion of the song instead of superfluous theatrics, which made Gaga shine throughout the performance.
"Hold My Hand" is a song that Gaga admitted was close to her heart. In a lengthy Instagram post about her work for "Top Gun: Maverick," she shared that it was something she had been working on for quite some time as a tribute to our personal heroes. "I didn't even realize the multiple layers it spanned across the film's heart, my own psyche, and the nature of the world we've been living in. I've been working on it for years, perfecting it, trying to make it ours," she penned. "I wanted to make music into a song where we share our deep need to both be understood and try to understand each other — a longing to be close when we feel so far away and an ability to celebrate life's heroes."