Sandra Bullock And Ryan Gosling Had Quite The Age Gap When They Dated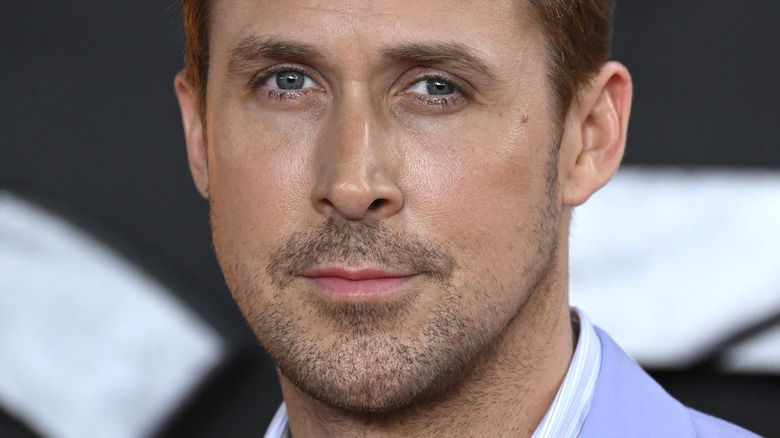 Gareth Cattermole/Getty Images
Ryan Gosling may be one of Hollywood's heartthrobs, but the "La La Land" star hasn't used his good looks to play the field. Gosling has been with Eva Mendes since 2011 when they were working on the 2012 thriller, "The Place Beyond the Pines." By September 2014, Gosling and Mendes had started a family with the addition of their first daughter, Esmeralda. In April 2016, they became a family of four with the birth of Amada. 
Gosling and Mendes are relationship goals, but they don't go around flaunting it. The couple is famously protective of their shared life. Gosling and Mendes secretly tied the knot, but no one really knows where or when. Mendes first sparked wedding rumors in 2022, when she posted a photo to Instagram featuring a tattoo that reads "de Gosling," following Hispanic tradition to add "de" before a husband's last name upon marriage. But she has had the tattoo for at least two years, so who really knows?
Gosling's secrecy surrounding his relationship with Mendes isn't just for show, though. The Canadian actor has always kept his love life as far away from the spotlight as he could. In fact, Gosling has been in only three confirmed relationships. Before Mendes, Gosling dated Rachel McAdams between 2005 and 2007, making "The Notebook" fans' dreams come true. In 2002-03, Gosling also went out with Sandra Bullock, though the romance was kept secret. But even after the fact, the relationship drew public attention partly thanks to their age gap.
Sandra Bullock is 16 years older than Ryan Gosling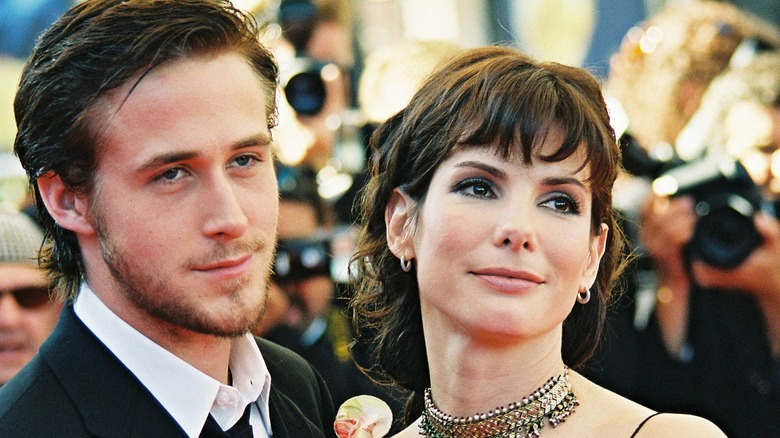 Denis Makarenko/Shutterstock
Ryan Gosling and Sandra Bullock had their fling while working together on the 2002 psychological thriller "Murder By Numbers." At the time, Gosling was a 21-year-old novice in the film industry, while Bullock was already an experienced 37-year-old veteran.  But their 16-year age gap wasn't the reason the relationship was short-lived. "Showbusiness is the bad guy," he told The Times in 2011. "When both people are in showbusiness it's too much showbusiness. It takes all of the light, so nothing else can grow." But even under all that light, Gosling and Bullock managed to keep their relationship largely in the dark — sort of. 
In a February 2003 interview with Cosmopolitan, Bullock gave us a glimpse into the nature of their relationship. "We're friends ... If you were to add the word just [before friends], it would probably be a bit of a lie. So I'd say we're friends," she laughed. Their not-just-friends relationship didn't go much beyond that, with the two going their separate ways later that year.
Their breakup didn't symbolize the end of their mutual respect and admiration for each other, though. "I had two of the greatest girlfriends of all time," he told The Times, referring to Bullock and Rachel McAdams. "I haven't met anyone who could top them." That was before he met Eva Mendes. Besides Gosling, the three women in his life have another thing in common.
Ryan Gosling is younger than all his known partners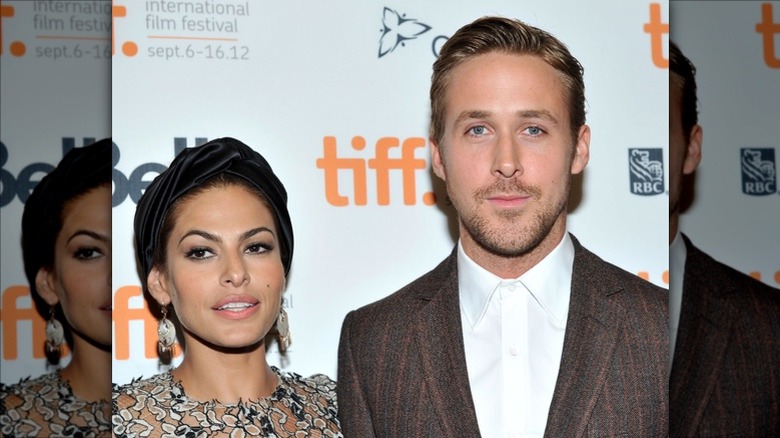 Sonia Recchia/Getty Images
While Ryan Gosling's age difference with Sandra Bullock may be the widest, the "Lars and the Real Girl" actor is younger than all of his known partners. Gosling and Eva Mendes' age gap is also actually quite significant. He was born in November 1980, and Mendes, in March 1974, making her six years older than her husband. Gosling is also younger than Rachel McAdams, though the difference isn't as great as the others. McAdams was born in November 1978, meaning she is almost exactly two years older than her ex-boyfriend. 
Gosling doesn't really talk about his private life, so it's hard to know whether he has a preference for older women or if he just happened to fall for those specific older women. Regardless, the "Drive" star has proved to be mature enough for them. Bullock even learned a powerful life lesson from her time with him. "I live my life at a manic pace, and he's taught me to disregard all that isn't important," she told Cosmopolitan. "He's like a little Buddha."
Gosling's reliability also changed Mendes' attitude about parenthood. Before meeting him, the "Ghost Rider" actor didn't aspire to become a mother. "It was the furthest thing from my mind," she told Women's Health in 2019. So, what happened? "Ryan Gosling happened," she added. "I mean, falling in love with him. Then it made sense for me to have... not kids, but his kids. It was very specific to him."