Lindsay Lohan Once Got Banned From A Famous Hotel For Not Paying Up
Jamie McCarthy/Getty Images
It's almost hard to remember the intense magnitude of paparazzi and media storms that used to surround Lindsay Lohan 24/7, including when she got put on blast by a famous hotel in Hollywood.
Since Lohan's total career comeback — which culminated with her starring role in the Netflix 2022 holiday rom-com "Falling for Christmas"  — she signed a lucrative creative deal with the streamer, who dubbed the actor's joyous return the "Lohan-aissance." "When I first started out in the business, none of us had a say in how to control our own narrative," Lohan opened up in a 2022 interview with Cosmopolitan. "There were paparazzi pictures, and then people ran with it. So I think it's really good that in this day and age, people can say who they are and who they want to be."
There was one time in the starlet's life back in 2012 that exemplifies how the press could take a misunderstanding and amplify it. When Lohan was filming the 2012 made-for-TV Lifetime movie, "Liz & Dick," there was only one luxury hotel she had in mind to be held up in. But this stay would end up becoming infamous for the remaining balance she left behind.
The Chateau Marmont kicked Lindsay Lohan to the curb over a misunderstanding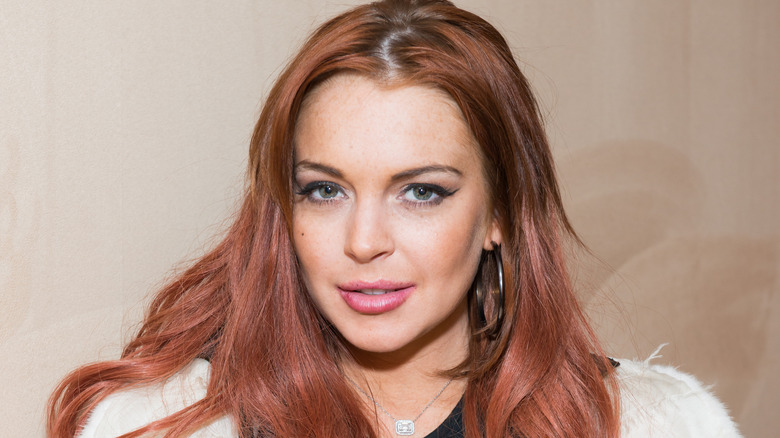 Michael Stewart/Getty Images
Erected in 1929, the Chateau Marmont has housed Hollywood's biggest stars, including the likes of Jean Harlow, John Wayne, and Sidney Poitier. It seemed only fitting that Lindsay Lohan would use the iconic lodging as her accommodation while she portrayed the Old Hollywood star, Elizabeth Taylor, in 2012's "Liz & Dick." In fact, Lohan once made the Chateau Marmont her permanent residence for a whole two years back in her early career in the 2000s.
After staying there for 47 consecutive days in 2012, a letter from the hotel's manager was leaked to TMZ on August 29, which itemized Lohan's lengthy bill and ordered her to leave and never return to the premises. Her room, minibar, restaurant tab, and miscellaneous charges — including cigarettes and a Chateau candle — added up to a total bill of $46,350.04. In the "Mean Girls" actor's defense, sources told TMZ that she reportedly believed that the producers of "Liz & Dick" were going to cover the expenses, so that's why she refused the bill.
Even though the media was spreading the story like wildfire, Lohan was actually spotted at the Chateau Marmont (clearly un-banned) just over a month later in October 2012. In response to the scrutiny and attention from the press, the hotel released a statement explaining that the previous letter was "leaked by a member of [Lohan's] entourage," and they promised to move forward "upholding [guest] privacy with paramount importance." That's why they get the big bucks, after all.
Hotels were made for celebrities to get kicked out of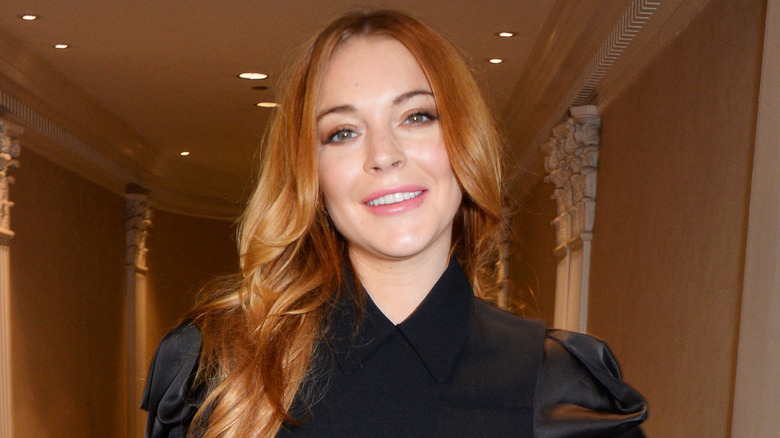 David M. Benett/Getty Images
Maybe a better question is, who hasn't gotten kicked out of a hotel at some time or another? Joking aside, it's been pretty common amongst celebrities to either party too hard or cause too much of a ruckus for a luxury hotel's staff to handle. Like Lindsay Lohan, "Stronger" singer Britney Spears was also booted from the Chateau Marmont in 2007 for allegedly playing with her food and causing a scene at the hotel's restaurant. 
Hotel heiress Paris Hilton was once banned from two hotels in Las Vegas for cocaine possession in 2010. Lohan herself even reportedly "[banned] herself" from The Standard Hotel because she believed the space was cursing her nights to turn ugly, according to TMZ.
Obviously, Lohan has cleaned up her act since her wild party days, but she's still involved in the hospitality industry. Fans will remember that she closed "Lindsay Lohan's Beach Club" in 2019 with plans to purchase an island of her own to build more hotels on.