How Randy Jackson Allegedly Got Involved In Janet's Split From Wissam Al Mana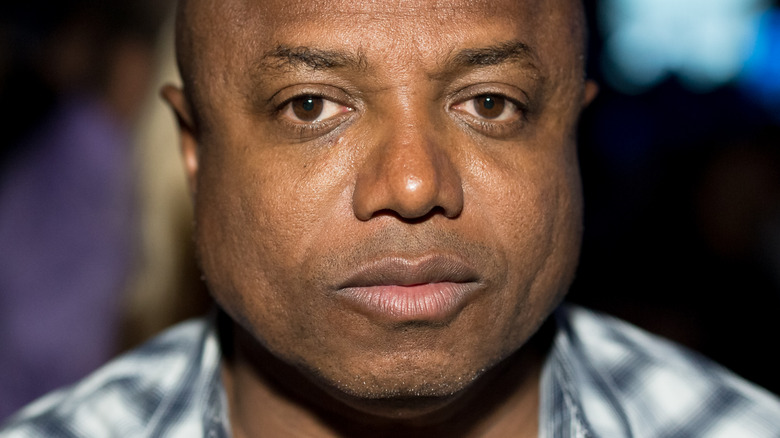 Greg Doherty/Getty Images
This article includes mentions of domestic abuse.
Janet Jackson's divorce from Wissam Al Mana was dramatic, to say the least. However, she didn't go through the early days of their split alone. In fact, her brother, Randy Jackson, played an active role in the former couple parting ways. 
Much like Janet's second marriage to René Elizondo Jr., news of her nuptials with Al Mana took a minute to reach the press. And by minute, we mean a year. Speaking to Entertainment Tonight in early 2013, the then-lovebirds denied the speculation that they were planning an over-the-top celebration. "Last year we were married in a quiet, private, and beautiful ceremony," they shared. A sweet moment between themselves and their loved ones, for sure. But a few years on, things changed. Hot off the heels of a rumor that the singer was planning to leave her businessman husband, a source told E! News in early 2014 that, "All the bliss that Janet experienced pre-marriage with Wissam and in the first couple of months is gone." Granted, another source denied that outright — but by April 2017, the split was official. As reported by the Daily Mail, they'd decided to end things and were on good terms. However, as many may remember, that turned out not to be the case.
One voice who made sure to point out that things were darker than they seemed was none other than Janet's brother, Randy. But, speaking out was just part of his involvement...
Randy Jackson made no secret of his concerns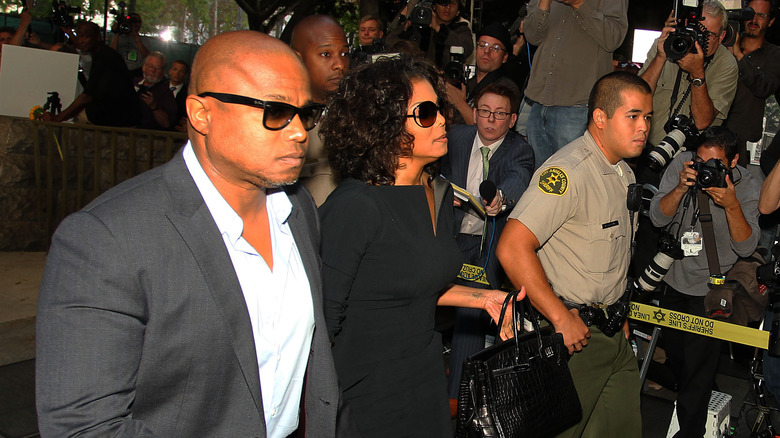 Frederick M. Brown/Getty Images
Janet Jackson may prefer to keep her private life out of the news, but for her brother, Randy Jackson, that became too big an ask once divorce proceedings took a turn.
In an interview with People, Randy revealed that Janet's home life with Wissam Al Mana was far from a loving one. "It was quite an abusive situation," he told the outlet. Randy expanded that the verbal abuse didn't halt once she got pregnant, and that she was "being called a b***h every day." On top of that, Randy also revealed that his younger sister had begun to feel "like a prisoner in her own home." Randy chalked up his choice to vocalize what had gone on to wanting to end the silence. "Sometimes transparency helps you. The devil thrives in darkness," he said. 
As for his involvement in Janet's marriage (and the end of it), in the same interview, Randy revealed that at one point, things between Janet and Al Mana had become so bad that he felt compelled to step in. That included a move to London, where the then-couple lived. Randy added that he even encouraged Janet to move in with him to get away from the toxic dynamic in her own home. It's not clear if she took him up on that, at first. However, it's alleged that he planned the logistics for her to move out, and even got their mother and sister Rebbie Jackson involved. 
If you or someone you know is dealing with domestic abuse, you can call the National Domestic Violence Hotline at 1−800−799−7233. You can also find more information, resources, and support at their website.
...but some felt he was over-stepping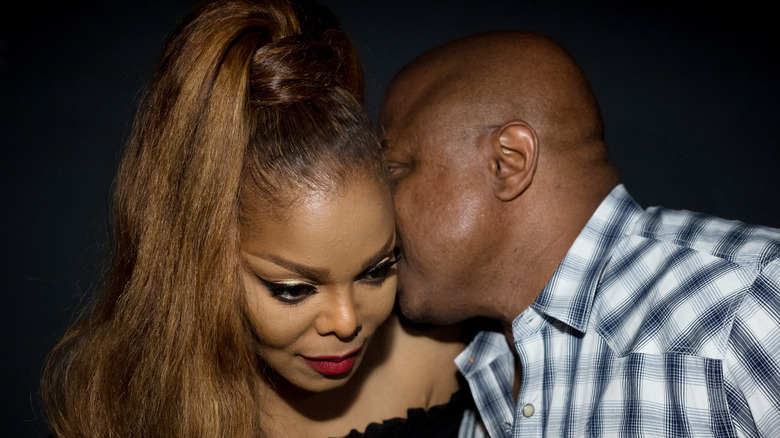 Greg Doherty/Getty Images
Randy Jackson may have had a hand in helping his sister move on from a bad relationship, but not everyone was thrilled about his involvement. In fact, some were of the mind that he was adding fuel to the fire. 
Back in 2018, news broke that Janet Jackson had called the police on Wissam Al Mana while their son was in his custody. In an incredibly awkward twist, it turned out that the person who tipped her off about Al Mana's behavior — a nanny who claimed he was being hostile — had actually been upset over a Wi-Fi issue. The responding authorities declined to take the matter further, telling Entertainment Tonight, "There was no evidence of any crime." Things got even more awkward when an employee of the Jackson family weighed in on Randy's hand in the situation to Page Six — and made it clear that they weren't impressed. "Randy is behind all of this. He thinks he's helping her to win legal and primary custody when he's really hurting her." 
Whether or not that was the case, it's pretty clear that Janet has nothing but love for her older brother. Back in October 2022, she sent a sweet birthday wish via Twitter, featuring a smiley picture of the two of them. "LUV u much," she wrote. Good to see these two have each other's backs.