Aaron Carter Had A Crush On Another DWTS Pro Who Wasn't Partner Karina Smirnoff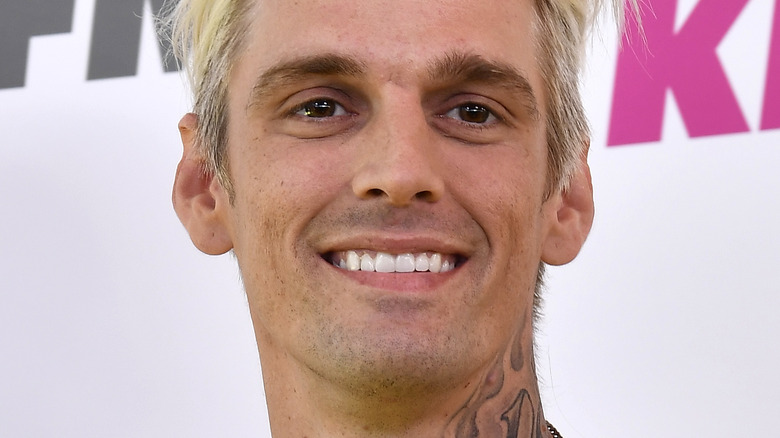 Frazer Harrison/Getty Images
Back in 2009, Aaron Carter made his debut on "Dancing With the Stars," where the late musician partnered with pro Karina Smirnoff. The pair had memorable moments on the dance floor before exiting the show following their ninth week. After Carter's untimely death in November 2022, "DWTS" judge Carrie Ann Inaba spoke to Page Six about her positive memories of Carter. "When [Carter] was on 'Dancing With the Stars,' he was one of the brightest lights," Inaba said. She added that Carter was "always effusive" and "always trying to connect" with those around him. 
When he appeared on "DWTS," Carter told Us Weekly that rumors romance was blooming between him and Smirnoff were "completely false." However, in a 2021 VladTV interview, Carter revealed he and Smirnoff were romantic for a short time. "We made out a couple times... went on some dates together," Carter said. "Then I was just like, 'Nah, I don't really want this kind of relationship type of thing.'" But Smirnoff wasn't the only "DWTS" performer who caught Carter's eye.
Aaron Carter was crushing on Chelsie Hightower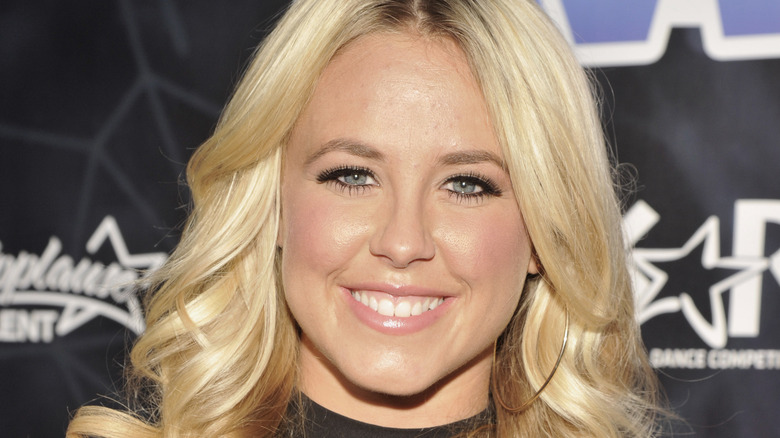 John M. Heller/Getty Images
Aaron Carter was hopeful for a love connection with "Dancing With the Stars" performer Chelsie Hightower. In a 2009 interview with Us Weekly, Carter shared his feelings for Hightower. "I actually have a crush on Chelsie," Carter said. "I'm going to visualize that happening!" In addition, Carter said he'd asked Hightower if she was single. "I'm just going to put it out there and see what happens," Carter said. Hightower then spoke about the moment Carter approached her during an Access Hollywood chat. "[Carter] asked me if I was single, and I told him I was, and he told me, 'That's a start,'" Hightower said.
Though Hightower felt Carter was "such a great guy," she decided the best move was to keep the relationship platonic. "Like I love [Carter] as a friend, but, you know, [I] don't want to cause weird things within the group, so I think it's just going to stay cool as just friends for now," Hightower said. After this, Carter spoke with Entertainment Tonight and said he was okay with Hightower's response, according to Digital Spy. "[Hightower] respectfully rejected me! But it was respectful," Carter said. "I'm going to keep it professional right now. I respect her." Carter later developed a few relationships in the years following his time on "DWTS."
Aaron Carter later connected with Melanie Martin
Gabe Ginsberg/Getty Images
Although Aaron Carter's crush on pro dancer Chelsie Hightower didn't lead to a relationship, Carter found love with a few other people after competing on "Dancing With the Stars." Carter dated Madison Parker from 2016 to 2017. Next, he and Lina Valentina were an item from 2018 to 2019. Then Carter's union with Melanie Martin began in 2020, and the pair had an on-and-off romance up until early 2022. In addition, Martin and Carter welcomed a son named Prince in November 2021, Carter announced on Instagram. At the time, he and Martin were engaged.
Carter tragically died at the age of 34 in November 2022. Martin took to Instagram later that month to post throwback videos of herself and Carter. "I will miss you forever like the stars miss the sun in the morning skies," Martin wrote  in the caption. In a statement sent to Entertainment Tonight that same month, Martin described the bond she and Carter shared. "Aaron was a wonderful man and he really loved to take care of his family. He never gave up on me," Martin said. "We might have had arguments and breaks up but we really could not live without each other."