Julia Fox And Amber Rose Had Similar Experiences While Dating Kanye West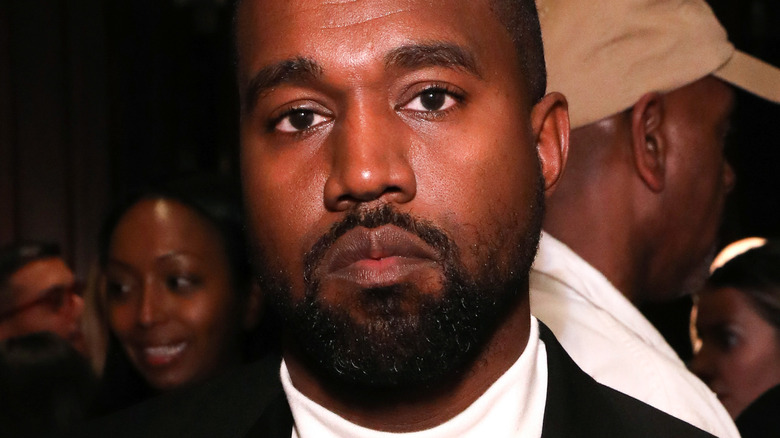 Robin Marchant/Getty Images
Julia Fox and Amber Rose may seem like they operate in completely different social circles, but they have one thing in common: they both dated Kanye "Ye" West.
Pre-Kim Kardashian, Rose and Ye dated for two years, from 2008 to 2010, and after they split, there was no love lost between them. "I didn't soak up anything from him. Me and him are two very different people," Rose shared on the "No Jumper" podcast, adding that Ye "bullied" her incessantly for about a decade after they parted ways. "I don't know if he says things to make his wife more comfortable," she added, referring to Ye saying that he needed "30 showers" just to be with Kardashian because he dated someone like Rose. "But to slut-shame me and say you needed 30 showers, it's like, bro. Took me around the world, since when do you need 30 showers?"
On the other hand, Fox dated Ye almost immediately after he separated from Kardashian, but it was never anything serious. "We were literally together for like a minute," Fox said on a "Watch What Happens Live" episode with Andy Cohen. "I don't think he even knows my full name or anything." And while Rose and Fox dated Ye decades apart from each other, they've come to the agreement that the rapper treated them similarly.
Julia Fox and Amber Rose said Kanye West is a love bomber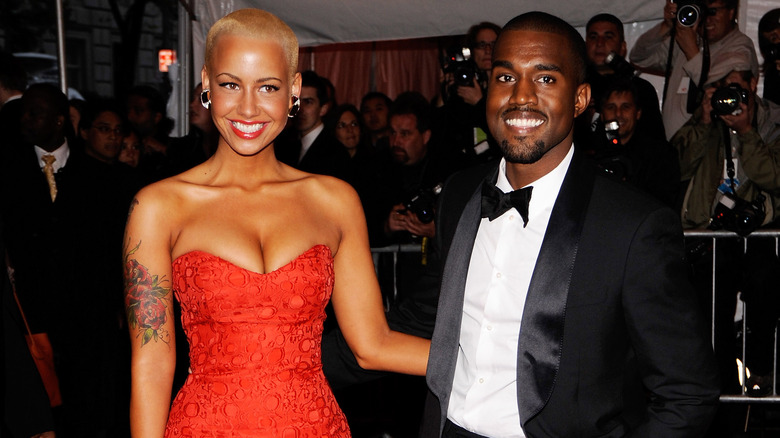 Larry Busacca/Getty Images
Julia Fox and Amber Rose both agree that their common ex, Kanye "Ye" West, is a certified love bomber. Rose appeared on Fox's "Forbidden Fruits" podcast, in which they discussed the elephant in the room, with her admitting that the rapper gave her some "fairytale moments."
Rose recalled the times when Ye made her feel like "Cinderella," like the time he flew her to Los Angeles and took her on a shopping spree, and when he bought her a ticket to her aunt's funeral and even offered to come. "I couldn't believe it," Rose said. "I was crying in the store." Fox agreed that Ye tends to "love bomb" his partners, but when they were together, she confessed to liking his efforts. In an Interview feature, she shared that Ye set up an entire shoot for her and bought her a ton of clothes. "Ye had an entire hotel suite full of clothes. It was every girl's dream come true," she dished.
Another thing they were in collective agreement of? The fact that Ye has always taken his antics to an extreme level and that he can't take no for an answer. "Years of buildup will make a motherf***er look crazy after a while because you're just fed up," Rose said, while Fox added that he has only gotten "more extreme" over the years. "I feel like he has always just had really lofty dreams and always kind of pushing the envelope as much as he can," she said. "If you tell the man no, he is going to find a way to get yes."
Kanye West impacted Amber Rose and Julia Fox's careers in different ways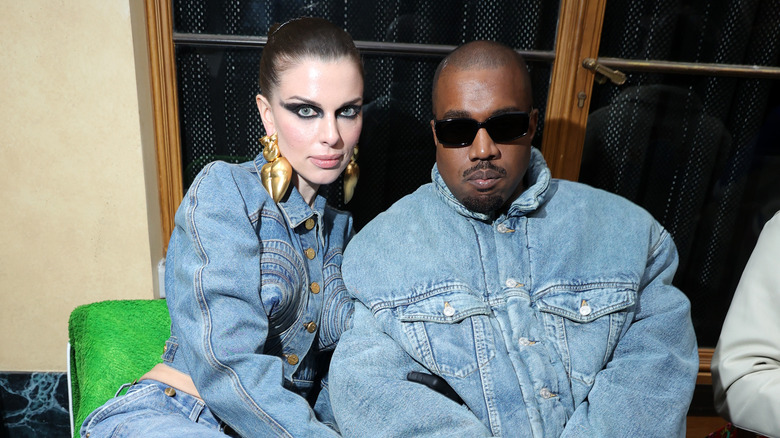 Victor Boyko/Getty Images
Even though Amber Rose doesn't look back at her time with Kanye "Ye" West quite fondly, she can't deny how much he changed her life, especially her career. In the same podcast, she shared that she doesn't "shy away" from discussing Ye's impact on her life "because it is a really big part of my story and how I became famous." What she didn't anticipate, though, was reaching a wild level of fame, so she ended up feeling like she was "thrown to the sharks."
As for Julia Fox, dating Ye brought excitement back into her life. "It was the best thing that could have happened to me," she told Entertainment Tonight, describing the experience as something "like hitting a reset button. It kind of brought a spark back into my life that I had kind of forgotten about." But, while she found the short-lived tryst thrilling, it had adverse effects on her work life. "I definitely noticed a shift in the acting way, not in a good way," she said in a "High Low with EmRata" episode. "I'm not getting as many offers as I was before, weirdly. There's been a lot of weird drawbacks with reaching that level of notoriety."