Carrie Underwood's 2023 CMT Awards Look Gives Her The Biggest Leg Up On The Competition (Literally)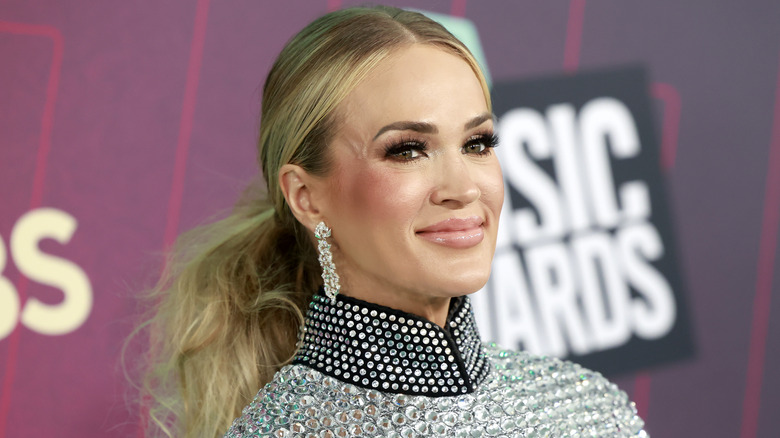 Emma Mcintyre/Getty Images
If you know anything about Carrie Underwood, you know she has the best legs in country music. For years, fans and fitness enthusiasts have sought the "Ghost Story" singer's secret to such tanned, toned, glowing perfection. 
In fact, so many people have asked the country music superstar about how she gets her legs to look so darn incredible that she actually shared her go-to leg workout routine on her own fitness app, Fit52. "Hey guys, it's leg day for me and I wanted to let you all know some exciting news," Underwood said in an Instagram reel posted in August 2022. "People are always asking me about my leg workouts and my actual leg workouts are coming to the Fit52 app," she revealed, straight from her gym. She added that the workout series had been adapted for anybody to be able to follow.
There's no doubt though that getting legs like Underwood's takes work. A whole lotta work. So we can hardly blame her for showing them off at the 2023 CMT Awards, where she's up for Video and Female Video of the Year.
Carrie Underwood wowed in embellished shorts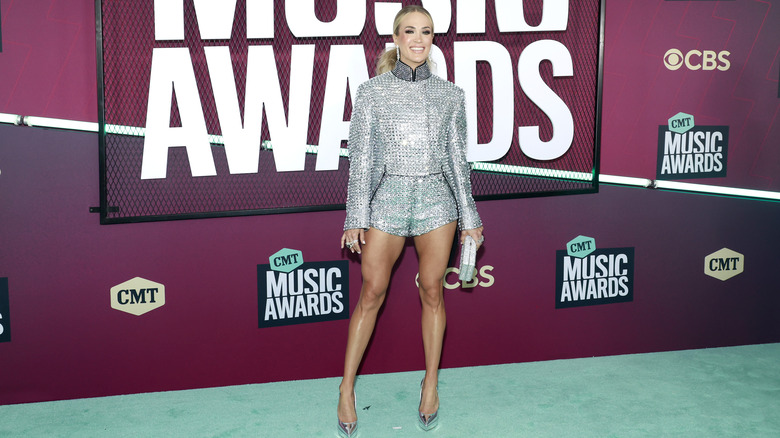 Emma Mcintyre/Getty Images
Carrie Underwood knows what we want to see from her when it comes to her award show ensembles, and she sure as heck delivered when she hit the 2023 CMT Awards red carpet on April 2. The "Denim & Rhinestones" singer wowed when stepped out in a stunning two-piece made up of a structured rhinestone-encrusted jacket and matching super-short shorts that showed off her dazzling assets.
It's safe to say Twitter was just as floored as us, too, as the comments for those world-famous legs poured right on in. "Carrie Underwood should never not show off her legs," one account tweeted, while another wrote, "Carrie Underwood. Rhinestones. Legs." Yeah, that was pretty much our reaction too.
But you don't win 25 CMT Music Awards (the most ever, per AP) without getting real with your fans. Back in 2020, the superstar revealed to InStyle her trick to instantly healthier-looking legs: "A good self-tanner or body bronzer ... a tinted lotion with a bit of shimmer. If you want your legs to look toned, believe me, a little shimmer goes a long way." After seeing her look at the CMTs? Consider that tip oh-so noted.
Carrie Underwood's gorgeous legs were also out in full force for her performance
Though Carrie Underwood unfortunately headed home from the 2023 CMT Awards empty-handed, she certainly still made a splash — and the red carpet wasn't the only place her legs grabbed attention. The star wowed fans with a performance of her single "Hate My Heart," where she showed off her rock chick side in a cool and edgy ensemble. Underwood took to the stage in a long, black jacket with large red hearts printed on it (and plenty of rhinestones, of course!) which she paired with a sparkly black crop top and sequin short shorts. Though she opted for shiny silver stilettos on the red carpet, this time she highlighted her super-toned pins in super-sparkly heeled boots as she strutted around the stage while showcasing her incredible voice.
Clearly, Underwood followed through on the vow she made at the beginning of the night to have a whole lot of fun. "It's a party here right? I feel like that's what people focus on. They want to have a good time, just big, fun performances and that's what I hope we accomplish," the "Something In the Water" hitmaker told CMT on the red carpet. "Tonight should just be a fun night celebrating."
Carrie Underwood was celebrating without husband Mike Fisher at the 2023 CMTs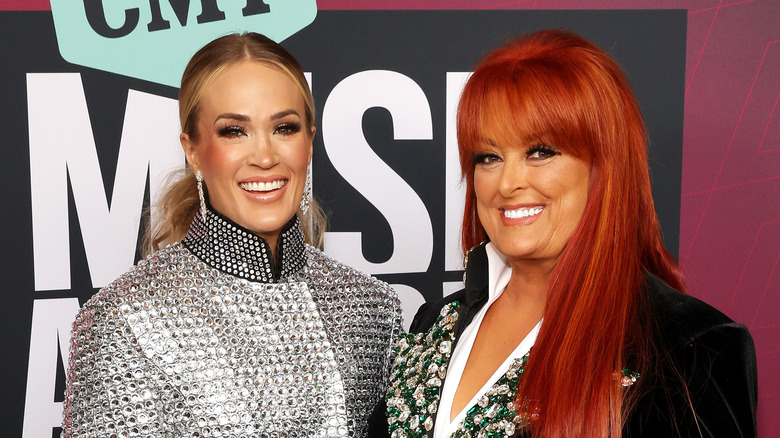 Rick Kern/Getty Images
Yet, while Carrie Underwood appeared to be having a whole lot of fun, she was actually celebrating the 2023 CMT Awards solo, as her husband, former hockey player Mike Fisher, was nowhere to be found. There was a pretty good reason why Underwood went stag to the Texas event, though, as she revealed her hubby was back at home taking care of their kids — who were watching the whole thing! "My husband's got the kiddos. He's always holding down the fort while I'm out doing stuff like this... Hi, guys!" she said on the red carpet.
But don't think the 25-time CMT Award-winner was totally alone all night, as she managed to make a few friends during the event. Inside, Underwood was at one point seated next to none other than Kansas City Chiefs' Travis Kelce, and the two were snapped shaking hands as they exchanged pleasantries. Underwood was also making the most of her time being able to catch up with some old friends, too. She was spotted posing and chatting with her old friend Wynonna Judd on the red carpet ahead of her emotional tribute to her late mom, Naomi Judd.