Kendra Wilkinson, Hank Baskett Divorce Reportedly An 'Unhealthy Situation'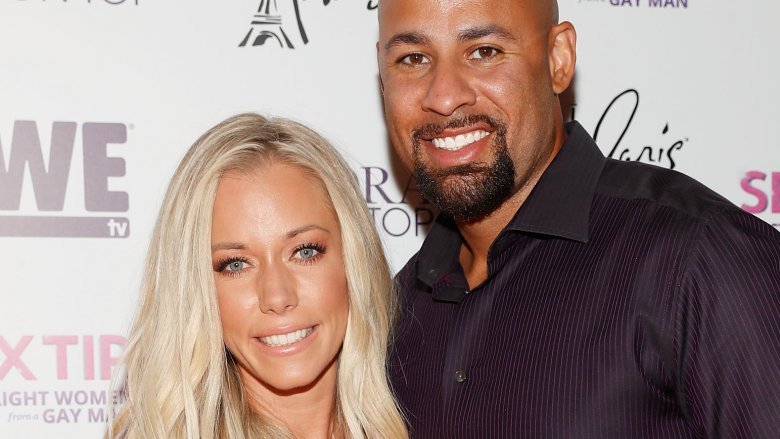 Getty Images
It sounds like Kendra Wilkinson and Hank Baskett's divorce proceedings are turning ugly.
According to an Us Weekly exclusive, published on Tuesday, June 5, 2018, the Kendra on Top stars' recent split may not be as amicable as it at first seemed.
"Kendra has always loved the idea of marriage and believed in it, so this has been extremely hard for her," a source told the magazine. "Kendra and Hank are up and down all the time and there are so many moving parts of divorcing and there have been battles and fights throughout it all."
The insider added, "They try to keep it calm for the kids, but they both have so much animosity towards each other, so they throw daggers at each other and it's become an unhealthy situation."
"It seems like they will have to split their time with the kids and they aren't ready to do things as a full family yet," the source went on. "Maybe down the line when they're not so overly charged and frustrated, but they are obviously not in a good place right now and are hitting a low point in the transition."
As Nicki Swift previously reported, Wilkinson, 32, and Baskett, 35, called it quits in early April 2018 after nearly nine years marriage. They share two young children: 8-year-old son Hank Jr. and 4-year-old daughter Alijah.
The former couple seemed to be on the same page amid their highly publicized split, as they both cited irreconcilable differences in their separate divorce filings, while seeking joint legal and physical custody of their kids. However, Wilkinson's latest Twitter sprees have suggested otherwise.
The Girls Next Door alum, who previously reflected on the divorce in an emotional update to her fans, accused Baskett of recording her during an argument on Tuesday, June 5. "Why is hank recording me right now. Please tell him to leave me alone and stop," she began a series of since-deleted live tweets. "He's blaming me for his football career ending. He's blaming me for cheating on me while pregnant." Explaining that "recording me is my trigger," she went on to apologize for making her followers "feel awkward," adding, "When i was being recorded i felt threatened."
On Wednesday afternoon, June 6, Wilkinson took to Twitter again — this time to apologize to her estranged ex. "I want to apologize publicly to Hank. I was the reason your football career ended. I regret doing that to u and i hope u learn to forgive me one day," she wrote in another series of deleted tweets (via People). "I loved u and was always your number one fan."
"I was 24 when i got married. Now I'm 33. I made a lot of mistakes through those young years and im sorry for making u feel the way i did," Wilkinson continued. "All i ever wanted was family because i never had a solid one but me being immature was the reason i couldn't give u more."