Did Liam Hemsworth Have A Fling With Hunger Games Co-Star Jennifer Lawrence?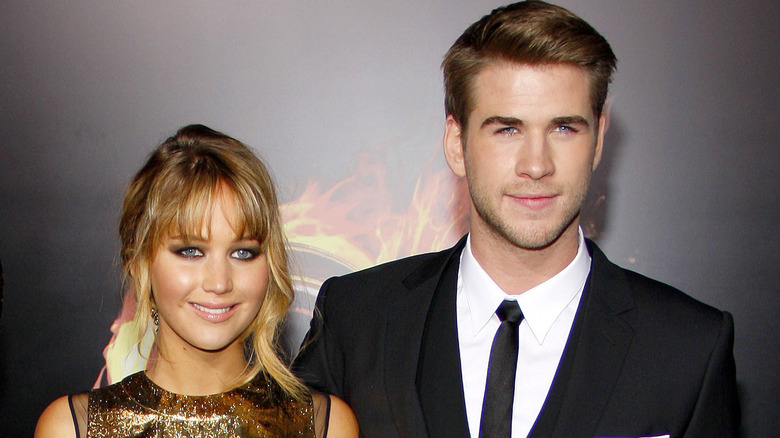 Tinseltown/Shutterstock
Fans may have rooted for Katniss and Peeta to end up together in "The Hunger Games," but Jennifer Lawrence — who played the heroine Katniss Everdeen in the film adaptation of the book series of the same name — was a little less loyal. "I think I was [on team] Gale, until he started getting a little too trigger-happy," she told Seventeen of her choice of love interest for her character. "Or maybe first Peeta and then Gale, or Gale then Peeta? I went back and forth a lot!"
In real life, though, she doesn't seem to have harbored any romantic feelings for her co-stars, Josh Hutchinson, who played Peeta, and Liam Hemsworth, who played Gale, respectively. According to Lawrence, her relationship with them was — and still is — completely platonic. "Josh and Liam are really great friends too. They are hilarious and sweet. They are like my brothers," she continued. "Josh and I were neighbors and everytime I would come in late I would go bang on the door and wake him up and we'd all hang out." Hutcherson, however, admitted to Glamour that, while he and Lawrence were just friends, he understands that when it comes to relationships between a man and a woman, there's "a natural inclination to want more."
As for Hemsworth and Lawrence? Well, let's just say that things were a bit more complicated for the two of them.
Jennifer Lawrence dished that she kissed Liam Hemsworth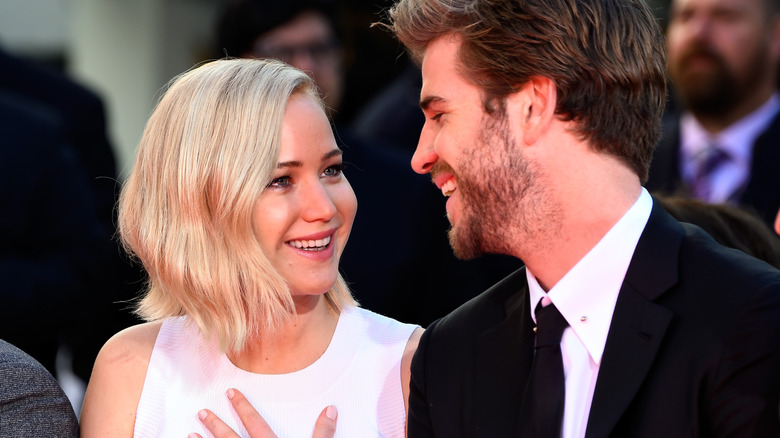 Frazer Harrison/Getty Images
Dating rumors almost always surface between co-stars who play lovers on-screen, so it wasn't surprising when people assumed Jennifer Lawrence and Liam Hemsworth had taken their romance from the screen to behind the scenes. But while there were no reports that the two officially dated, Lawrence confessed to making out with Hemsworth when the two were off-camera.
In an appearance on "Watch What Happens Live," Lawrence admitted she and Hemsworth exchanged smooches at one point. "It has recently been rumored that you and Liam Hemsworth had some PDA at Waverly Inn. Have you two ever kissed when the cameras weren't rolling?" host Andy Cohen asked. And in true Lawrence fashion, she had absolutely zero filter with her response. "Liam and I grew up together. Liam's real hot. ... What would you have done?" she quipped before admitting, "Yeah, I have."
Lawrence didn't elaborate further, but it doesn't seem like a romance materialized beyond that. After all, Hemsworth was dating Miley Cyrus at the time. But if there's anything she can reveal about her relationship with the third Hemsworth brother, it's that they have a strong bond. "I guess the thing that surprised me is that I would never expect to ever have a man [Hemsworth] this good-looking ever be my best friend," she told Nylon. "I just would never assume those things could happen, but he is. He's the most wonderful, lovable, family-oriented, sweet, hilarious, amazing guy."
Fans think Liam Hemsworth cheated on Miley Cyrus with Jennifer Lawrence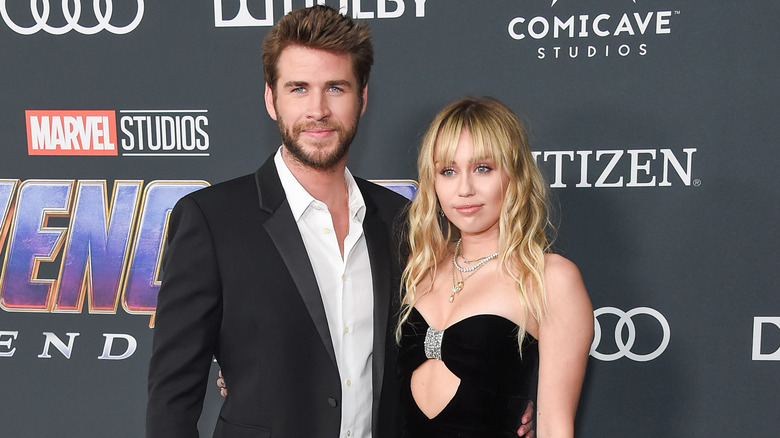 DFree/Shutterstock
There's no question that Miley Cyrus is dominating 2023 thanks to the release of her album, "Endless Summer Vacation," which apparently included a few references to her ex-husband, Liam Hemsworth. In the music video for the radio-dominating track "Flowers," Cyrus wore a gold cutout dress, which fans noted was eerily similar to what Jennifer Lawrence wore on the "Hunger Games" red carpet with Hemsworth. The result? Many concluded that Cyrus was referencing her ex's cheating rumors with Lawrence.
Of course, the speculation is likely a stretch, considering that Cyrus has already confirmed there was no third party involved in her split from Hemsworth. "I can admit to a lot of things but I refuse to admit that my marriage ended because of cheating," she once tweeted. 
Meanwhile, Hemsworth once dished that Lawrence inadvertently helped him move on from his divorce from Cyrus. He said the "Silver Linings Playbook" actor was such a joy to be around that being with her made him momentarily forget his problems. "For a few years I went down a path where I forgot to be in the moment and enjoy the moment," he shared with the Associated Press. "But being around someone like Jen, who is so honest and laughs all day long, I am forced to be in the right now. I'm much happier."