A Look Back At Elizabeth Holmes' Theranos Scheme With Ex-Boyfriend Sunny Balwani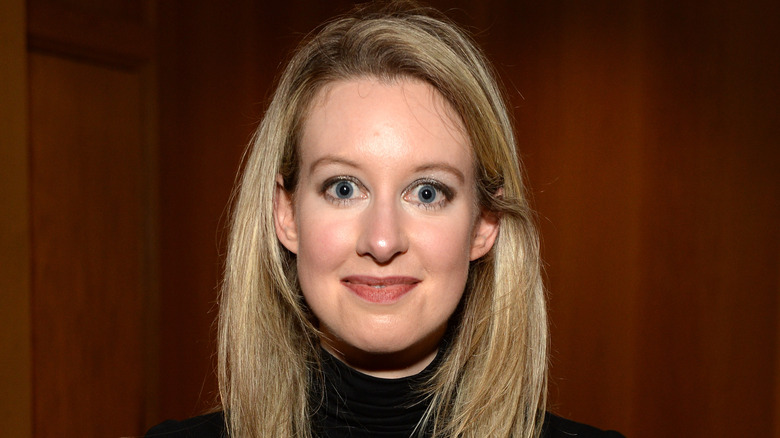 Michael Kovac/Getty Images
Former Theranos CEO Elizabeth Holmes is facing an 11-year prison sentence for her role in the multi-million dollar fraud perpetrated by her and her ex-boyfriend Ramesh "Sunny" Balwani through their medical technology company. As Holmes awaits her appeal on four charges of fraud and conspiracy, we thought it would be a good idea to look back at the crimes that got her in this situation in the first place.
On April 10, the judge in Holmes' case denied her motion to post bail and remain free while appealing her guilty verdict. Instead, she has been ordered to report to prison on April 27. Balwani, her partner-in-crime at the failed blood-testing company, has been sentenced to 13 years behind bars after he was convicted on 12 charges of fraud and conspiracy. He is set to report to federal prison on April 20 — a week before Holmes. 
The two entrepreneurs-turned-fraudsters first crossed paths while studying abroad in China in 2002, while Holmes was 19 and Balwani was 37. After returning to Stanford, Holmes launched Theranos, and Balwani later joined the company as COO in 2009, investing his own money. The two never disclosed when their romantic relationship began but were involved in a secret rendezvous behind the backs of their investors. But that's certainly not the only thing Holmes and Balwani were covering up from their shareholders.
Elizabeth Holmes and Sunny Balwani pushed faulty technology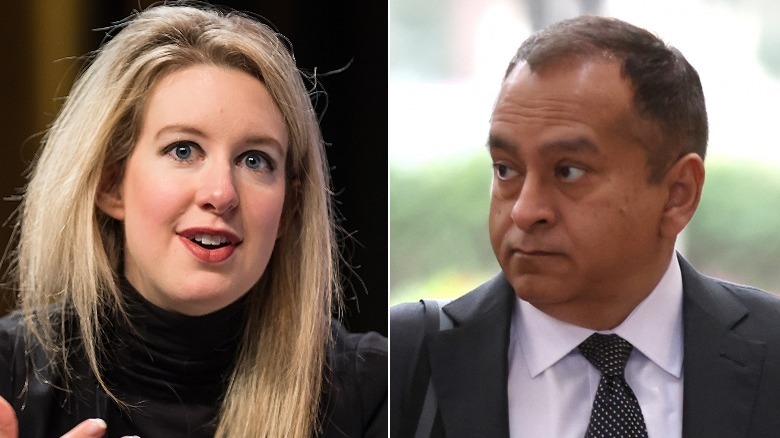 Justin Sullivan & Gilbert Carrasquillo/Getty & undefined
With Elizabeth Holmes and Ramesh "Sunny" Balwani at the helm, the scheme behind Theranos crashed and burned almost as quickly as it began. Theranos's flagship product was a blood testing machine dubbed the Edison, which Holmes claimed could perform hundreds of tests with just one prick of blood. This technology was touted as groundbreaking, far ahead of traditional blood-testing procedures that were time-consuming and relied on large machines. However, it turned out that the proposed technology behind the Edison was too good to be true, and Holmes refused to admit most of their blood tests were inaccurate.
Using her confidence and business acumen, Holmes —  with Balwani by her side behind the scenes — was able to convince benefactors to invest almost one billion dollars into Theranos. This money was largely funneled into the lab to develop the Edison and fulfill their testing promises. They went so far as to sign Edison contracts with Walgreens and the U.S. Military in order to acquire funds. However, in the end, only 15 of their promised tests were operational.
In an effort to silence whistleblowers, Theranos and their lawyers would allegedly threaten anyone with information on the true nature of the Edison project from trying to speak out. Eventually, one former employee went to The Wall Street Journal in 2015 with the company's damning secrets, leading to the downfall of a company once valued at over $9 billion.
Elizabeth found a new guy after her legal troubles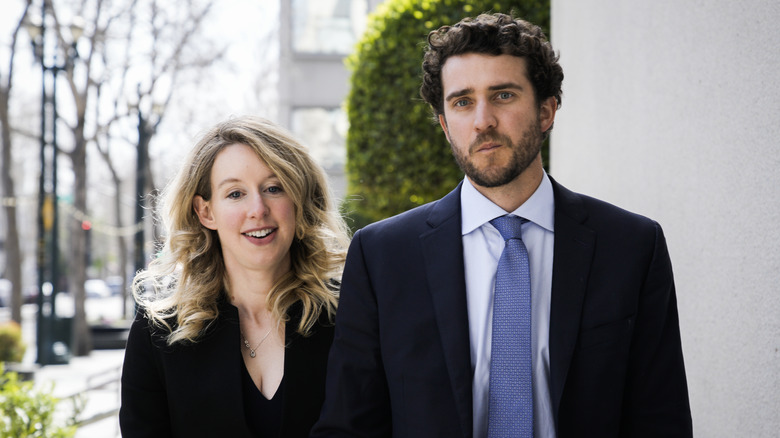 Philip Pacheco/Getty Images
Just as with the start of their relationship, it's unclear when Elizabeth Holmes and Ramesh "Sunny" Balwani cut things off, but we know it happened sometime in 2016 during the downfall of Theranos. Amidst lawsuits from investors and investigations from various agencies, the U.S. Securities and Exchange Commission officially charged and indicted the duo in 2018. But before she was thrust into the courtroom, Holmes surprisingly got the chance to meet a new romantic partner.
Despite public scrutiny, the former CEO began dating Billy Evans — an MIT graduate from a wealthy hotel family — after reportedly meeting at a party in 2017. They married in 2019 and welcomed their first child in July 2021, with Holmes's pregnancy delaying the start of her Theranos trial until September 2021. Remarkably, Holmes and Evans revealed in court papers in March of that year that they had welcomed a second child.
Before Holmes' sentencing in November 2022, Evans offered a statement to the court asking for leniency for the mother of his two children. "My heart is broken with the thought of spending any days away from Liz," he said, according to The Mercury News. "For a future in which my son grows up with a relationship with his mother on the other side of glass armed by guards." It appears that Holmes's appeal of her 11-year sentence may be one of her last hopes for freedom.