Where John Stamos Stands His First Wife Rebecca Romijn Today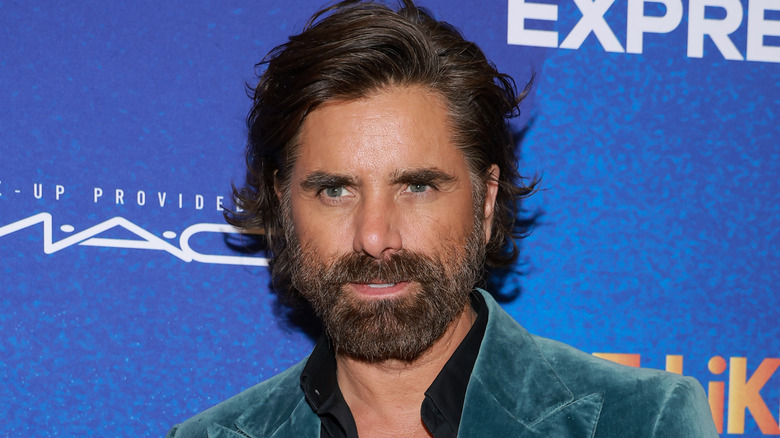 Jason Mendez/Getty Images
Rebecca Romijn and John Stamos have proven time and time again that exes can be friendly. The pair were one of the "it" couples of the '90s, and their relationship began after meeting at a Victoria's Secret Fashion Show in 1994. Stamos and Romijn hit it off and began dating shortly after. The pair got engaged in 1997 in a super-romantic and memorable way. According to Living Magazine, Stamos opted to wear only his birthday suit when popping the question to Romijn. Then, the duo tied the knot at the Beverly Hills Hotel the following year. CBS News noted that plenty of big names attended the nuptials, including Stamos' "Full House" co-stars Mary-Kate and Ashley Olsen and his BFF Bob Saget.
Stamos and Romijn remained married for five years, but in 2004, the couple announced that they were separating, with Stamos filing the divorce paperwork a few months later. "The split is amicable and they have asked that the media please respect their privacy regarding this situation during this difficult time," their publicist told CBS. However, Radar suggested otherwise, stating that Stamos and Romijn parted ways over disagreements about expanding their family and having children.
Stamos later went on to wed model Caitlin McHugh, while Romijn kept things in the Hollywood circle and married actor Jerry O'Connell. Here's where Stamos and Romijn stand today.
John Stamos and Rebecca Romijn have fond memories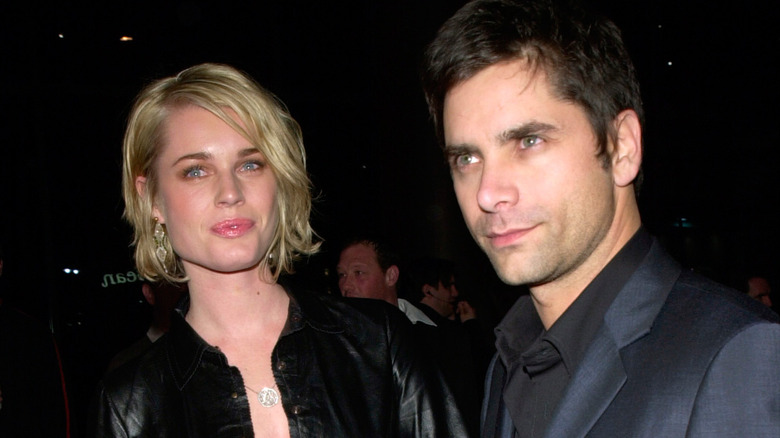 Featureflash Photo Agency/Shutterstock
Not all marriages that end in divorce mean that the former couple harbor ill will toward one another, and that seems to be the case with John Stamos and Rebecca Romijn. They have spoken about one another on a few occasions — and one thing appears certain — we need more exes like them in our lives! 
On the "Life is Short with Justin Long" podcast, Long joked with guest Stamos about Jerry O'Connell, saying, "I just love teasing him about how handsome you are." Then, Stamos shared some kind words about his ex and her hubby. "Well, we sort of moved near them, but I haven't seen or talked to [Rebecca]. But [Jerry] is funny about. I've seen some stuff — he said his kids watched 'Full House' and said I was their dad or something. But he's a funny guy — that's a guy who works hard," Stamos said. Pretty cool of him!
Romijn has also shared sweet words about her ex-husband, and it's enough to make anyone smile. During an appearance on "The Talk" — where Jerry O'Connell works — Romijn got candid about her ex, admitting that while going through a divorce was "awful," not everything was bad. "I have a lot of fond memories of him. A lot of things about him that I miss," she confessed. "But yeah, it's tricky. It's a very hard decision to come to when you decide to end a marriage." It's nice she still has fond memories! 
John Stamos and Rebecca Romijn seem happy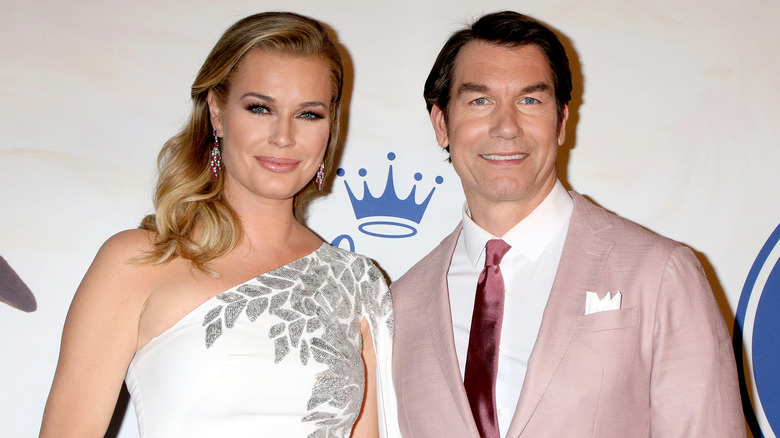 Kathy Hutchins/Shutterstock
While things may not have worked out between John Stamos and Rebecca Romijn, the two seem to have found their perfect matches after their divorce. Stamos and model Caitlin McHugh tied the knot in 2018 and welcomed their first child two months after marrying. Both McHugh and Stamos are never short on compliments for one another, and we can't help but blush when they talk about their romance. "My favorite 1,826 days, 43, 824 hours or 2,639,440 minutes ever! Happy 5th anniversary, Love! (Water color by yours truly)," Stamos captioned a February Instagram post alongside a watercolor painting of him and McHugh.
Romijn and actor Jerry O'Connell met at a Mexim Hot 100 party in 2004 (the same year she and Stamos called it quits), and O'Connell recalled the initial meeting in an interview with People. "I met my wife and her ex John Stamos at a party when they were married," he explained. "I remember thinking, 'Wow. This girl is really beautiful and funny.' I talked to her the whole party. My wife remembers that party and remembers us clicking. We clicked. My wife and I clicked. We clicked the first time we met." Once Stamos and Romijn split, she and O'Connell began dating — and they tied the knot in 2007. 
We're certainly glad that there's no lingering resentment between them.