Why Eva Mendes Won't Do Red Carpet Appearances With Ryan Gosling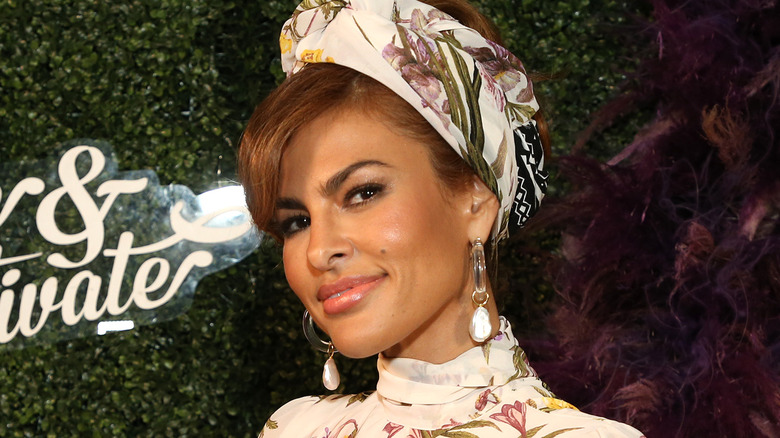 Phillip Faraone/Getty Images
Eva Mendes and Ryan Gosling are a Hollywood couple who keeps their union private. A source recently revealed to Us Weekly that the actors became romantic when they starred together in the film "The Place Beyond the Pines," and they had previously been "friends for years." Their courtship began in 2011, and Mendes and Gosling have gone on to have two daughters together. One of their children, named Esmeralda, was born in 2014, while their second kid, Amada, was born in 2016. 
For a time, fans remained unsure whether or not the love birds had tied the knot. During a 2022 chat with "Today," a show by Channel 9 of Australia, Mendes called Gosling her "husband," seemingly confirming that she and Gosling had gotten hitched. "Everybody is welcoming us, it's been so beautiful, and my husband, Ryan, is here ... Our children are here, we're having the best time," Mendes said. In a now-deleted Instagram comment reply from 2020, Mendes spoke of publicly keeping quiet about her family life. "As far as Ryan and I, it just works for us this way, to stay private," Mendes said, per Harper's Bazaar. Mendes has recently detailed why she and Gosling limit their public appearances together.
Eva Mendes and Ryan Gosling don't do red carpets together because they 'value' their 'very private life'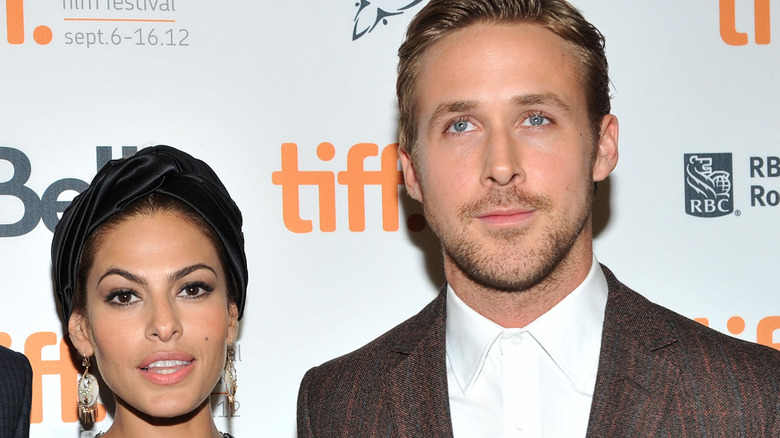 Sonia Recchia/Getty Images
Eva Mendes and Ryan Gosling likely won't be posing on the red carpet together anytime soon. In April 2023, Mendes posted a video of herself and Gosling from "The Place Beyond the Pines" via Instagram. "Magic is Real," Mendes said. "We did not meet on set. The magic started way before but here's a little magic captured on camera." One fan commented that they hope to see Mendes and Gosling make a public appearance together again while mentioning Gosling's upcoming film, "Barbie," due out in July 2023. "I really hope 'Barbie' will get through the Awards Season just to see you [with] Ryan," they wrote. In response, Mendes shared that she and Gosling avoid publicized outings. 
"What a cool comment, thank you. But we don't do those things together," Mendes wrote. "Like these photos I've been posting, I'm only comfortable posting because it's already out there." Mendes clarified that she and Gosling "only were on the red carpet together once when promoting this film." This occurred in 2012, according to the Daily Mail. When another user commented that they wonder why Mendes and Gosling don't do joint red carpet appearances, Mendes stated, "By 'not comfortable', I mean exposing our very private life that we value. I'm still dying to do another movie with him though." Mendes and Gosling don't shy away from praising each other publicly.
Eva Mendes and Ryan Gosling have spoken publicly about their love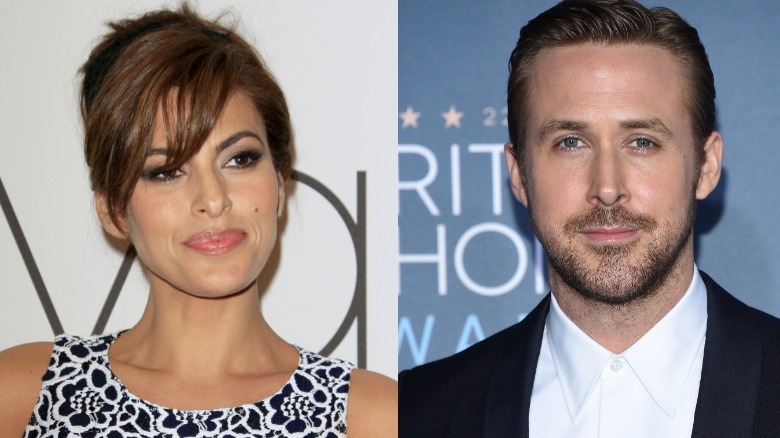 DFree & Kathy Hutchins/Shutterstock & undefined
Though Ryan Gosling and Eva Mendes don't do red-carpet outings side by side, the spouses have made loving remarks about each other on multiple occasions. As reported by ET in 2017, Gosling expressed his deep gratitude toward Mendes when he was awarded a Golden Globe for his performance in "La La Land." "My lady was raising our daughter, pregnant with our second, and trying to help her brother fight his battle with cancer," Gosling said when reflecting on his time filming the movie-musical. "If she hadn't taken all of that on so that I could have this experience, it would surely be someone else up here."
As noted by People, when she was a guest on "Fitzy & Wippa" of Nova 96.9 in 2020, Mendes said that her desire to have children developed as a result of her romance with Gosling. "I never wanted babies before until I fell in love with Ryan, and it kind of worked out to where I was 40 and having my first baby," Mendes said. Furthermore, Gosling has revealed that Mendes offered him encouragement for his latest role, the part of Ken in the soon-to-be-released "Barbie" film. "She's been very supportive. She's supporting my Kenergy," Gosling said on BBC's "The One Show," adding: "She started a hashtag, #ThatsMyKen, which meant a lot to me."