Reba McEntire's Relationship With Kelly Clarkson's Ex Brandon Blackstock Explained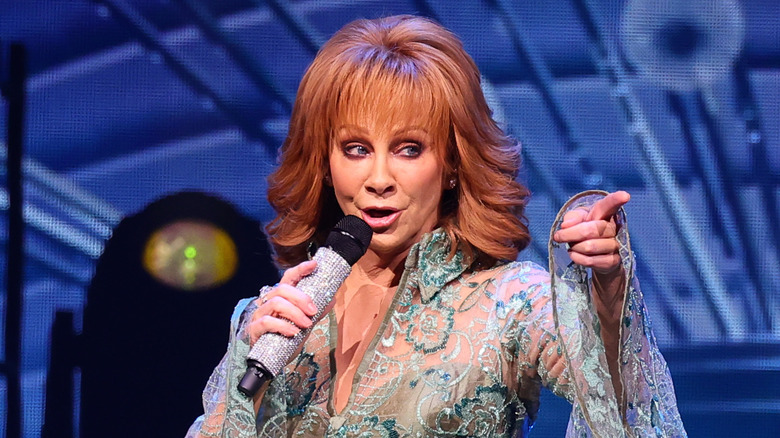 Theo Wargo/Getty Images
Reba McEntire has enjoyed a very long and successful career in the music industry, and because of her celebrity status, much of her personal life has become public. Of course, this includes her past marriages and her children. In 1989, the country music superstar wed television producer Narvel Blackstock. The couple shares one child, Shelby Blackstock. Narvel also had three children from a previous marriage to his high school sweetheart, Elissa Gayle Ritter — Shawna, Chassidy, and Brandon. In 2015, McEntire and Narvel pulled the plug on their marriage after 26 years. "Things started going south with my marriage. Narvel Blackstock, my manager, and husband at the time — we got a divorce, and the shocker of it all was, there were four people who were taking care of all my business," she said on "Apple Fitness + Time To Walk," via People.
She added, "I had my production manager who left, I had my CEO who left, my manager and husband, and my father had died. So four men who were rock and pillars of my world were gone." McEntire added that her divorce from Narvel significantly changed her life and she was left to pick up the pieces. Luckily, in 2016, she told Parade that she was "in a really good state of mind" and Narvel seemed much happier, as well, and he later went on to date one of McEntire's friends. 
So, what became of McEntire's relationship with Brandon after she and his dad parted ways?
Reba McEntire still loves her stepson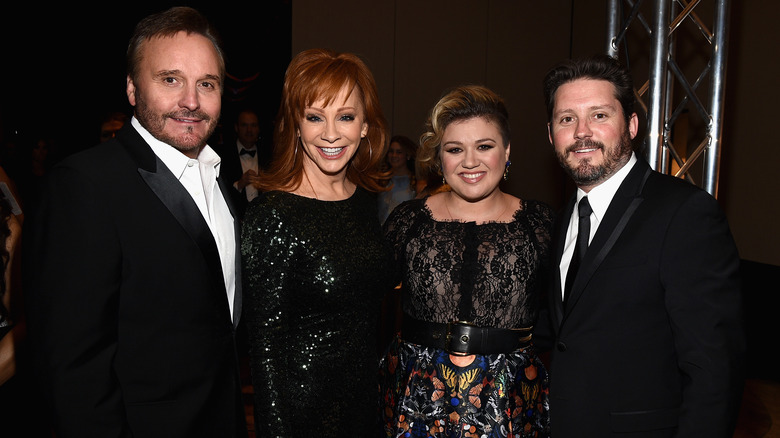 Michael Buckner/Getty Images
Reba McEntire and Narvel Blackstock may not be together any longer, but that hasn't change much about her relationship with Brandon Blackstock. In an interview with Extra TV in 2020, McEntire spoke about her stepson's divorce from Clarkson, with whom she famously duetted to "Because of You," and she made it clear that she's not picking sides. When asked whether or not she had given Clarkson advice after her split from Brandon, McEntire had a very diplomatic yet sweet message. "You know, I love them both. Brandon's my stepson, Kelly's my good friend. I am pulling for both of them. I hope they're happy and healthy and pull through this. I pray everyone gives them the encouragement they can because they need it right now, both of them do," she told the outlet, adding that she loves both Brandon and Clarkson "with all my heart."
The star echoed similar sentiments in a 2021 interview with Entertainment Tonight. "Brandon's been my son forever it seems. Although he's my stepson, I still love him like he's my total — my blood, so I'm praying for 'em both 'cause I love 'em both," she shared. In the past, McEntire has also made it crystal clear that Narvel's children from a previous marriage were no less her own. "I don't consider Brandon, Chassidy and Shawna [husband Narvel Blackstock's children from his first marriage] step-children. I claim them all," she told The Boot in 2010. We love that! 
Reba McEntire and Kelly Clarkson are still close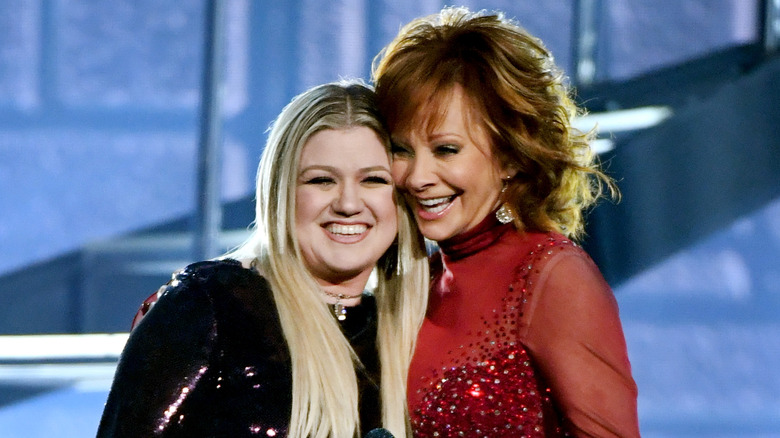 Ethan Miller/Getty Images
There's no doubt that Reba McEntire still has a soft spot in her heart for stepson Brandon Blackstock, but she also doesn't shy away from beaming over her friendship with Kelly Clarkson. McEntire still sings Clarkson's praises in interviews, and even though things didn't work out with Brandon, she thinks no less of Clarkson. "Kelly and I do talk, we text and I love them both, and so I can't play favorites because I've been a friend of Kelly for a long time," she told Entertainment Tonight.
McEntire and Clarkson share a bond over music, and in 2007, they recorded the hit song, "Because of You," which has amassed more than 32 million views on YouTube alone. In addition, McEntire is serving as the mega-mentor on Season 23 of "The Voice" (where Clarkson is a coach) and in the teaser, McEntire again gushed over her former daughter-in-law. "I am so proud of Kelly. She has grown as an artist, as a teacher, from when we first met... way back," the country music superstar shared. "She was a baby! Now she's just matured into this wonderful woman that I am just so proud of, and I love with all my heart." How sweet is that? We can only hope for more duets to come! 
Though things did not work out between Clarkson and Brandon, it's nice to see that the split has not affected either of their relationships with McEntire.