RHOSLC: What Jen Shah's Life In Prison Is Really Like
Jen Shah started as a member of "The Real Housewives of Salt Lake City," but things went awry for the reality star in 2021 when she found herself in the center of a scandal that rocked her world. Fans of the hit Bravo show may recall the episode where Shah abruptly exited the bus ahead of a trip to Vail, Colorado, that she was supposed to take with the other ladies. At first, she made up an excuse about leaving but later, we found out authorities arrested Shah. 
A few days later the telemarketing scheme and conspiracy to commit wire fraud scandal, E! Online reported that Shah and her assistant, Stuard Smith, entered a plea of not guilty. "Jennifer Shah is a wife, mother, and lifelong resident of the Salt Lake City area. She maintains her innocence of these charges, and is eager to defend herself in a court of law," her re said at the time. However, Shah changed her tune, later entering a plea of guilty via NBC News. During her hearing, she apologized to those she hurt, most of which were people over 55 years old. "Ms. Shah is a good woman who crossed a line. She accepts full responsibility for her actions and deeply apologizes to all who have been harmed," Shah's lawyer said in a statement. "Ms. Shah is also sorry for disappointing her husband, children, family, friends, and supporters."
A judge sentenced the star to 6.5 years in prison and now her once-glamorous life is completely different.
Jen Shah is keeping busy
Jen Shah may not be on 'The Real Housewives of Salt Lake City" any longer, but that doesn't mean that she isn't keeping fans updated on her life behind bars. As Shah serves her time in prison, she has been keeping busy. According to TMZ, and her manager, Chris Giovanni, Shah's working on a play titled "The Real Housewives of Bryan," which is a nod to the prison center in Bryan, Texas, where she's serving her time. While Shah heads up the production, she's teaching fellow inmates how to read and write participate in order to participate in the play. Who knew the things you could learn in prison? In addition, Shah served as a mentor to some of the inmates and she also works in the library and the education department at the facility.
In the same article, Giovanni states that Shah has been practicing her faith behind bars and has a small group of women with whom she holds prayer groups with. The star seems to have made the best of her situation, but she's still not a big fan of the food. Since she's been at the facility, Shah has shed 15 pounds. 
As for her life in the cell? The New York Post reports that Shah shares a room with several other ladies in a summer-camp-like setup. "Instead of cells, these camps generally offer dormitory-style housing for all inmates, it will be bunk beds," attorney Doug Murphy said of the accommodations.
Inside Jen Shah's Instagram posts about prison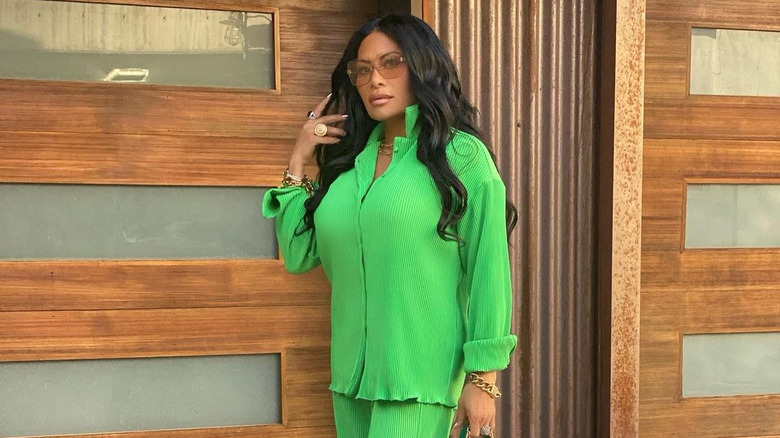 Fans have learned quite a bit about Jen Shah's time behind bars by following her on social media. On February 17, Shah told fans that she planned to surrender to federal prison as she apologized to those who suffered from "the bad choices" she made. In the caption of the update, she also revealed to fans that she would communicate from behind bars. "While Jen is away an administrator will be running her accounts to keep the #ShahSquad updated, thanks for your ongoing love and support," the post read. The "RHOSLC" star's first journal entry came on March 9. In the update, she described her experience of driving to the prison and suffering a panic attack. Shah also lamented how hard it was to say goodbye to her husband and son. 
In another update shared on her Instagram page on March 10, Shah gave followers a little more insight into the prison day-to-day, including how she met a friend nicknamed Special K, who surrendered the same day as she did. "Today is Saturday, there is a 6 a.m. brown bag breakfast brought into the common area of our unit. I was so tired and didn't wake up but Special K got one for me," she wrote in the update. Shah also shared a glimpse of her breakfast — wheat bread, an apple, jelly, and some instant oatmeal. In addition, Shah said the emotions are high and she just misses her family.