Jonny Lee Miller's Marriage To Michele Hicks Was More Private Than His First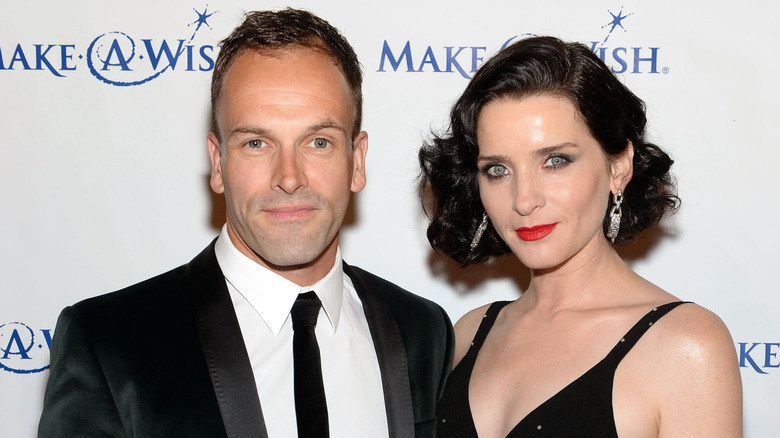 Dimitrios Kambouris/Getty Images
There's no denying Jonny Lee Miller's marriage to Angeline Jolie was a high-profile one ... but what do we know about his second marriage, to model and actor Michele Hicks?
While, for many, Jolie will be eternally linked to Brad Pitt, her first trip down the aisle was with another co-star-turned-love. She and Miller had co-starred in the 1995 film, "Hackers," and the following year, they were wed. And, though an interview with Stuff saw Miller explain that their relationship managed to be somewhat under the radar — they were both up-and-coming at the time — they haven't exactly shied away from speaking about their relationship, in the past. More specifically, they've been pretty open about their continued love for one another, even post-split. Speaking to the Daily Mail in the wake of their 1997 divorce, Jolie even went as far as saying she'd be open to trying again, at some point. "There is a good possibility that we could get married again some time in the future," she mused. As for Miller, he told Stuff that they've remained in each other's lives over the years, as friends. 
All that said, in 2008, Miller moved on with his second wife. But, while Hicks is an actor herself, on his second time around, Miller kept things pretty mum. In fact, Miller's relationship with Hicks has always been a private one. 
Miller has shared details about their relationship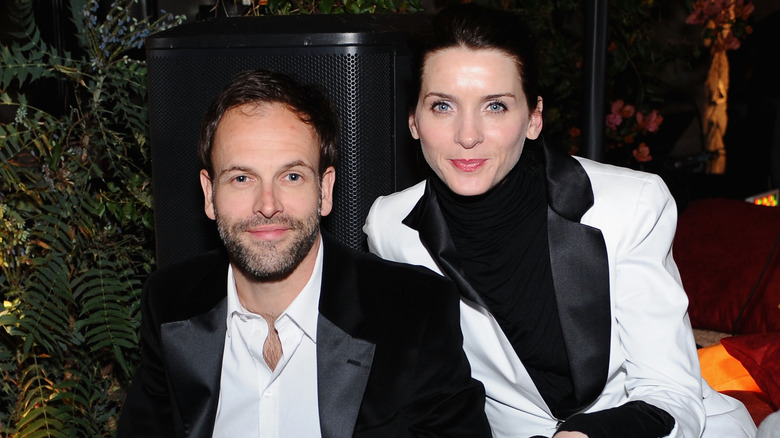 Stefanie Keenan/Getty Images
Well, private up to a point, anyway. 
While Jonny Lee Miller hasn't been forthcoming with many details about his relationship with Michele Hicks, he did previously tell The Telegraph that they were set up. "We were introduced in a bar by a mutual friend, and that was it," he revealed. Miller didn't share much more than that, and it's not exactly clear when they met. However, the couple did go on to marry in April 2008 ... though, it's possible that's only public knowledge because of an unfortunate mishap. While they'd initially planned to elope in Northern California, he told Express that they'd needed to change plans in a matter of days, when, "The place we were gonna go and get married actually caught fire a week before we were getting there." They ended up tying the knot at the Malibu home of, as he said in the interview, "a friend of a friend." And, it's safe to say, they were happy with the new wedding venue. "It turned out better because it actually meant we could have more friends and family there," the actor recounted. 
Five months after their wedding, People reported that the couple was expecting — and a month later, Miller told OK that he was eager to become a dad. He also gushed over Hicks' strength throughout the pregnancy. "She's tough ... I thought that already, but I think it even more now," he said. True to form, though, he didn't share anything further. 
... but they've kept their divorce out of the press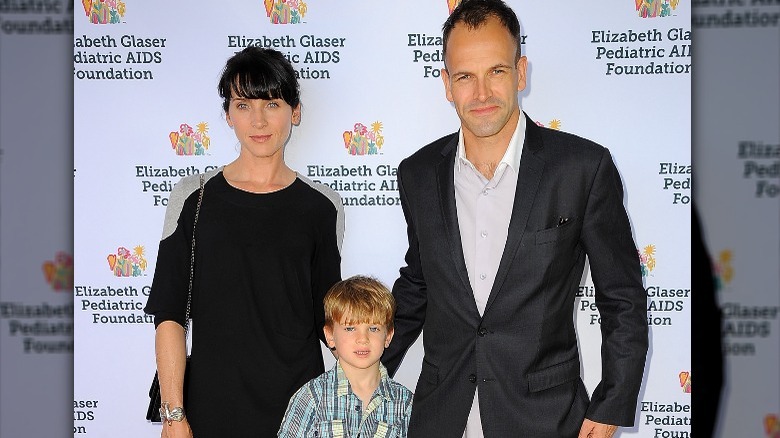 Chance Yeh/Getty Images
Sadly, Jonny Lee Miller and Michele Hicks parted ways in 2018, after 10 years of marriage. And, possibly unsurprising given their penchant for keeping things private during their marriage, they've never addressed their divorce publicly. 
Having said that, it certainly appears as though the two are amicable — and it's clear they're both committed to co-parenting their son, Buster Timothy Miller. Case in point: they post regular Instagram shoutouts to each other on Mother's Day and Father's Day, respectively. Back in 2021, Jonny gushed that Hicks was, "The mother of the best thing to ever happen to me." A few years prior — the year of their divorce, to be exact — he issued an even sweeter message. "Happy Mother's Day to the coolest, most loving and bada** mom a kid could wish for. Grateful to be your baby daddy Michele, and thank you for giving me an angel," he wrote. As for Hicks, she's also happy to send a steady dose of appreciation messages her ex's way. Her 2021 Father's Day message featured a selfie of Jonny and Buster, alongside the caption, "Forever grateful to take this parenting journey with you." 
Since their split, Jonny's love life has made headlines, once again — thanks to his spending more time with Angelina Jolie. Granted, neither has confirmed if they're dating, or merely catching up. Either way, something tells us Jonny is happy to keep us guessing, for the time being.