Was Nick Lachey Still Married To Jessica Simpson When He Met Vanessa?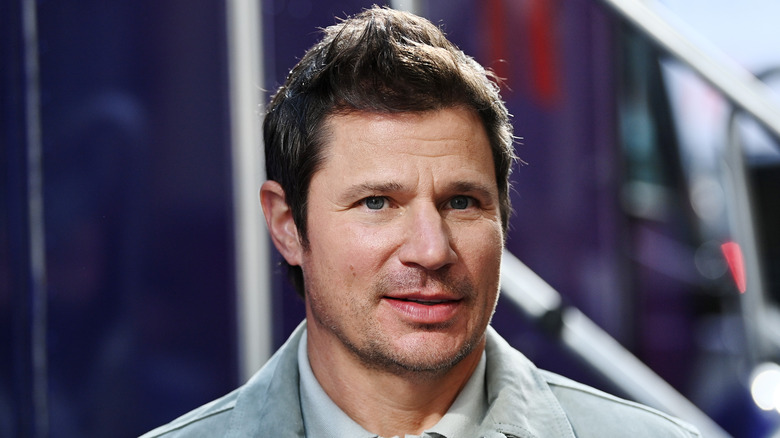 Roy Rochlin/Getty Images
Before Nick Lachey's current union, he was married to Jessica Simpson. In a 2003 chat with People, it was revealed that Lachey and Simpson's initial encounter occurred when they were in attendance for the '98 Hollywood Christmas Parade. The two began seeing each other shortly after, but Simpson ended the romance in 2001. Before long, however, the musicians got back together. In 2002, Lachey and Simpson tied the knot in Texas. The marriage didn't last, as the pair's divorce was finalized in 2006.
That same year, Lachey told Rolling Stone that Simpson initiated the divorce, a move he was completely "blindsided" by. "I basically said, 'Please, let's sleep on it.' But when we woke up the next day, Wednesday, she was still sure," Lachey said (via People). Lachey started dating his now-wife, Vanessa Lachey, in 2006, shortly after his divorce from Simpson. Entertainment Tonight published an excerpt from Simpson's 2020 memoir, "Open Book," in which Simpson shared a diary entry documenting her sorrow over Nick and Vanessa's courtship. "So, Nick, you're with another already? Seems that you forgot the love you spoke to me," the singer wrote. "I'm saddened beyond belief. Alone in the dark, with no one to call my own." 
With Nick and Vanessa going public as a couple so soon after his divorce, fans may wonder if the two connected while he was married. Well, prior to beginning a relationship, Nick and Vanessa met on the set of a classic 2000s TV show.
Nick and Vanessa Lachey were both in relationships when they met and didn't date until years later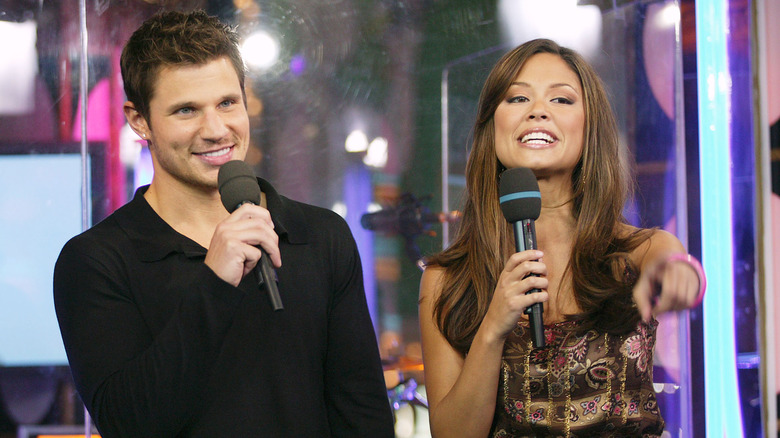 Scott Gries/Getty Images
Nick and Vanessa Lachey were mere acquaintances long before they started dating. In 2017, Vanessa spoke to Billboard about how she met Nick in 2003 while she was serving as a VJ for MTV's "TRL." Nick and Vanessa would cross paths here and there, either when he visited "TRL" to discuss his career ventures, or in another work setting. At the time, Nick was still married to Jessica Simpson, while Vanessa was dating famed athlete Derek Jeter. Whenever Vanessa and Nick saw one another, their interactions were friendly and work-related. "It was always about business, and it was always nice to see him," Vanessa said. Interestingly, per an archival YouTube video, Nick, Vanessa, and Simpson were all featured in CBS's "TRL at the Superbowl" in 2004.
After Nick and Simpson had divorced, Nick asked Vanessa to be in the music video for his 2006 song "What's Left of Me." Their friendliness quickly shifted to a love connection at this point. "So, now we're both single ...  I'll never forget, we were in New York, and I was like, 'Hello, Nick Lachey!' It just all came together," Vanessa said to CBS News in 2023. In 2011, the love birds got hitched in the British Virgin Islands. Over a decade later, Nick and Vanessa are still going strong and are even working together on a few hit shows. 
Nick and Vanessa Lachey remain 'truly committed to each other'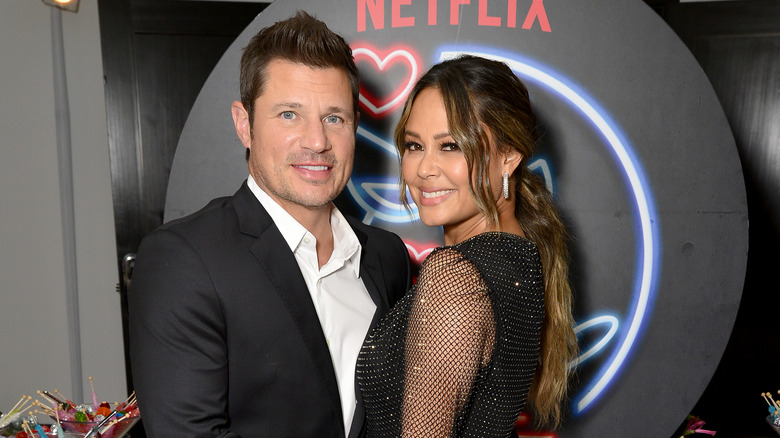 Jerod Harris/Getty Images
Nick and Vanessa Lachey are a dedicated couple, but they certainly faced some bumps in their relationship, especially early on. In 2022, as the two were co-hosting the reality dating series "The Ultimatum," Vanessa got candid about what it was like for her to begin seeing Nick soon after his split from Jessica Simpson. "[Nick] was literally in a very public marriage and a very public divorce, and I had to go through all that s**t very publicly, and it was very hard for us," Vanessa said, per TooFab. However, those circumstances ultimately strengthened their bond. "It wasn't until the moment that he was like, 'I'm gonna let it go,' and I said, 'I'm gonna let it go, [that] we truly committed to each other. We literally fell deeper and harder than we ever could," Vanessa added. 
Prior to "The Ultimatum," Nick and Vanessa started teaming up as co-hosts for another popular reality dating show, "Love Is Blind," in 2020. In February 2023, the performers opened up to CBS Sunday Morning about the series, in which couples contemplate marriage following connecting over in-depth conversations without ever seeing each other. "What I think is so fascinating is it's how love used to be," Vanessa said. The duo also shared that they attend sessions with a marriage therapist to maintain their relationship. "I think, like anything that's meaningful in your life, it's worth working at," Nick said.