How Renee Zellweger Got Involved In Ant Anstead And Christina Hall's Feud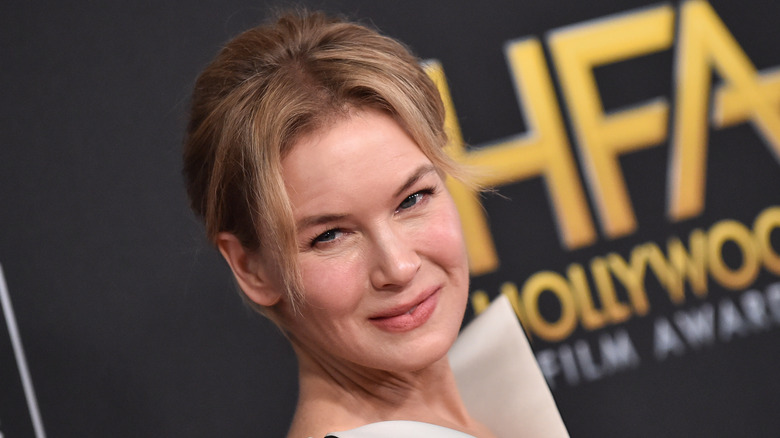 DFree/Shutterstock
While Ant Anstead has kept with relationship with Renée Zellweger largely away from the spotlight, the "Celebrity IOU: Joyride" host hasn't always extended the same courtesy to his ex-wife. Anstead's relationship to Christina Hall remained firmly under it even after they went their separate ways. Even though Hall and Anstead finalized their divorce in June 2021, they continued to make headlines throughout 2022 after entering into a brutal legal fight over custody of their son, Hudson, who was born  a year before they separated.
When they divorced, Anstead and Hall agreed to share legal and physical custody of Hudson. But Anstead changed his mind and requested full custody in April 2022, Us Weekly reported. Hall suggested Anstead wanted to draw public attention with his filing — which came just days after she married Joshua Hall. "If this was really about Hudson, as he says, this should have been handled privately with a private judge or mediation, as myself and my attorney have suggested," she said in a statement to the outlet. 
Anstead and the "Flip or Flop" alum settled their dispute in December 2022, just three months before they were scheduled to go trial, E! News reported. The former coupled finally agreed to share physical and legal custody of Hudson. Through the whole ordeal, Anstead and Zellweger's relationship grew stronger behind the scenes. At one point, though, Zellweger was dragged into Anstead's mess with Hall.
Ant Anstead claimed his ex got Renee Zellweger sick
Ant Anstead sought to get sole custody of Hudson on the grounds that, among other accusations, Christina Hall had been neglectful of their son's physical wellbeing, TMZ reported in April 2022. One example of how she presumably had endangered Hudson, Anstead cited Halls' failure to disclose her family had caught COVID-19 in January 2022, when she dropped him off at his house. In addition to putting Hudson's health at risk, Anstead argued that Hall also prevented him and his loved ones from taking proper precautions.
Because of Hall's alleged negligence, Renée Zellweger became infected, which also had professional consequences, he contended. "At the time my partner was filming her new project and her COVID diagnosis placed the whole production on pause," he said in court documents. Anstead didn't actually name Zellweger, but he started dating the "Judy" Oscar winner exactly a year before his custody petition.
The unlikely pair met when she starred on his Discovery+ show "Celebrity IOU Joyride, whose episode aired in August 2021. "One year ago today! Sat on the back of a fire engine on the final day of filming," he captioned the April 2022 Instagram post. Despite falling sick with the virus, Zellweger considered herself among the lucky ones during the pandemic. "I was so blessed that I wasn't directly affected by the plague," she told Harper's Bazaar in March 2022.
Renee Zellweger has a great relationship with Hudson
Renée Zellweger may have become embroiled in Ant Anstead and Christina Hall's messy legal dispute, but that didn't affect her relationship with their son Hudson. Right when Anstead contended Hall had exposed them to COVID-19, Zellweger spent quality time alone with Hudson at a park in Laguna Beach, the Daily Mail reported. The "Bridget Jones's Diary" star and the toddler looked pretty comfortable around each other, with Zellweger enthusiastically pushing him on the swing and playing with him on the monkey bars.
In August 2022, Zellweger also showed her care for Hudson during a day trip to the beach. Anstead uploaded a series of photos to Instagram from their outing that showed the boy rocking a black jacket that didn't exactly fit him. "When a stroll to the beach (in clothes) ends with a fully soaked toddler.......... said toddler obviously walks home in the missus coat," Anstead explained in the caption.
For the occasion of Hudson's third birthday the following month, Zellweger once again proved to be a big part of his life. Anstead shared several shots of the celebrations to his Instagram that didn't feature his girlfriend, prompting a fan to wonder why Zellweger wasn't at the party. Anstead was quick to clarify the situation. "Oh she's there! She helped plan the whole party! Two lucky boys!" he wrote in response (via PopCulture).