13 Facts About Bridget Fonda, Jane Fonda's Niece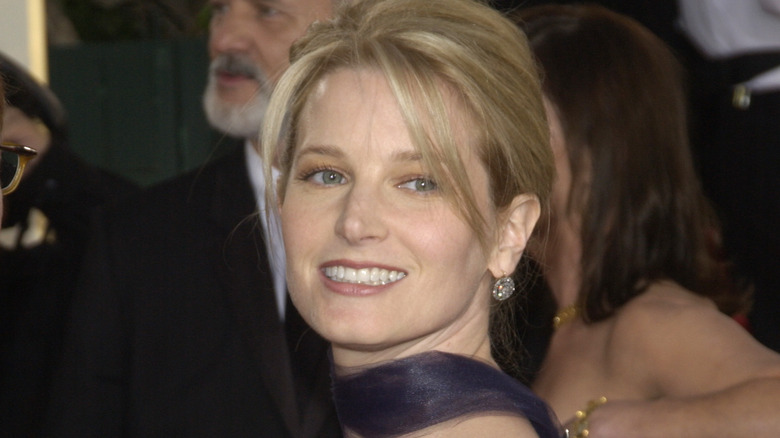 Featureflash Photo Agency/Shutterstock
Throughout the '90s, Bridget Fonda's acting career was only expanding, and it seemed as though the "Singles" star was building a body of work that would last a lifetime. As part of a renowned acting dynasty, Fonda faced more scrutiny than most, telling The Guardian in 2000, "True, everyone expected me to be good, automatically, and I had to learn to fall on my face." Coming from a famous family, Bridget's relationship with her aunt, Jane Fonda, often became tabloid fodder, too. "People forget that Jane's not my mom — she's my dad's sister — and although we're close, I don't see her that often," she told The Guardian. "She lives in Montana; I live in Los Angeles."
Despite building a career of her own, Bridget seemingly struggled with the idea that she perhaps didn't deserve her success. "When I see people from a non-entertainment-industry family who've made it, I'm like, 'Wow, you're here because of your own efforts — the way you're perceived isn't based on someone else's achievements,'" she told The Guardian. However, Bridget's talent as an actor helped break down any preconceptions about her, especially once she received two Golden Globe nominations and an Emmy nomination. 
Here, we explore Bridget Fonda's career to date, from the influence of the famous Fonda family to her current incognito lifestyle, which has seen her take a step back from acting altogether.
Bridget Fonda was born into a famous family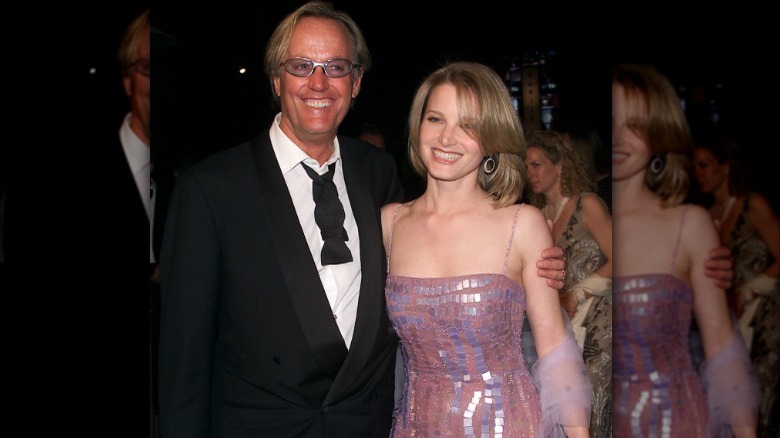 Evan Agostini/Getty Images
From the day she was born, Bridget Fonda was a member of Hollywood royalty. Her grandfather, Henry Fonda, was a well respected, Oscar winning actor, who worked with everyone from Alfred Hitchcock to Katharine Hepburn, and whose acting career spanned five decades. Bridget's father, Peter Fonda, followed in the footsteps of his father Henry, and carved out a successful movie career of his own, receiving two Academy Award nominations in the process. Peter's sister, Jane Fonda, needs no introduction. The winner of two Oscars, Jane's work as an actor and an activist started in 1960, and continues to this day. Basically, Bridget was born into a clan of talented performers, so it makes sense that she would pursue acting, too.
In a 1993 interview with Movieline, Bridget addressed the influence her famous family undoubtedly had on her career. She explained (via Fox News), "I wonder what kind of satisfaction I would have with where I am now if I wasn't part of a family that has done such phenomenal work." She continued, "I wonder what it would feel like to know that you've made it completely under your own steam. I sometimes wonder if I would be more at peace if I could know I made it by myself, instead of always wondering how many times my name got me in the door." Understandably, Bridget wrestled with the prestige of her family's name while she built a career of her own.
She dated Eric Stolz for eight years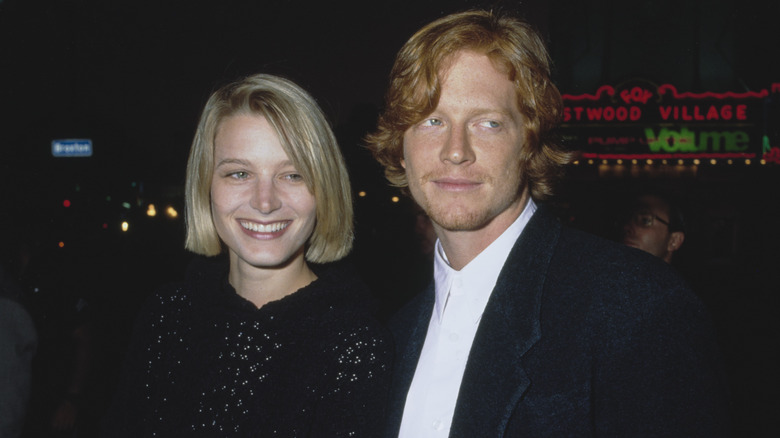 Michael Ochs Archives/Getty Images
After making her debut in an uncredited role in 1969's "Easy Rider," Bridget Fonda started building an acting career of her own throughout the '80s and '90s. According to People, Fonda met actor Eric Stoltz in 1986, but it wasn't until 1990 that they started seriously dating. They stayed together for eight years, which is pretty much a lifetime in Hollywood, and their 1998 split allegedly shocked those closest to them. In fact, Stoltz's dad Jack told People that he was devastated by the breakup, and revealed that he wrote to Fonda, saying, "I would always consider her a sort of daughter." However, there may have been hints all along that Stoltz and Fonda weren't meant to be.
Per People, Stoltz apparently opened up to USA Today in 1993 about marriage, saying, "I don't know if I have the strength of character." However, it's clear that the two actors had a lot of love for one another during their long courtship. In her 1993 interview with Movieline (via Lebeau's Le Blog), Fonda was candid about her relationship with the "Pulp Fiction" actor. "Eric sent me beautiful roses, just tons of flowers, on my birthday once," she told Movieline. She also revealed, "On the first date I couldn't eat. We went for a drive because I wanted to show him the house where I grew up, and it had been torn down. I cried on our first date, which to me is very romantic."
Bridget Fonda found movie success in the 1990s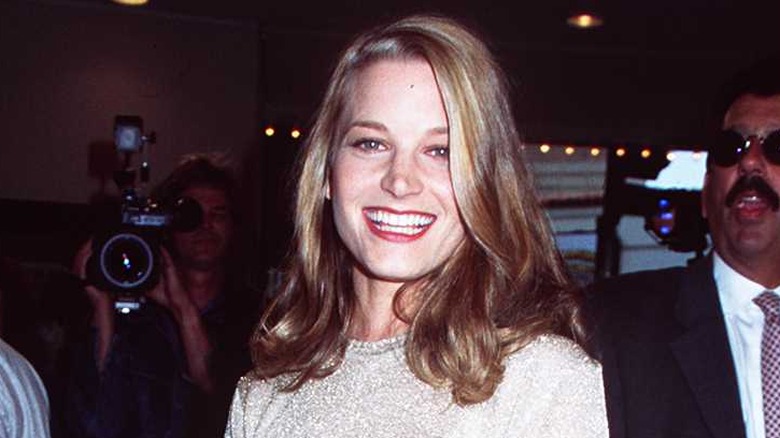 Tammie Arroyo/Getty Images
Bridget Fonda's career really took off in the '90s, and she started being taken seriously as an actor. In 1990, she appeared in "The Godfather Part III" alongside Hollywood greats like Al Pacino and Diane Keaton. In 1991, she appeared in Michael J. Fox comedy "Doc Hollywood," then she took the lead in 1992's "Single White Female" opposite Jennifer Jason Leigh. The searing thriller saw Fonda play a sweet but stealthy stalker who tries to take over someone else's life. In 1992, Fonda worked with director Cameron Crowe on "Singles," a romantic comedy about a group of people in their twenties navigating life and love. Also in 1992, Fonda had a role in Sam Raimi's "Army of Darkness" alongside Bruce Campbell. And it wasn't long before Fonda was regularly being cast as the lead in huge Hollywood pictures.
In 1993's "Point of No Return," a remake of Luc Besson's 1990 French film "La Femma Nikita," Fonda plays a former drug addict who's recruited to be an assassin. In 1994, Fonda seamlessly switched genres, starring opposite Nicolas Cage in romantic comedy "It Could Happen to You." She rounded out the '90s with a part in Quentin Tarantino's "Jackie Brown" in 1997, and a starring role in 1999's "Lake Placid." Fonda entered the '00s at the top of her game, and as a respected actor in her own right.
She enjoyed working with Al Pacino on The Godfather Part III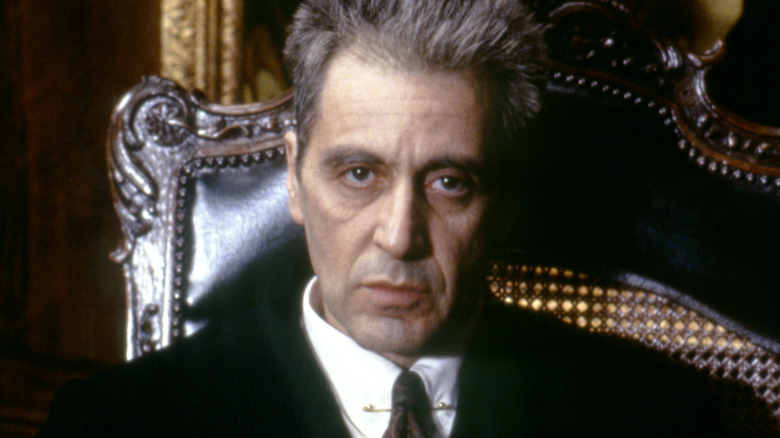 Sunset Boulevard/Getty Images
Throughout her career, Bridget Fonda has worked with some of the world's most acclaimed actors and directors. For 1990's "The Godfather Part III," Fonda got the chance to work with respected director Francis Ford Coppola, while acting alongside award-winning actors like Diane Keaton and Al Pacino. In her 1993 interview with Movieline (via Lebeau's Le Blog), Fonda reflected on her time working with Pacino, and it seems that the legendary actor had a profound effect on the young star. "Al was fantastic," Fonda told Movieline. "He would come up to me and say, 'Bridget, have you gotten anything, any pages? What's going on, do you know anything?' I'd say, 'No I don't, do you?' and he'd say, 'No, I don't. By the way, how was your Christmas?'" Her warm recollections of working with Pacino are extremely endearing.
Fonda also opened up about her time on the set of the film, telling Movieline, "See, the whole time I was in Italy making 'The Godfather Part III,' Francis Coppola was trying to figure out the story. He'd say, 'I have an idea about what to do with your character.'" She elaborated, "One idea was that I would be tied to a jukebox and thrown off a cliff! That was my favorite. I would giggle about those things with Don Novello and George Hamilton, who I had a wonderful time with." Basically, Fonda really found her footing while working with some of Hollywood's best talent.
Bridget Fonda was offered the lead role in Ally McBeal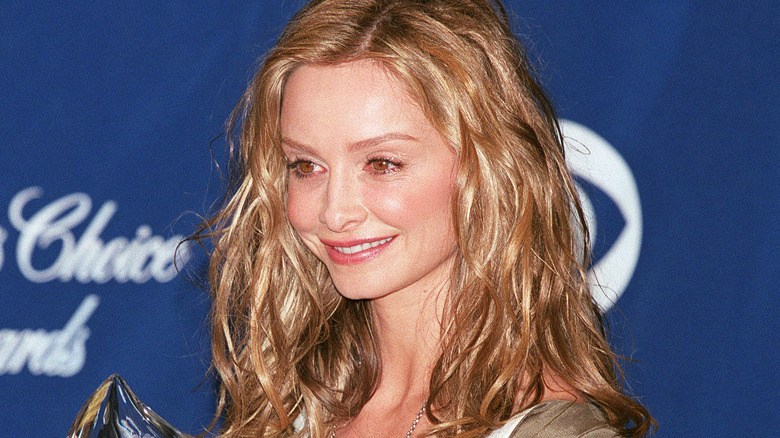 Frank Trapper/Getty Images
It's hard to imagine anyone other than Calista Flockhart playing the lead role in "Ally McBeal." However, the hit TV show could have been very different had Bridget Fonda decided to accept the role, instead. In 1999, the New York Post reported that Fonda had given an interview to Canada's The Calgary Sun, revealing that she'd been up for the role in the hit '90s series, which focused on a neurotic lawyer looking for love. "I'm doing really well with my film career, but that may all change and I'll turn on 'Ally McBeal' one night and start kicking myself," Fonda said. "David [E. Kelley] sent the ['Ally McBeal'] script and offer to me through my agent," she explained. "I refused to read the script for fear I might really like it."
Ultimately, Fonda's decision to decline the lead in "Ally McBeal" hinged on the fact that she wanted to continue working in the film industry. "I've never wanted to do TV," she reportedly told The Calgary Sun. "I love feature films too much." However, Fonda also reflected on the missed opportunity, saying, "I'm not kicking myself for having passed on 'Ally McBeal,' even though it's a huge hit." She continued, "I've been acting long enough to know it could have been a complete dud with me in it. It may work as well as it does because of Calista." Basically, Fonda was extremely gracious about passing on the role.
She's a fan of her aunt Jane Fonda's work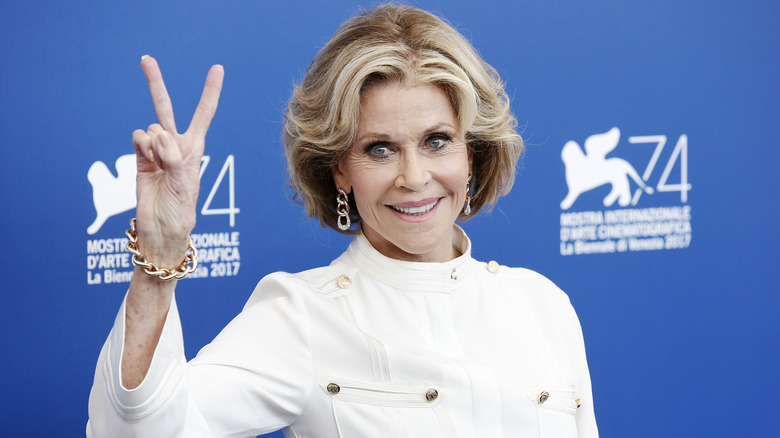 Andrea Raffin/Shutterstock
It goes without saying that Bridget Fonda has some seriously accomplished family members. Most of us would love to have Jane Fonda as an aunt, and it's fun to imagine what it would have been like to grow up with the iconic actor as a relative. In an interview with Movieline in 1993 (via Lebeau's Le Blog), Bridget opened up about the questions she'd like to ask her aunt, saying, "I would ask her a lot about acting. She knows so much and I would want to learn all the things that she knows." Bridget continued, "She's more advanced than I am. Her commitment has been an inspiration to me. It comes out in the quality of her work and the way that she cares enough to take chances." Without a doubt, Bridget respects her aunt's talent just as much as the rest of the world does.
However, Bridget was also asked by Movieline to address the rumor that she had attempted to distance herself from her aunt. Bridget was quick to shoot the rumor down, saying, "Which is not true! I have never taken pains to distance myself from her in any way." As for why the misinformation may have spread, Bridget mused, "I guess it's because Jane's famous and a lot of people have a lot of mixed feelings about her." 
Bridget Fonda has a hole in her heart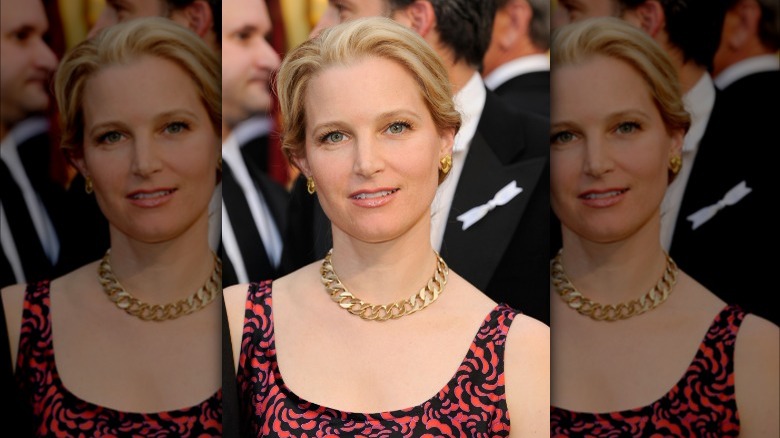 Kevork Djansezian/Getty Images
Bridget Fonda discussed a plethora of topics in her 1993 interview with Movieline (via Lebeau's Le Blog), including the fact that she has a hole in her heart. Revealing that she dislikes aerobics, which is in direct opposition to her aunt Jane Fonda's successful workout video career, the interviewer asked if she was against the exercise because of her health condition. Bridget responded, telling Movieline, "I have a hole in my heart, which is a fairly common heart murmur, but it doesn't stop me from doing anything." She continued, "It basically means that I have to take antibiotics when I have my teeth cleaned or any kind of surgery because there's a possibility that the bacteria will lodge itself within that hole. So in that way it's serious, but you only have to be medicated." 
Bridget also revealed how she found out that she had the health condition, saying, "I have a third heartbeat. It's like boom, boom, shhh. The doctors knew it from the time I was very small. I went to UCLA every four years and had heart tests." While Bridget has obviously had to manage the condition, and make adjustments accordingly, she was also adamant about not being limited by the hole in her heart, either. "I was always told that it wouldn't stop me from doing anything that I wanted to do," she told Movieline.
She survived a terrifying car crash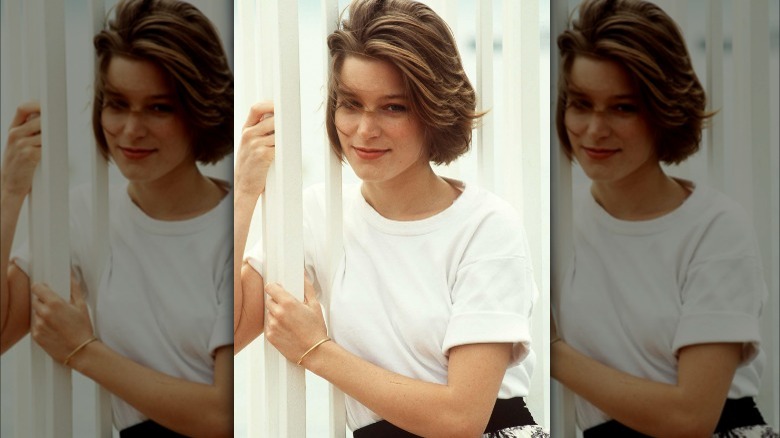 Avalon/Getty Images
Bridget Fonda found immense success as an actor throughout the '90s, and the '00s should have been just as glamorous for the star. However, in 2003, Fonda was involved in a shocking accident. As reported by the New York Post, Fonda was involved in a scary car crash on the Pacific Coast Highway, which involved her Jaguar rolling down an embankment. The publication reported that Fonda survived the crash because she was wearing a seat belt, but that her car was written off in the accident. Per CNN, Los Angeles County Sheriff Sgt. Ken Scheurn suggested that the incident had been caused by heavy rain, which made the highway slippery, and it was believed that no drugs or alcohol were involved in the incident.
The actor's spokesperson, Nancy Seltzer, told the New York Post, "She's doing okay and hopefully she'll be out of the hospital by tomorrow ... That's all that matters." The "Single White Female" star was treated at St. John's Medical Center in Santa Monica, and according to the New York Post, her injuries were thought to be minor at first. The BBC later reported that Seltzer had given an insight into Fonda's injuries, saying, "[She has] a slight fracture of two thoracic vertebrae."
She married composer Danny Elfman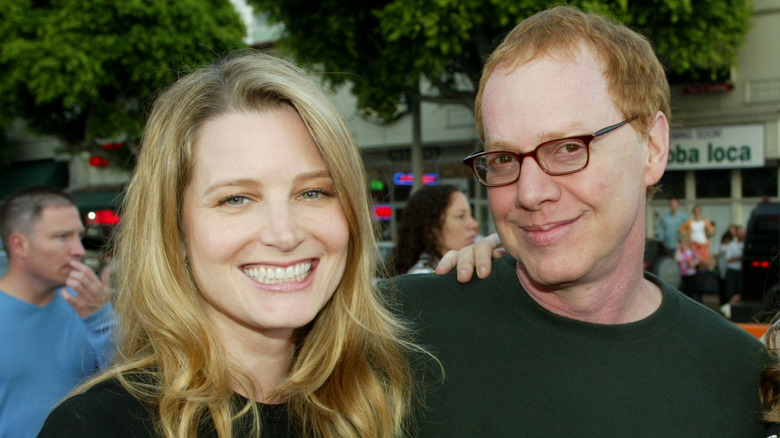 Kevin Winter/Getty Images
In March 2003, outlets had revealed the engagement of Bridget Fonda and Danny Elfman. Elfman, of course, is a famed film composer and musician, who has worked on everything from "Stranger Things" to "Justice League" to "Beetlejuice." According to Hello!, the pair met on the set of the 1998 film "A Simple Plan," which was directed by Sam Raimi and co-starred Billy Bob Thornton and Bill Paxton. Elfman scored the movie, while Fonda starred, and their relationship reportedly grew from there.
The couple wed on November 29, 2003. People reported that Fonda and Elfman tied the knot in an intimate ceremony at Los Angeles' First Congressional Church. The publication noted that the "Monkeybone" star's father, Peter Fonda, gave her away, and that the wedding was followed by a reception at a local restaurant. The couple's wedding rings were designed by famous jeweler Neil Lane. According to Today, Elfman and Fonda embarked upon a two-week honeymoon following their nuptials.
Bridget Fonda became a mother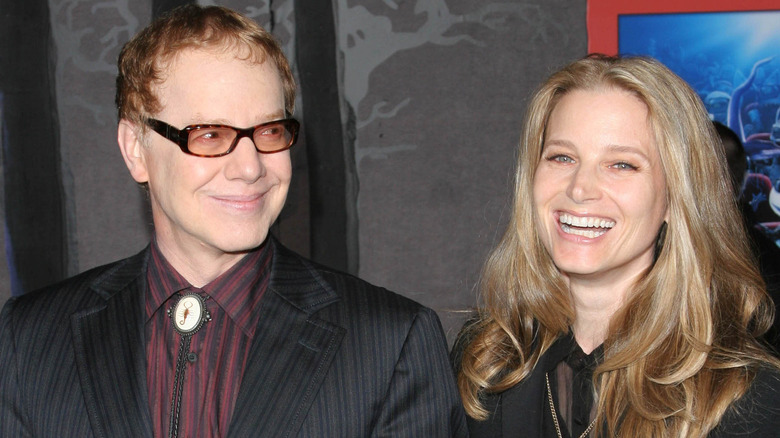 s_bukley/Shutterstock
A year after Bridget Fonda and Danny Elfman's wedding, People reported in November 2004 that the actor was pregnant with her first child. The couple's son, Oliver Henry Milton, was born on January 10, 2005. Composer Elfman has two daughters, Mali and Lola Elfman, from his previous marriage to Geri Eisenmenger. As a result, Oliver has grown up with two half sisters. It's also worth noting that Mali is a film director and producer, meaning that she works in the entertainment industry just like her father.
In December 2009, Jane Fonda shared a family update on her blog, revealing, "Bridget and Danny give an annual Christmas party ... Vanessa [Vadim, Jane's daughter] and my grandchildren just got in from Atlanta in time for the party and to see their cousin Oliver." Jane also shared photos of Bridget with son Oliver, with both mother and son looking healthy and happy. For the most part, the family has remained out of the spotlight in recent years, with Oliver making occasional red carpet appearances with his father. Now a late teen, Oliver was photographed with his mother at Los Angeles International Airport in 2023.
Bridget Fonda bought a fixer-upper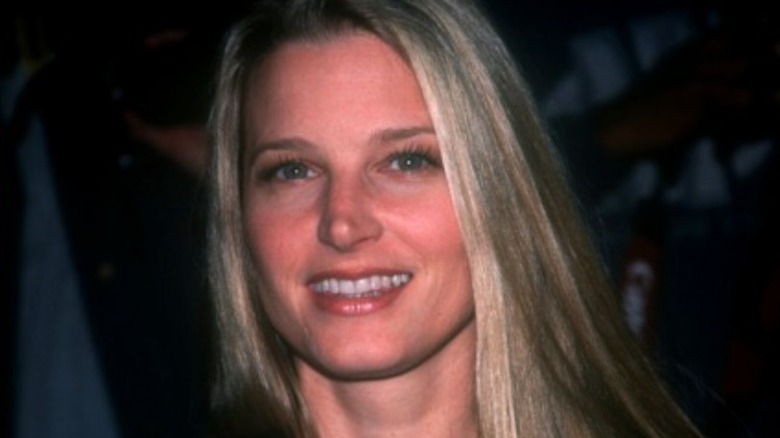 Evan Agostini/Getty Images
Who doesn't love a fixer upper? Despite leaving the spotlight after getting married and welcoming her son, Bridget Fonda has most definitely been keeping busy. In June 2015, Variety reported that Fonda and her husband had purchased a fixer upper property in the gated community of Fremont Place in Los Angeles, next door to their main residence. The publication noted that the property, which was sold for $3.6 million, was built in 1916, meaning that it needed some serious updating to make it liveable. Variety also reported that the house featured four bedrooms and five bathrooms, and had last been renovated in the '60s or '70s, making its decor pretty outdated. 
In October 2020, Danny Elfman revealed to The Wall Street Journal that they were putting both of their properties on the market for a total of $14.6 million. Discussing their eclectic style and decor, Elfman told the publication, "One of the things my wife and I bonded over is that we both had taxidermy." During the interview, the composer also romantically revealed that he bought the house next door especially for his wife, who had apparently been coveting it for quite some time. Offering a description of what the second property is used for, Elfman jokingly said, "What's the opposite of a man cave?"
She has officially retired from Hollywood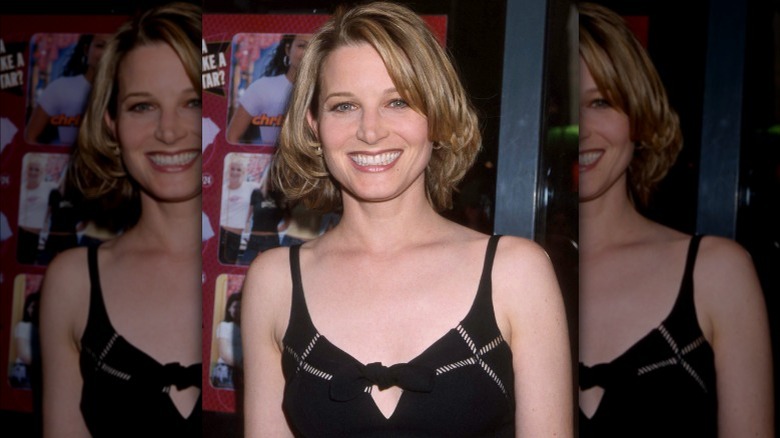 Robin Platzer/twin Images
In 2023, interest in Bridget Fonda built once again after the actor was photographed in Los Angeles by paparazzi. However, the star's reemergence doesn't mean that she'll be returning to acting anytime soon. In April 2023, the Daily Mail reported that Fonda had categorically ruled out a return to acting during an exchange with a photographer. According to the site, Fonda told the photographer "No," when asked if she would be coming out of retirement. As for why she has no desire to return to the entertainment industry, Fonda elaborated by saying, "I don't think so, it's too nice being a civilian." While fans of the popular actor will likely be disappointed by this news, it's clear that Fonda has found a happier way of life out of the spotlight.
During an interview with The Wall Street Journal in October 2020, Fonda's husband Danny Elfman gave an insight into the family's day to day life, revealing that the pandemic had changed their outlook substantially. While isolating, Fonda, Elfman, and their son Oliver retreated to the family's ranch near Santa Barbara, and realized that they enjoyed the quiet life the location offered. As a result, Elfman told the outlet that they decided to sell their Los Angeles properties, in the hopes of relocating out of the area more permanently.
Bridget Fonda has gone incognito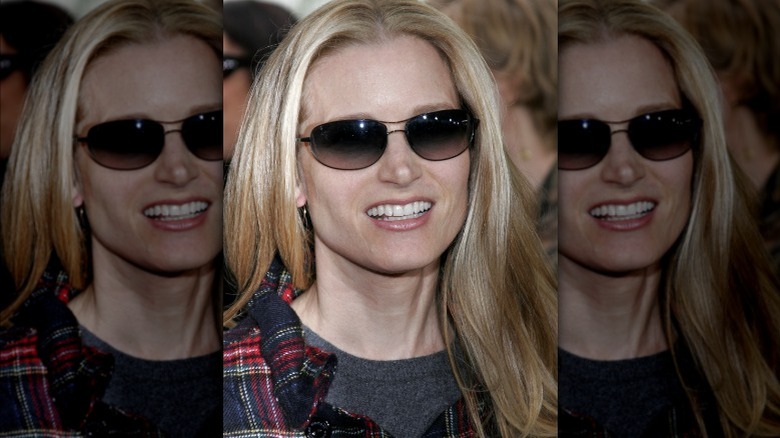 Tinseltown/Shutterstock
Bridget Fonda's last acting role was in 2002's "Snow Queen," in which she played the titular role. Since then, the actor has retreated from the spotlight, and has seemingly retired from Hollywood altogether. 2023 sightings of the star, via the Daily Mail, showed Fonda dressed comfortably and looking both happy and relaxed. Her incognito look aligns with her revelation that she prefers to live life as a civilian, and not court the celebrity lifestyle she was once accustomed to. Having married Danny Elfman, and welcomed son Oliver, Fonda appears to be at peace with her life away from the stresses and strains of the entertainment industry.
A 2000 interview with Fonda in The Guardian gives some insight into the actor's decision to walk away from fame. "I want a family, I don't just want to be a mother," she revealed, suggesting that creating a new family unit was of the utmost importance to her. However, she also hinted that she wouldn't necessarily want to give up acting forever, saying, "I just don't know how I'd react once it was a reality; I'd have to see how the hormones settled. It would be great to experience life through their eyes, teach them all kinds of stuff, be with them all the time, but I also have so much fun doing what I do, I couldn't imagine living without it." For now, at least, Fonda is enjoying her life away from the spotlight.