The Rumors About Kiernan Shipka And BJ Novak's Relationship Explained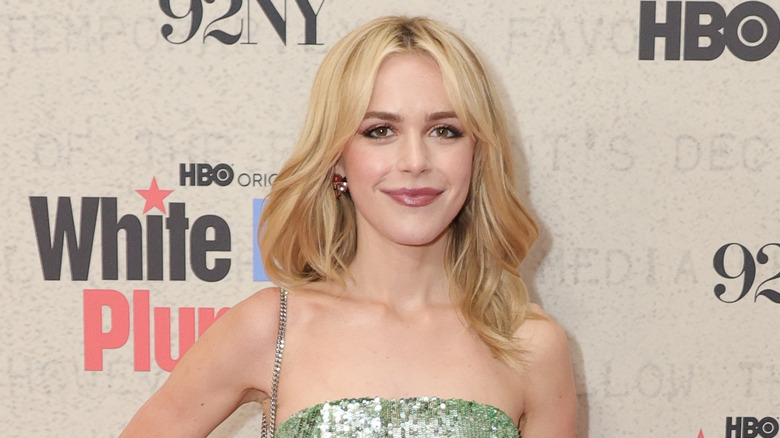 Michael Loccisano/Getty Images
Kiernan Shipka's love life has been a subject of public interest despite her attempts to keep her personal relationships strictly private. In 2020, the actor spoke up on the buzz surrounding her dating life in a candid interview with Refinery29, saying she's well aware of the dating reports about her. "It's hard not to see some of [the romance rumors], especially when your grandma gets every single Google Alert ever and sends it to you," said Shipka, who rose to fame as a child actor on the hit TV series "Mad Men." "I don't necessarily engage with any kind of speculation. I'll look at it and laugh at it, but at the end of the day, it doesn't seep into my actual life." She also explained her desire to keep her love life a mystery to fans, stressing that "it's more fun for the people" that way. (She's not wrong.)
As most fans know, Shipka has been linked to several famous names throughout her career, from her "Chilling Adventures of Sabrina" co-star Gavin Leatherwood to Timothée Chalamet. She also reportedly dated Gary Oldman's son, model Charlie Oldman, and director Christian Coppola, who is possibly a distant relative of the famed Coppola family. And while most of these folks aren't all that shocking, in 2021, Shipka surprised everyone when rumors of her dating "The Office" star BJ Novak surfaced. The pair sparked speculation after being spotted hanging out together several times in public. But was there truth to these rumors? 
Kiernan Shipka and BJ Novak may be just friends
DFree/Shutterstock & Dominik Magdziak/Getty
Talks of a possible romance between Kiernan Shipka and BJ Novak started swirling after they were photographed out together in New York City in September 2021. A photo published by the Instagram gossip page Deuxmoi (via BuzzFeed) shows the two inside the Via Carota Italian restaurant, sitting across each other while in the middle of a conversation. Later, she and Novak were again spotted together outside the American Bar in Manhattan where they just had dinner. An eyewitness claimed that Shipka gave Novak a peck on the cheek as the two said goodbye before parting on the street corner. Since then, there have been several sightings of the pair in New York and and even Los Angeles, thus furthering rumors of a possible relationship. However, fans weren't too thrilled about this unlikely pairing, with many pointing out the alarming 20-year age difference between Shipka and Novak. "BJ NOVAK AND KIERNAN SHIPKA?????????? men are disgusting," as one Twitter user wrote.
Of course, it's entirely possible that Shipka and Novak could be just friends; they have known each other for some time, after all. Per BuzzFeed, Novak was among the guests at Shipka's star-studded 20th birthday bash, and he and the "Mad Men" star have been exchanging tweets since as far back as 2014. "Happy birthday to the super cool @bjnovak!" Shipka once tweeted Novak, to which the actor replied, "I'm cool because I know you!" That said, neither Shipka nor Novak have spoken publicly about their relationship as of this writing. 
Kiernan Shipka was also linked to this much older celebrity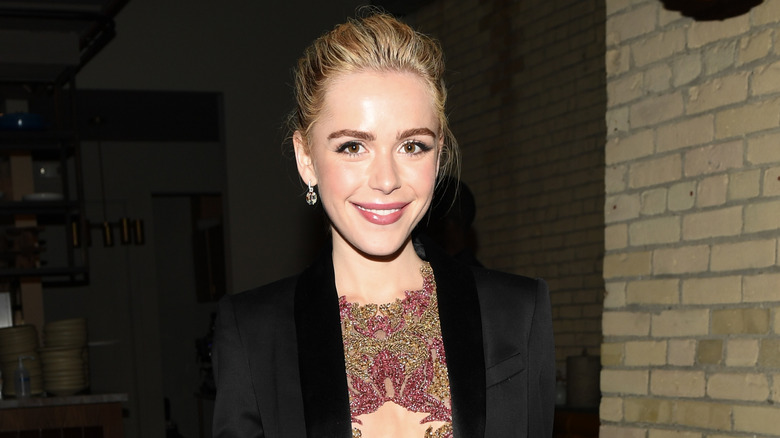 Sonia Recchia/Getty Images
Aside from BJ Novak, Kiernan Shipka also sparked dating rumors with John Mayer after they were spotted out to dinner together in Santa Monica, California in November 2022. An eyewitness told Entertainment Tonight that the two seemed "very much into each other" during their outing, with Mayer supposedly serenading Shipka "after having a few drinks." They left the restaurant in separate cars just before midnight, only to pull over a few blocks later so Shipka could join Mayer in his black limo. The night then ended with the "Your Body Is A Wonderland" crooner dropping off the "Chilling Adventures of Sabrina" star at her posh LA home.
To note, it wasn't the first time that Shipka and Mayer (who have a whopping 22-year age gap) have been spotted in public. In February 2022, months prior to their dinner date, the two also sparked major buzz after photos of them sharing a hug inside the Sunset Tower Hotel in West Hollywood surfaced. Although it's unknown exactly when and how the pair first became acquainted, Shipka was among the guests at Mayer's star-studded LA listening party for his "Sob Rock" album in July 2021. As with Novak, Shipka has been mum on rumors romantically linking her to Mayer, but a previous report from Just Jared said the two are not in a romantic relationship and are, in fact, "just friends."