Does Renée Zellweger Have A Relationship With Ant Anstead's Son Hudson?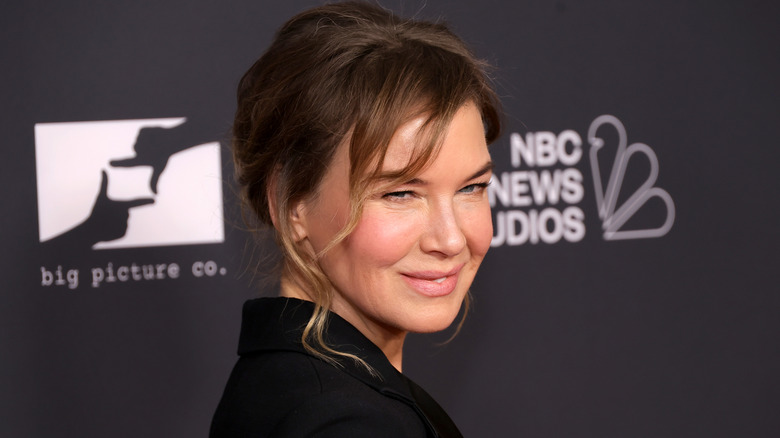 Matt Winkelmeyer/Getty Images
Things seem to be going quite well between Renée Zellweger and Ant Anstead — the pair reached another milestone in their relationship as they celebrated their two-year anniversary in April 2023. "Two years of magic," Anstead wrote in a sweet tribute to Zellweger on social media. The Oscar winner and television personality began their unexpected romance after meeting on the set of his Discovery+ series "Celebrity IOU: Joyride." A source told People that the two hit it off immediately and surprisingly had a lot of things in common. "Sometimes two people just meet and click, and the timing is right," the insider said. "Both of them are private and dislike public scrutiny, so they have that in common. He's a creative guy with lots of interests, and she likes to write and produce, so they have things to talk about when together."
Since going public, Zellweger and Anstead have gotten increasingly serious about their relationship and have even crossed some major milestones through the years, including buying a house and moving in together. Moreover, Zellweger has already met Anstead's kids from his previous relationships — including his youngest son Hudson, whom he shares with ex-wife Christina Hall. Which made us wonder, what is the "Judy" star's relationship with Hudson really like? 
Renée Zellweger and Hudson are getting along
On their first Thanksgiving in 2021, Renée Zellweger and Ant Anstead stepped out for a rare public appearance with his son Hudson at a football game in New Orleans. In a sweet snap posted by Anstead on Instagram, Zellweger is seen holding up Hudson as she and the youngster cheered on the New Orleans Saints to take on the Buffalo Bills. The sighting marked the first time that the pair and Hudson were seen together as a family unit since they confirmed being in a relationship that June. A source told Entertainment Tonight at the time, "Renée took Ant and Hudson to their first football game on Thanksgiving and they loved it."
In 2022, the "Bridget Jones's Diary" star also played the role of stepmom to Hudson when she helped throw Anstead's youngest a big third birthday bash. Sharing snaps of the party on Instagram, Anstead credited his actor girlfriend for lending a hand during the preparations. "Oh she's there! She helped plan the whole party!" he said. Despite being mum about her relationship with Anstead and his kids, a source has told Us Weekly that Zellweger gets along well with Hudson and is very involved in his life. "Renée is very kind and caring," the insider said. "She's never had a child so is enjoying playing with him and watching Ant as a father." They added that Hudson seems to feel the same way about Zellweger. "[He] loves her too. Renée is so great with kids, and it warms Ant's heart to see her be so good with [him]," they said.
Renée Zellweger also has a good relationship with Ant Anstead's other kids
In addition to Hudson, Ant Anstead has also introduced Renée Zellweger to his kids from his first marriage to Louise Storey — daughter Amelie and son Archie. The pair, who are based in England with their mother, met Zellweger when they visited their dad in California for Christmas in 2021. "It was great," Anstead told People. "I mean, Renée's so personable, and so great with people, and they've met a few times on FaceTime, so everybody was excited to finally get together." He added, "Of course, everybody got on famously. It's really nice."
The "Radford Returns" star said that Zellweger got along especially well with his daughter Amelie, who turned 19 on September 2022. "She and Ren really hit it off. Just as two girls," he said. Overall, the trip was a special one for Anstead and the kids. "There were a lot of big firsts for them," he said. "New house, seeing Hudson, meeting Ren... It was great."
Zellweger's efforts in building a relationship with Anstead's kids seem to indicate that they are ready to take things to the next level (read: marriage). In March 2023, a source close to the pair claimed that Anstead might finally pop the big question to Zellweger, although he "doesn't want to rush things." Nevertheless, he is said to be "very happy with Renée," and both he and the film superstar are "committed long-term" to their relationship.