Kevin Costner Had One Fear About Settling Down With Ex Christine Baumgartner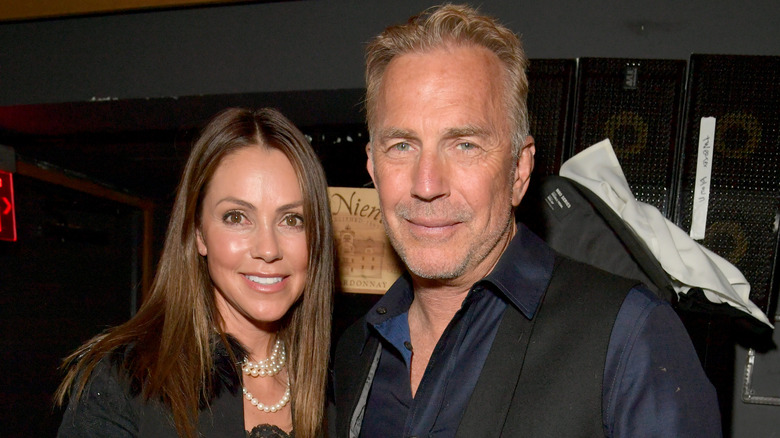 Lester Cohen/Getty Images
News of Christine Baumgartner's sudden divorce filing against Kevin Costner has come as a shock to many — but something the actor said nearly two decades ago only makes the situation even more heartbreaking. 
May 2023 started with a bang for Costner. After 18 years of marriage, Baumgartner filed for divorce — and it seems her soon-to-be-ex-husband hadn't been given a heads up. Far from it, an insider told Page Six that the actor had been "very surprised." They also pointed out that, even in the wake of the filings, the actor would be open to rekindling the relationship and that "he obviously doesn't want the divorce." Sure enough, in a statement issued to TMZ, Costner's camp reiterated that the split wasn't his choice. His spokesperson declined to go into detail as to what had happened, though. All they offered was, "Circumstances beyond his control have transpired which have resulted in Mr. Costner having to participate in a dissolution of marriage action."
Naturally, the lack of detail has led many to question what led to the split, with some musing that Costner had strayed, and others pointing to "Yellowstone" putting a strain on the relationship. Either way, once upon a time, the former lovebirds were smitten — so much so, that even when Costner revealed he'd had one concern, going into the marriage, he made it clear that his love for Baumgartner trumped it, easily. So, what held him back ... and what got him to move past it?
He'd been worried about having more children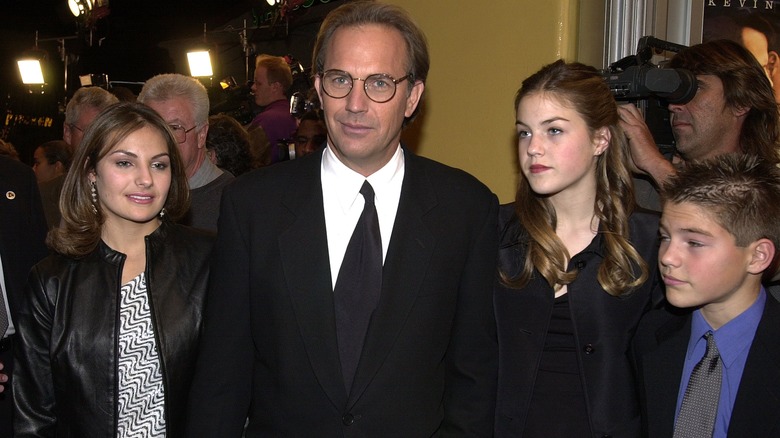 Vince Bucci/Getty Images
By the time Kevin Costner and Christine Baumgartner started dating, he was already a father of four — and he wasn't sure he could handle any more kids. "I was afraid I couldn't be an effective father," he told Parade (via People). What's more, as he told "Extra" (via Us Weekly), he was also opposed to ever having to negotiate custody again. "I thought to myself, I could be divorced again, but what I couldn't be is divorced again with children. That crushed me," he told the outlet. Expanding on that in a 2012 interview with The Hollywood Reporter, Costner added, "You are going to see the people you love most, your children, only half as much. That's a huge loss."
Costner's hesitation over having more kids certainly threw a spanner in the works for his relationship with Baumgartner. As Costner recounted to "Extra," she had made it clear from the moment they started seeing each other that children were a non-negotiable. So, after four years of indecision from Costner, the pair ended up putting the brakes on their relationship. That is, until the actor had an epiphany. Speaking to Parade, he shared, "I woke up and thought, 'Am I going to lose a beautiful woman who is willing to be with me to my very last breath because I am afraid to say yes to a child?' That's all it took." 
Fast forward to 2023, and they share three children.
... but he's determined to have joint custody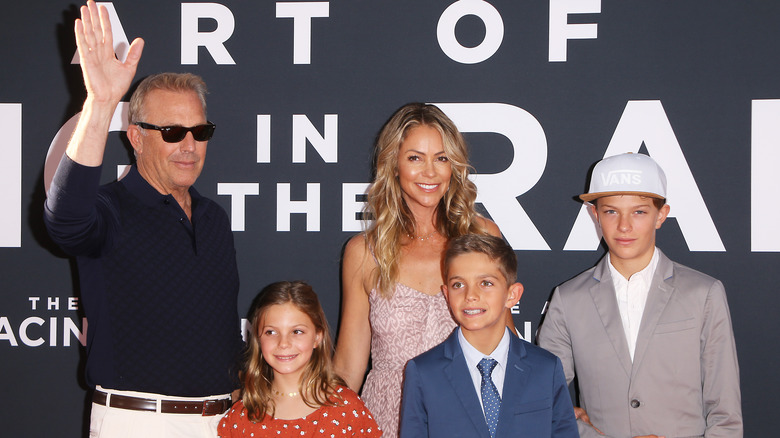 Michael Tran/Getty Images
In a painfully ironic twist, Kevin Costner is now set to negotiate custody again, after all. 
With all three of their kids under 18, arrangements will need to be made regarding the custody situation for teenagers Cayden and Hayes Costner, and 12-year-old Grace Costner. That said, while neither Kevin nor Christine Baumgartner have spoken about the split outside of the actor's statement, they do seem to be on the same page when it comes to who gets the kids. As noted by Page Six, both have asked for joint custody. Granted, at the time of writing, this is just the start of their divorce process — so here's hoping they'll stay in agreement there. 
As for what the divorce means for Kevin outside of the kids, some have suggested that he may opt out of his role on "Yellowstone." In fact, In October 2022, an insider told Radar that the actor's commitment to the show had become a bone of contention for his wife. "It's really knocked a hole in their family life," the source explained, before alleging that Baumgartner had asked Kevin to leave the show altogether. Given that Kevin isn't exactly on board with the idea of divorce, perhaps he'll quit the show if he thinks it may score him a second shot. Only time will tell.