Robin Wright Breaks Silence On Kevin Spacey Allegations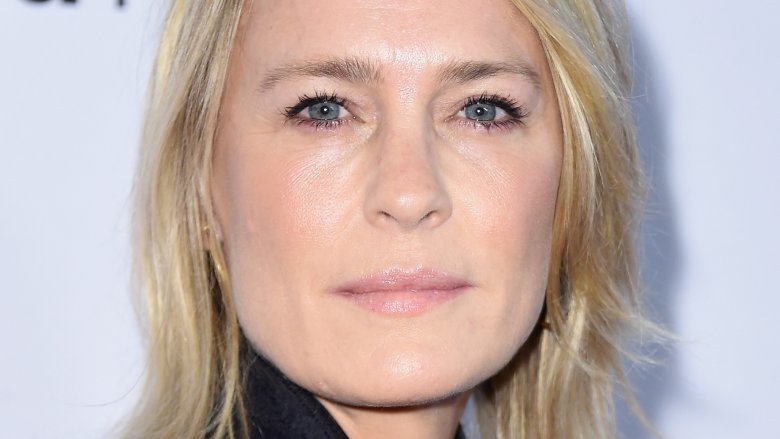 Getty Images
Robin Wright is breaking her silence.
On Monday, July 9, 2018, the House of Cards star spoke out for the first time on sexual misconduct allegations made against former co-star Kevin Spacey during her appearance on the Today show.
"I was surprised, of course, and ultimately saddened," the actress began, noting that she hasn't spoken to the disgraced actor since the scandal first broke last fall. "Kevin and I knew each other between action and cut and in between setups where we would giggle. I didn't know the man. I knew the incredible craftsman that he is."
The Wonder Woman star went on to reveal that she's faced sexual harassment in Hollywood — saying, "Of course, who hasn't?" — before speaking out on the "bigger, broader" issue. "Seduction — I don't care who you are, it's about power," Wright said. "And once you overpower someone, that person then becomes vulnerable."
As Nicki Swift previously reported, Spacey, 58, was first accused of sexual assault by Star Trek: Discovery star Anthony Rapp in October 2017. During a BuzzFeed exclusive, the Broadway star alleged that Spacey made unwanted sexual advances toward him when he was just 14 years old. The incident occurred at a party held at the older actor's New York City apartment in 1986, during which Spacey, then 26, allegedly attempted to "seduce" Rapp after his other guests left.
The American Beauty actor later faced major backlash after coming out as gay while issuing a public apology. "I honestly do not remember the encounter, it would have been over 30 years ago," Spacey stated at the time, adding that he was "horrified" by the allegations. "But if I did behave as he describes, I owe him the sincerest apology for what would have been deeply inappropriate drunken behavior, and I am sorry for the feelings he describes having carried with him all these years."
In the following days, a number of other men, including members of the House of Cards crew, came forward with allegations of sexual harassment and assault against Spacey. Netflix soon cut ties with him amid the controversy, before announcing that the series would come back for a sixth and final season without him in the fall of 2018.
More recently, Guy Pearce, who starred alongside Spacey in 1997's LA Confidential, accused his former co-star of being "handsy" on-set. However, he later expressed regret for making the claims public. "I addressed and handled the situation when it took place," Pearce stated, adding that while he'd been made to feel uncomfortable while filming the movie, he hadn't been sexually assaulted.
At the time of this writing, Spacey has yet to publicly comment on either Wright or Pearce's recent remarks. He is just one of many powerful men in Hollywood to be accused of sexual misconduct ever since disgraced film producer Harvey Weinstein's now-infamous and ongoing scandal first broke last fall.