Iggy Azalea Opens Up About Friend Demi Lovato's Relapse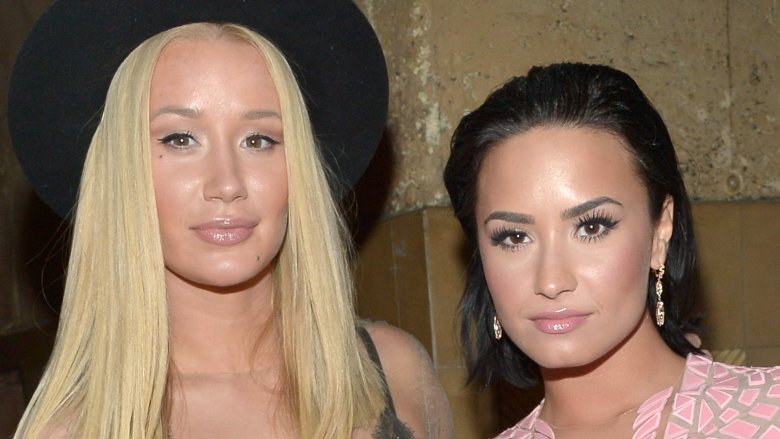 Getty Images
Iggy Azalea was concerned for her friend.
On Tuesday, July 10, 2018, the Australian rapper opened up to Entertainment Tonight about Demi Lovato's recent relapse reveal.
"I had known about it, as a close friend. So I had really wanted for her to be the one to tell people that," Azalea said of her "Kingdom Come" collaborator. "And I worried a lot, as her friend, that something was going to leak or somebody would somehow take that and use it negatively against her, or to make her seem like she's got a secret."
As Nicki Swift previously reported, Lovato, who celebrated six years of sobriety in March of this year, hinted at a relapse in her new song, "Sober," just last month. "Wake me up when the shakes are gone / And the cold sweats disappear," the 25-year-old pop star sang in the first verse, which seemingly references symptoms of withdrawal. "Call me when it's over / And myself has reappeared." As the emotional track continued, Lovato, who has spoken openly about her battles with mental illness and substance abuse over the years, apologized to her parents and fans. "I'm so sorry, I'm not sober anymore," she sang in the chorus, before promising to seek professional help. 
For her part, the "Fancy" rapper couldn't be prouder of her friend for sharing her struggle with the world. "I didn't know that she was recording that song, she didn't tell me that," Azalea, 28, told ET. "I was just really proud of her that she was honest ... It's something that is very admirable."
Lovato isn't the only celeb to recently open up about their journey toward sobriety. Simon Pegg revealed his longtime struggle with depression and alcohol addiction earlier this week. Following what he called his "crisis years" in the mid-2000s, the Mission: Impossible — Fallout star quietly sought treatment in rehab in 2011. While speaking with The Guardian, he said, "I don't think I would be here now if I hadn't had help." 
Meanwhile, Selma Blair reached two years of sobriety late last month, following her longtime struggle with depression, anxiety, and alcoholism.