How Did Kevin Costner Meet His Second Wife Christine Baumgartner?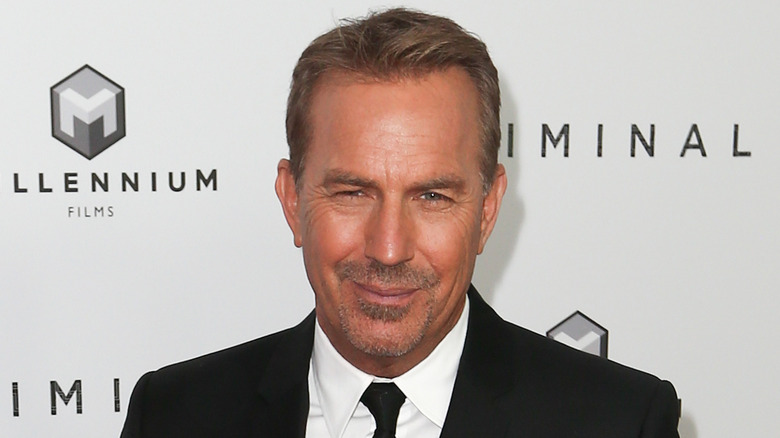 Debby Wong/Shutterstock
In early May, Christine Baumgartner filed for divorce from Kevin Costner, news that surprised not just the public but the two-time Oscar winner himself. "[It] was an unpleasant surprise," a source told People in May 2023. But Costner "wasn't shocked" by Baumgartner's decision. "He knew that Christine was unhappy," the insider detailed. As soon as the news came to light, it became clear the "Yellowstone" actor didn't agree with it. "Circumstances beyond his control have transpired which have resulted in Mr. Costner having to participate in a dissolution of marriage action," his rep told TMZ in a statement.
Since then, several hypotheses have arisen regarding what led Baumgartner to end the union after 18 years. A possible cheating scandal was one of the early assumptions, considering he has been accused in the past. But Costner denied infidelity was the cause. "There was no issue of cheating at all," a friend reportedly told Page Six. The leading hypothesis seems to point to Costner's lack of time for his family as the catalyst for the divorce filing. "During filming, Kevin is not around very much," a source told People. "His absence has been very hard for her."
The divorce seemed rather unexpected, particularly because Costner had nothing but positive things to say about Baumgartner just months earlier. "My wife does things that just completely... it just helps," he told People in November. Costner hadn't been shy to publicly praise Baumgartner since they got together — which actually happened years after they first met.
Kevin Costner met Christine Baumgartner on the golf course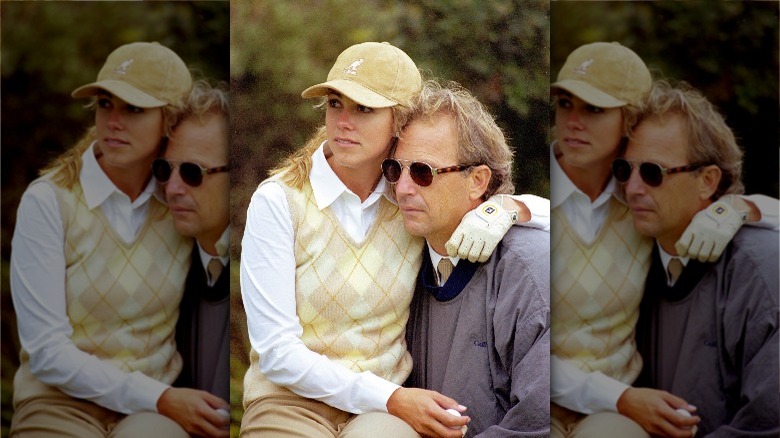 Toni Anne Barson Archive/Getty Images
Kevin Costner met Christine Baumgartner over a decade before they tied the knot in September 2004. Their paths first crossed on a golf course when Costner was practicing for his role in the 1996 "Tin Cup," Us Weekly noted. But it wasn't until Costner and Baumgartner ran into each other at a restaurant in the late 1990s that sparks flew. "We exchanged numbers, and I told her that I would — did she mind if I called her in two weeks," the "Dances with Wolves" actor recalled to People in 2004. 
Costner was lucky that Baumgartner answered. "I did not realize that was like an insult to a woman," he laughed. They dated for a couple of years but split around 2002-03 because Costner and Baumgartner, who is nearly 20 years his junior, had different expectations. "Christine wanted a child, but I was afraid I couldn't be an effective father," Costner, who already had four children, told Parade in 2008 (via People).
Their differences nearly kept Costner from giving the relationship a chance. "For years, fear kept me from marrying Christine," he said. But he had a change of heart. "[One day] I woke up and thought, 'Am I going to lose a beautiful woman who is willing to be with me to my very last breath because I am afraid to say yes to a child?'" They went on to have not one but three children together, Cayden, Hayes, and Grace. 
Kevin Costner's marriage to Cindy Silva ended in similar circumstances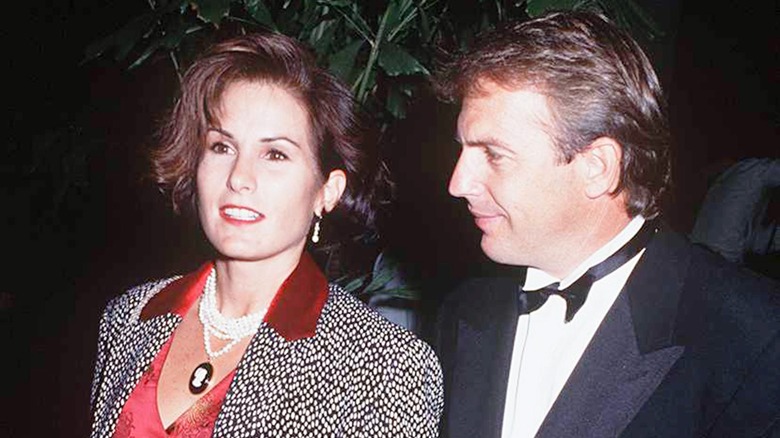 Kypros/Getty Images
When Kevin Costner casually met Christine Baumgartner in the early '90s, he was still married to his college sweetheart, Cindy Silva. Costner and Silva divorced in 1994 after 16 years of marriage. Because the couple tied the knot before Costner was anything remotely close to famous, the two had a hard time adjusting to the lifestyle that came after his breakout role in the 1985 Western "Silverado." In that sense, the end of Costner's first marriage wasn't all that different from his second.
The time Costner spent away from home because of work put a strain on the marriage, according to Good Housekeeping. But Silva also had an issue with her husband's increasingly romantic roles. "Cindy doesn't like these sexy roles, and she's given me an ultimatum," Costner reportedly told a friend in 1987, when the thriller "No Way Out" came out, People reported in 1994. "I've either got to quit doing them or quit the movie business."
As with his divorce from Baumgartner, Costner's split from Silva also sparked talk of infidelity. Silva pulled the plug when Costner sparked cheating rumors in Hawaii, where he was shooting the 1995 sci-fi "Waterworld." As he did now, Costner also denied any wrongdoing then. "There was that story about the married hula dancer in Hawaii with whom I was alleged to have had an affair. I never even spoke to the woman on the telephone," the actor told Parade in 1995.