How Teddi Mellencamp Really Felt About Her Dad John's Relationship With Meg Ryan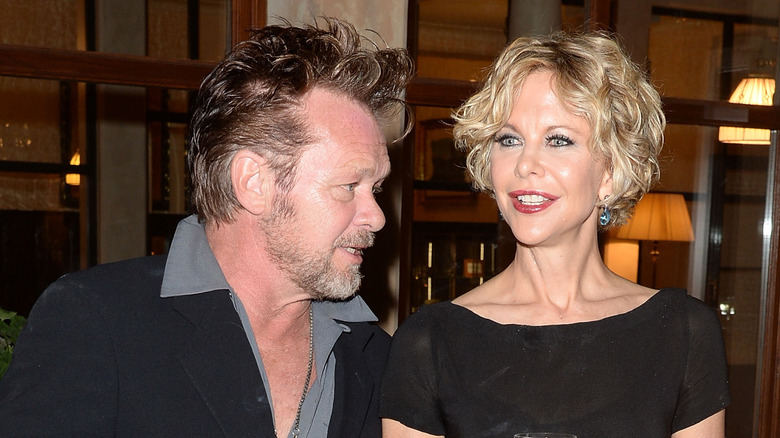 Daniele Venturelli/Getty Images
Meg Ryan and John Mellencamp famously spent several years together, on and off, before splitting in 2019 — but how did John's daughter (and "The Real Housewives of Beverly Hills" star) Teddi Mellencamp feel about their relationship? 
John and Ryan's first breakup, back in 2014, is said to have been brought on by the media attention that came with their relationship. As a source explained to Closer Weekly, "I don't think [John] loved all the attention he got just from dating an actress." Whatever the cause, during their break, John joked about Ryan's feelings towards her post-split. "She hates me to death," he announced, in a 2017 episode of "The Howard Stern Show," adding that he'd tried and failed to get back together (via Entertainment Tonight). Sure enough, though, they would go on to reconcile. And in 2018, they were engaged. Sadly, though, they never made it down the aisle. In 2019, they split once again. 
While their most recent split seems to have been a more permanent one, it certainly looked as though they enjoyed a well-blended family unit throughout their time together and had their kids' blessings. After all, when news of their engagement broke, Ryan's son, Jack Quaid told Page Six that he "couldn't be happier for them." Quaid also revealed that he'd taken to watching "RHOBH" to catch glimpses of his future stepsister, Teddi. Speaking of which, our question remains — what did Teddi think about her dad's (now-former) fiance?
Teddi was (and still is) a big fan of Meg Ryan
Axelle/bauer-griffin/Getty Images
When Teddi Mellencamp first found out her dad was dating Meg Ryan, she was thrilled — especially because she'd always been a fan of her movies. As she shared in interview on GOD 101, "Growing up, she was in every favorite movie I ever had." She also joked that if anything, her biggest issue, early on in the relationship, was playing it cool. "Having to reel in that fangirl was tough," she reminisced. 
Teddi's love for Ryan went far beyond her fandom, though. In the same interview, done after their split, the "Real Housewives of Beverly Hills" alum gushed over the dynamic she'd witnessed between Ryan and her dad while they were still together. "They lit each other up, and I think they really respected each other, and really had fun with each other ... I love her," she mused. 
It's worth noting that Ryan seemed to have enjoyed hanging out with Teddi, just as much — and was a fan of her work, too. As Teddi shared at the "RHOBH" Season 8 reunion, "We all watched it together at Christmas." Granted, speaking to OK!, she admittedly felt a little awkward for some of it. "There's nothing that really makes you want to eat crow more than watching 'Real Housewives' with Meg Ryan and [John Mellencamp]," she laughed. "I'm really the highest brow of television, if anyone wants to know," she joked.
... but Meg and John kept some stuff from her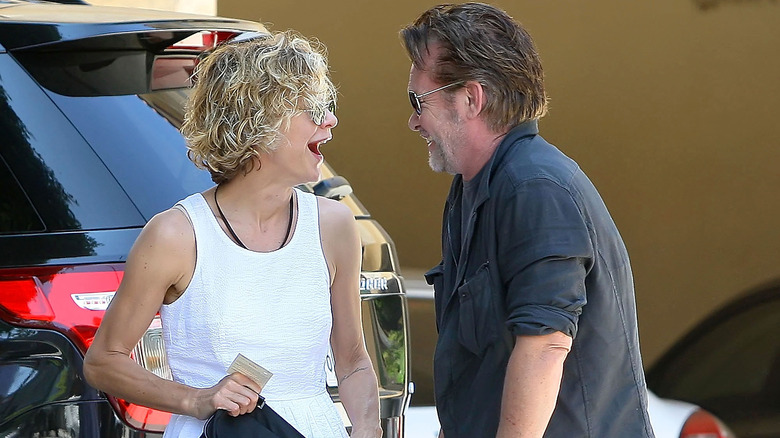 Bauer-griffin/Getty Images
Despite the obvious mutual affections, Teddi Mellencamp was the first to admit that Meg Ryan and John Mellencamp probably opted to keep some stuff from her. What's more, while they were engaged, she joked that she knew she wouldn't be included in their wedding planning. So, why the secrecy — especially given how close they seemed?
Speaking to Page Six back in 2019, Teddi pointed out, "One, I'm on 'Real Housewives.' Two, I'm a loudmouth." She added that both Ryan and John valued their privacy, way more than she did. As such, she mused, "They'll probably tell me the day before, like, 'Show up,' and ... not tell me why." Sadly, the nuptials never ended up taking place, and later that year, the couple was no more. 
Since their split, John has been linked to two other women, including Hollywood skincare guru Nurse Jamie and realtor Natasha Barrett – though at the time of writing, he seems to be single. Given their history, perhaps we'll see the couple try again, in the future. Only time will tell, there — but one thing we do know for sure is Teddi would welcome their getting back together with open arms. Then again, if they did reconcile, there's a chance they'd hold off on telling her.