Robert De Niro Unveils First Photo Of Newborn Daughter After Unexpected Birth Announcement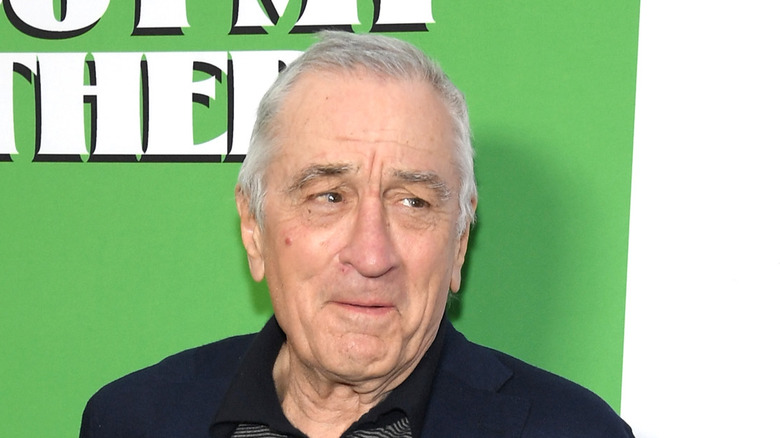 Gary Gershoff/Getty Images
Robert De Niro is one of the most legendary actors in Hollywood, but he plays plenty of other roles in his life aside from acting — including dad. In early May, the star sat down for an interview with ET Canada to discuss his new movie, "About My Father." Since he plays a father in the film, he fields a lot of questions about what kind of dad he is. "You know, my kids disagree with me at times, and they're respectful," he explained. "My daughter, she's 11, she gives me grief sometimes, and I argue with her. I adore her, but, you know. And my youngest now, that'll be more to come. But that's what it is."
Before answering that question, reporter Brittnee Blair mentioned that De Niro has six kids, but he corrected her and told her he's a father of seven. "I just had a baby," he revealed without sharing any further details as to the name, gender, or age of the little one. Say what? The star also is the father to six other children — daughters Drena, 51, and Helen Grace, 11, as well as sons Raphael, 46; twins Julian and Aaron, 27, and Elliot, 25.
Not too long after the interview went viral, more details unfolded about the 79-year-old's newest child, including the mother — Tiffany Chen. According to People, De Niro and Chen have been dating since 2021, and they just welcomed their first child together. Now, we also know her name, gender, and what she looks like!
Robert De Niro lets Gayle King share baby photo
Robert De Niro is one proud dad! The legendary actor sat down for an interview with Gayle King on "CBS Mornings" over the weekend, and he failed to mention that he had a new baby when King interviewed him. On Monday's episode, King explained that she called De Niro after his baby news broke and asked why he didn't mention it on the show. The star said he didn't want to take anything away from the movie  he was promoting. However, King asked De Niro if she could be the one to share more details about the little bundle of joy, and he obliged. Not only did he let King share a sweet photo of the one-month-old, but she also revealed her name — Gia Virginia Chen-De Niro.
The photo captured the adorable baby clad in a white-and-pink striped pajama set. King also shared that Gia weighed eight pounds, six ounces when she was born. "They both wanted this baby, they're over the moon. She was brought here in love. He's very psyched about it," King said on the show. Many people left comments on the "CBS Mornings" Twitter page to wish De Niro and his new little love the best. "What a cutie! Congrats to the parents!!!" one person wrote. "She's absolutely adorable. I love me some Robert De Niro," another commented.
After the news broke, De Niro told "Extra" that while he is "good" with becoming a father again, it "never gets easier."