Chris Pratt Didn't Wait Long To Wed Katherine Schwarzenegger After His Anna Faris Divorce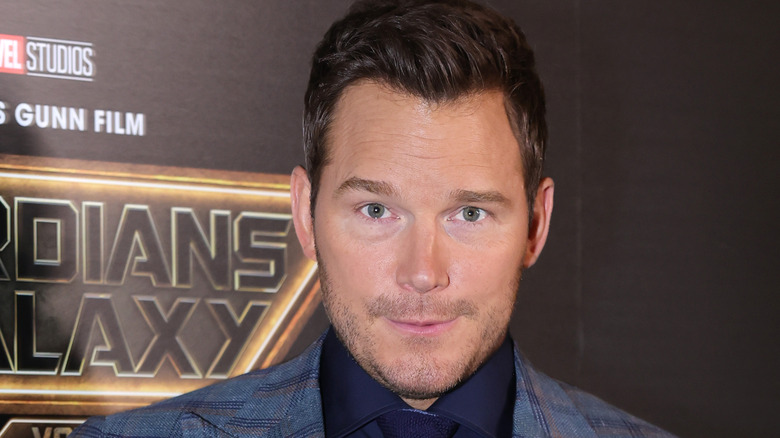 Michael Loccisano/Getty Images
Chris Pratt didn't waste much time between finalizing his divorce from Anna Faris and walking down the aisle with his new bride, Katherine Schwarzenegger. Pratt and Anna Faris married in Bali in 2009 in an intimate ceremony. During the marriage, they welcomed one child, but things didn't last long for the lovebirds. In 2017, Pratt announced that he and Faris were separating. "Anna and I are sad to announce we are legally separating. We tried hard for a long time, and we're really disappointed," he wrote in a statement on Facebook, adding that he and Faris wanted to keep things private for the sake of their son, Jack. 
Soon after he announced his separation from Faris, Pratt moved on with another well-known woman, Arnold Schwarzenegger and Maria Shriver's daughter, Katherine Schwarzenegger. The couple hit it off and quickly got to wedding planning. Ahead of his nuptials to Schwarzenegger, Pratt spoke with ET about the wedding planning process. "I'm up to about my neck, you know? That's pretty deep. That's up to about 5-foot-something. I'm in it, baby, I'm in it. It's good. It's a good time!" he told the outlet. "We're all very blessed. [It's a] good time to be here for the 'Avengers' premiere and also good things happening for me in life. I just count my blessings every day." 
The wedding planning to Schwarzenegger and everything else came shortly after Pratt finalized his divorce from Anna Faris — but maybe you didn't realize exactly how soon.
Chris Pratt and Katherine Schwarzenegger moved fast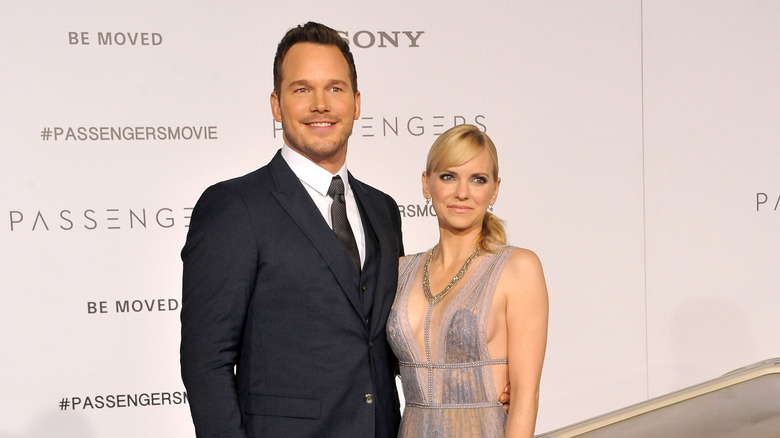 Tinseltown/Shutterstock
It didn't take too long for Chris Pratt and Katherine Schwarzenegger to tie the knot after his divorce from Anna Faris. People reported that Pratt and Faris finalized their divorce on November 7, 2018, and on the same day, Pratt and Schwarzenegger looked happy together. Following the Faris divorce, a source told People that they wouldn't be surprised if Pratt and Schwarzenegger got engaged sooner — and they were right. On January 14, 2019, Pratt announced that he popped the question to Schwarzenegger. "Sweet Katherine, so happy you said yes! I'm thrilled to be marrying you. Proud to live boldly in faith with you. Here we go!" he wrote in an Instagram post.
People reports that the pair tied the knot in June 2019 — just seven months after Pratt finalized his divorce from Faris. They said "I do" in front of friends and family in Montecito, California, and Pratt's son Jack, whom he shares with Anna Faris, attended the wedding along with several other stars. Schwarzenegger shared a few photos of the big day for fans on her Instagram. "Yesterday was the best day of our lives! We became husband and wife in front of God, our families, and those we love. It was intimate, moving, and emotional," she wrote in the caption, adding that she was so excited to begin a new chapter in her life. Schwarzenegger also revealed that famed fashion designer Giorgio Armani "created a once in a lifetime dress" for the big day. How sweet! 
Chris Pratt and Katherine Schwarzenegger are still golng strong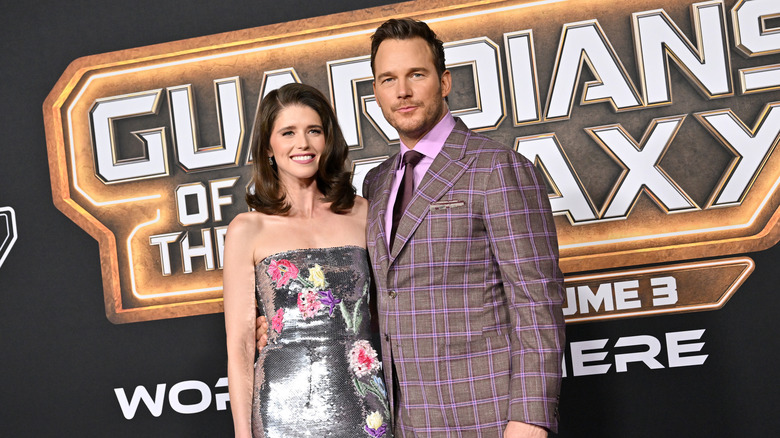 Axelle/bauer-griffin/Getty Images
There's no doubt that Katherine Schwarzenegger enjoyed her wedding to Chris Pratt and Pratt returned the favor. The star took to social media the day after he and Schwarzenegger made things official, penning a touching tribute to his blushing bride, beginning the caption with the exact words as Schwarzenegger. He added that he and Schwarzenegger felt "nothing but blessed." And since the pair exchanged vows, they have still made it a priority to sing one another's praises on social media, including on anniversaries. "Happy Anniversary to my strong, gorgeous, smart, lovely, organized, tough, kind, compassionate, wife. I'm a lucky man. God is so good," Pratt wrote in a 2022 Instagram post to celebrate their third wedding anniversary. "The kids and I are so grateful to have you. You do so much to better our lives. Thank you. I love you. We love you!"
And like his transition from his marriage to Faris, Pratt's family transition with Schwarzenegger also progressed quickly. In April 2020, People reported that the newlyweds were expecting their first child together and they welcomed a baby girl in August of 2020 — just a little over a year after getting married. "We are beyond thrilled to announce the birth of our daughter, Lyla Maria Schwarzenegger Pratt," they shared on Instagram. "We couldn't be happier. Both mom and baby are doing great. We are extremely blessed." In June 2022, Schwarzenegger revealed that she and Pratt had their second child, another girl. What a whirlwind!