Experts Issue Dire Warning For Britney Spears Amid Reported Marital Issues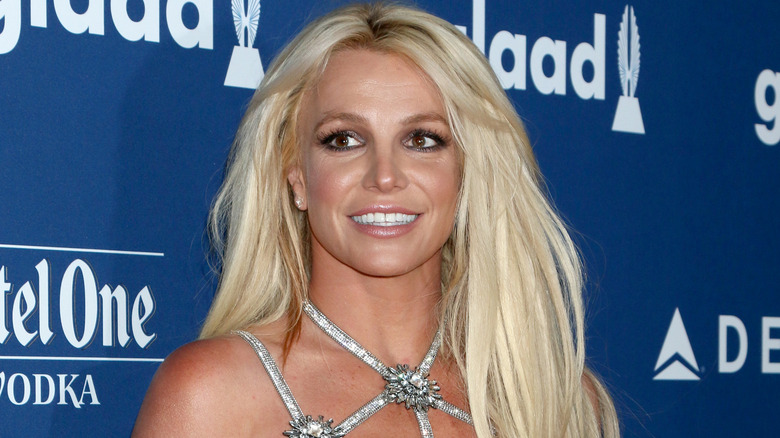 Kathy Hutchins/Shutterstock
Experts featured on the "TMZ Investigates: Britney Spears: The Price of Freedom" documentary have made some bold claims about how Britney Spears would fare without her husband, Sam Asghari, by her side.
For so long, it has seemed like Asghari was wholeheartedly on Team Britney throughout the controversies she's been subjected to in the media and personal life, including her battles with her family regarding her conservatorship. The couple, who married in June 2022, met in 2016 when Asghari starred in the music video for Spears' track "Slumber Party." They hit it off right away, with sources telling Us Weekly that the "Oops, I Did It Again" singer was absolutely smitten with the model and considers him a positive force in her chaotic life. "Sam has been an absolute dream come true for Britney," they dished. "He is such a positive light in her life. No one makes her smile this much." True enough, Asghari has been nothing but consistent with his love and support for the star, making himself available for whatever she needs. "Sam has been Britney's rock for years. He makes sure that she eats well and works out," another insider told People. "She leans on him for everything. He works and has his own life too, but is around as much as he can."
But experts say that Spears' dependency on Asghari can be dangerous, especially given how there were reports that their marriage is on the rocks. If the two were to split, it is believed that Spears' life would crumble too. 
Experts think Sam Asghari is Britney Spears' sole 'pillar'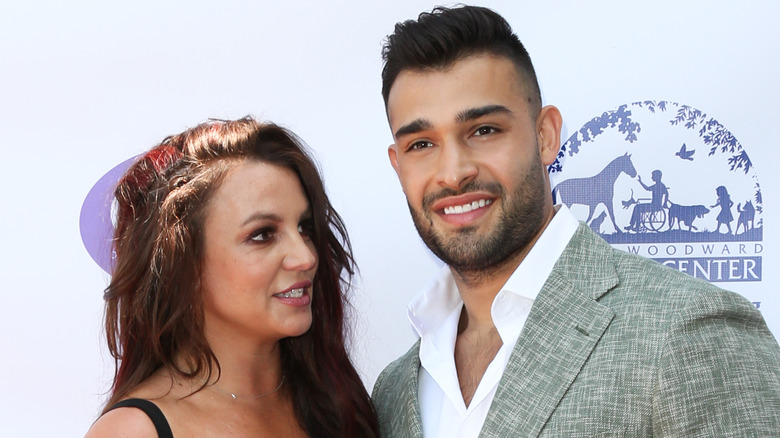 Paul Archuleta/Getty Images
Sam Asghari plays a big part in looking after Britney Spears' physical, mental, and emotional well-being. In the documentary, "TMZ Investigates: Britney Spears: The Price of Freedom," sources share that Asghari pretty much functions partly as her caretaker to make sure that she's happy and healthy. He also apparently stands up for her against her family and had even gone head to head with her dad, Jamie Spears, during the peak of the conservatorship trial. "Sam didn't hold back in Britney's war against her father," TMZ News Director Brad Appleton said.
However, if claims of their relationship being in tatters are to be believed, experts claim that Spears will no longer have anyone to rely on, which can adversely affect her mental health and put her in a bad place. According to inside sources, their marriage is currently in "deep trouble," with the two often engaging in fights. "Screaming matches are not infrequent," TMZ Managing Editor Fabian Garcia divulged, adding that Britney has allegedly "been physical with Sam more than once" and "Sam just takes it." There were also reported instances in which security had to intervene to prevent their fights from escalating further.
The couple has reportedly been experiencing marital problems for a while now, and it finally reached a point where "Sam has had it." He no longer stays at home as much, leaving Spears alone to fend for herself. Considering how Asghari is "the only pillar" Spears has, experts fear that she'll fall apart if they end up divorcing.
Sam Asghari appears to slam claims that marriage with Britney Spears is in jeopardy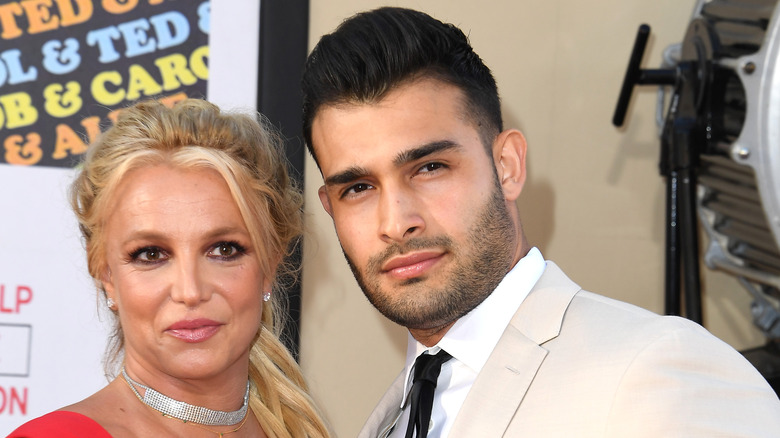 Steve Granitz/Getty Images
Sam Asghari is not happy about reports that claim that his marriage with Britney Spears is on the rocks. He also expressed contempt for people who participated in the TMZ documentary that acted like they know more about her life than she does.
In a since-deleted video shared on Instagram, Asghari offered a lengthy statement to defend his wife. "I found it absolutely disgusting for the people that were in her life at the time when she didn't have a voice, they went and told her story like it was theirs. It was absolutely disgusting," he shared. The model went on to blast the media for fabricating stories for the sake of clicks and reminded fans that there's very little truth to nearly every rumor about their lives. "Don't believe what you read online," he continued. "99 percent of the time, those are all clickbaits, for you to click and for them to make money. And that time is over. Not gonna allow that. And that should stop."
This isn't the first time that Asghari showed his public support for Spears after a documentary about her life had come out. After the New York Times' film "Framing Britney Spears" was released, Asghari decided to shut everything out and focus on their future instead. "I have always wanted nothing but the best for my better half, and will continue to support her following her dreams and creating the future she wants and deserves," he told People.