Why Andy Cohen Was Worried For Kim Zolciak Before Her Divorce
Prince Williams/Getty Images
Kim Zolciak is most well-known for her role as a housewife and bonafide Bravolebrity, but recently, the star has been earning a ton of attention amid her divorce from husband Kroy Biermann and their financial woes. 
The reality couple came under fire after the media revealed that they owed more than $1 million in back taxes. Forbes reports that Zolciak and Biermann are past due in over $1.1 million in taxes to the IRS and another $15,000 to the state of Georgia. Biermann reportedly filed for divorce from Zolciak, though it was widely reported that Zolciak was the first to pull the plug on their marriage. According to legal documents (per the New York Post), Biermann also plans to "seek the temporary and permanent sole legal and sole physical custody" of the pair's four youngest children. Zolciak also has two daughters, Brielle and Ariana, from a previous marriage — however, Biermann adopted them as well.
So where does Andy Cohen come into play amid all the drama? As most Bravo fans know, Zolciak and Cohen forged a close relationship due to their Bravo ties since Cohen is the Bravo boss. In fact, in an interview with Too Fab, Zolciak explained how great Cohen was after he found out she got snubbed an invite to his baby shower. "I cannot believe you weren't invited. I had no control over the list. I'm gonna miss you. I'll be thinking about you all day," Cohen texted Zolciak. Now, he's speaking up about Zolciak's divorce on his hit show. 
Andy Cohen expressed concern over Kim Zolciak's finances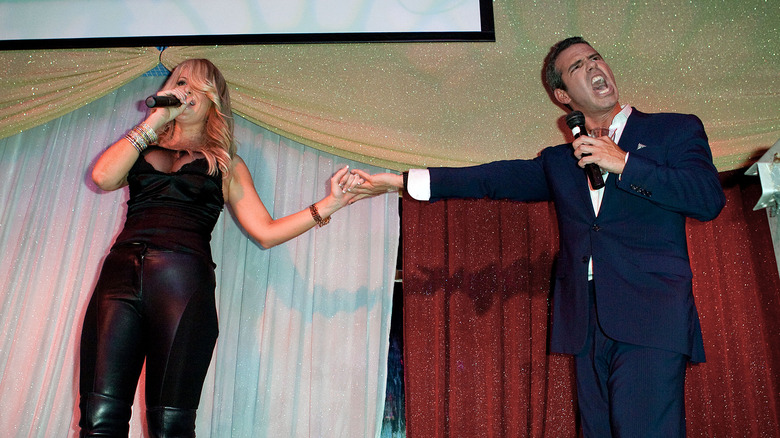 Dario Cantatore/Getty Images
Andy Cohen had some concerns for Kim Zolciak before her divorce from Kroy Biermann after 11 years of marriage. As fans of the Bravo boss know, Cohen has close relationships with many of the housewives and former housewives. During an episode of his Sirius XM show, "Andy Cohen Live," he expressed his concerns for Zolciak and her now-estranged husband, Kroy Biermann (via Page Six). "There are so many clips of me saying to Kim, 'I am worried about how you spend your money. He is not a football player; he is a retired football player,'" Cohen reminded listeners. He added, "Kroy was a retired football player. They didn't have the football player money coming in anymore."
According to Over the Trac, Biermann made a solid chunk of change during his NFL career, earning a little north of $14 million over the span of eight seasons with the Atlanta Falcons. While they appeared on their hit reality show "Don't Be Tardy," the stars also raked in a pretty penny, with Zolciak earning $80,000 per episode and Biermann bringing in $20,000 via RadarOnline.com. Wowza.
While a source told Page Six that the financial problems "played a factor" in the split, the couple's spending wasn't their only issue. However, infidelity reportedly was not an issue.
Andy Cohen was shocked by Kim Zolciak's divorce news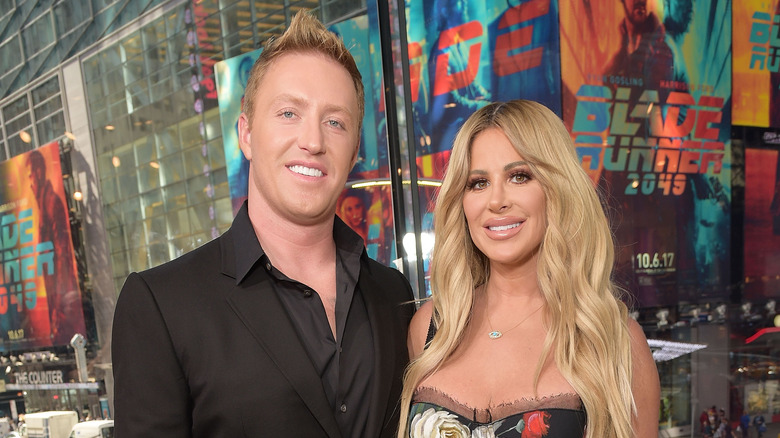 J. Kempin/Getty Images
Andy Cohen was completely shocked to hear that Kim Zolciak and Kroy Biermann were splitting. Cohen reacted to the news of the couple's divorce on an episode of his Sirius XM show "Andy Cohen Live." The Bravo mogul revealed to his audience that he and Zolciak exchanged a few text messages with one another, sharing a few details with listeners. "[I] sent my condolences, because it's a sad thing," he said on the episode. "They have kids, and that was just a couple that seemed very much in love." The bombshell news took Cohen by surprise because of the couple's tight bond. "They were a couple that I thought they were in it for the long haul. Very surprised, sorry to hear that," he added. 
Zolciak and Biermann also appeared on a 2017 episode of Cohen's show "Watch What Happens Live," and at the time, they were obviously in a better place in their relationship while starring on "Don't Be Tardy." In the episode, Zolciak spoke about Biermann's parenting and how he's "raised little men" and played the strict parent role, whereas Zolciak is more of the softie. Zolciak also appeared on the show amid the COVID-19 pandemic, showing that her relationship with the Bravo boss was strong. While things may not be going well between Zolciak and Biermann, it seems as though Zolciak has a shoulder to cry on in Cohen.