Demi Lovato Reportedly Rejected Friends' Help At Intervention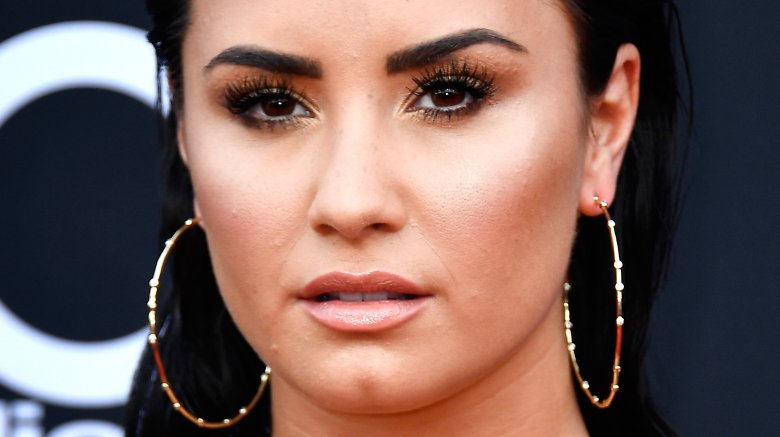 Getty Images
Singer-songwriter Demi Lovato reportedly refused to accept her friends' help in seeking treatment following her presumed relapse earlier this year.
On Thursday, July 26, 2018, TMZ reported that members of the "Skyscraper" singer's team, including former manager Phil McIntyre, allegedly staged an unsuccessful intervention just a few weeks before her apparent overdose. According to sources cited by the gossip rag, Lovato's concerned team encouraged her to enter rehab and focus on her sobriety, but she reportedly rejected their efforts.
As Nicki Swift previously reported, the 25-year-old singer, who has a history of drug and alcohol abuse, was rushed to a Los Angeles hospital on Tuesday afternoon, July 24, following a suspected heroin overdose in her Hollywood Hills home. According to TMZ, she had been found unconscious by paramedics at the scene. Two of Lovato's friends were reportedly with her at the time, and had treated her with Narcan, a drug used in cases of narcotic overdoses. "Her friends knew this was coming because she's been using so much again," a source told Us Weekly. "They were up all night partying the night before at her house. Luckily, the Narcan worked and she will recover."
The "Confident" singer's rep shared a health update on her behalf the following day. "Demi is awake and with her family who want to express thanks to everyone for the love, prayers and support," the rep released in a statement (via E! News). Regarding the continued speculation surrounding the incident, the rep added, "Some of the information being reported is incorrect and they respectfully ask for privacy and not speculation as her health and recovery is the most important thing right now."
After the news of Lovato's hospitalization broke, the former Disney star's fans and several of her peers in the entertainment industry took to social media to reach out and express their love and support. "We should all wrap our arms of love around Demi Lovato. I am so happy you're alive. Thank God," Lady Gaga tweeted. "If I know my monsters as well as I believe I do, we all wish you self-compassion and inner peace. And may you receive the love so many have for you. #ImConfidentInDemi."
Lovato, who celebrated six years of sobriety in March 2018, had hinted at a relapse with the release of her song "Sober" just last month. She had apologized to her parents and fans on the emotional track, singing, "I'm so sorry, I'm not sober anymore," before promising to seek professional help.
"She made the decision to come out publicly about her relapse recently because she thought she could inspire her fans and it would help her keep on track, but she has been battling her own demons for months," a source recently told E! News. Referring to her team's growing concerns, the insider said, "Everyone has been urging her to get help with her life coach, and to seek treatment again, but Demi thought she could handle it on her own."
Our thoughts are with Lovato as she recovers.
If you or someone you know is struggling with addiction, please call the Substance Abuse and Mental Health Administration's 24/7 National Helpline at 1-800-662-HELP.