A Look At Tina Turner And Cher's Decades-Long Friendship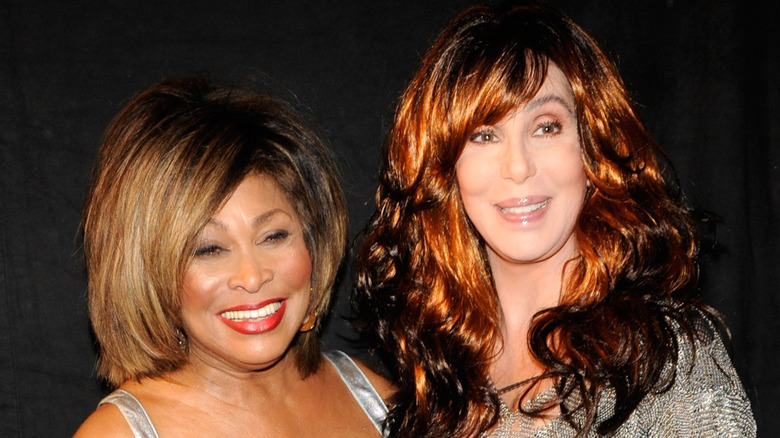 Kevin Mazur/Getty Images
In case you weren't aware, two of the top musical divas of the 20th century — Tina Turner and Cher — were lifelong friends. 
Of course, the two have many similarities in their personal lives and careers. Both longtime legends first came to prominence in musical duo acts with their first husbands in the 1960s and 1970s. After marrying in 1964, Cher and her ex-husband, Sonny Bono, topped the charts with songs like "I Got You Babe" and "Baby Don't Go." For Tina, she began her musical career with her abusive ex-husband, Ike Turner, who she wed in 1962 and with whom she went on to produce hits such as "River Deep – Mountain High" and "Proud Mary." Both Cher and Tina were notably young when they tied the knot, with Tina being 22 when she became a bride and Cher meeting Bono when she was only 16 years old.
Well, the two chanteuses crossed paths back in the day and the rest, as they say, is history. In the wake of Tina Turner's tragic death, let's take a look back at one of her great friendships with another music legend.
Cher and Tina Turner made magic together both on- and off-stage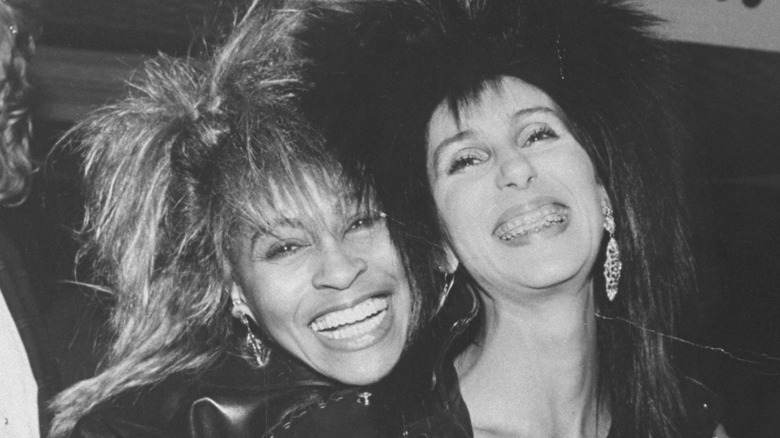 Robin Platzer/Getty Images
Oh, what we would give to have been a fly on the wall for the conversations between decades-long friends Cher and Tina Turner. During a joint interview on "The Oprah Winfrey Show," the pair recounted the first time they met during a studio session together. Cher recalled "expecting" Turner to be her bombastic on-stage persona, but was surprised by her "genteel" nature. Cher said she had a complete "sailor's mouth," while the "Proud Mary" singer was "such a lady." Well, opposites attract, and the two became fast friends. They shared with Winfrey how they later bonded over their high-profile divorces. "Neither one of us was ever on a plane by ourselves," Cher pointed out.
The dynamic duo brought down the house together a few times while the "Believe" singer hosted "The Cher Show" in 1975 with the songs "Shame, Shame, Shame" and "Country Side of Life." After Tina and Ike Turner decided to divorce in 1976, the dancer chose to do her first solo performance after the split with Cher in 1977, singing "Makin' Music is My Business."
The singers remained close friends throughout the years, with Cher updating the public on her famous Twitter account when the two would link up. When she visited Tina in July 2021, she tweeted, "WOAH.....MORNING... Am still amped. WE HAD SO MUCH FUN." After a stay in August 2022, the "Strong Enough" singer reported that the two "LAUGHED FOR 3 1/ 2 [hours] STRAIGHT" and "carried on" until the sun went down.
Cher shared stories of her final visits to Tina Turner
WATCH: Cher reflects on her close friend Tina Turner's legendary life.

"There was no other person like her. There was no other person who could come close to who she was." pic.twitter.com/lqhuCeobwt

— MSNBC (@MSNBC) May 25, 2023
To the dismay of her family, friends, and fans everywhere, Tina Turner died of natural causes, according to her representatives, at her estate in her longtime home in Switzerland on May 24. In memory of her friend, Cher spoke to MSNBC and reminisced on her last few visits to Europe to see "The Best" singer. She explained that all of Turner's beloved friends "took turns" spending time with her as she gradually became sicker. Cher also noted that Turner was using a dialysis machine at home, which is most commonly used to treat kidney ailments. In 2017, Turner underwent kidney transplant surgery, as she received a kidney from her second husband, Erwin Bach.
"She was having a good time in spite of the fact that she was really sick and not wanting people to know about it," Cher remarked. During what would be her final visit to the icon, Cher shared that Turner bestowed her with an unforgettable present. "She gave me a pair of shoes the last time I saw her. What kind of shoes? Tina Turner shoes!" she gushed. "The big high heels that she just [walked] around in like they were nothing."
When asked what Turner's unapologetic life and musical career will be remembered for, Cher answered: "There was no other person like her. There's no other person [that] could come kinda close to who she was."