Why Nick Cannon Doesn't Pay Bre Tiesi Any Child Support For Son Legendary Love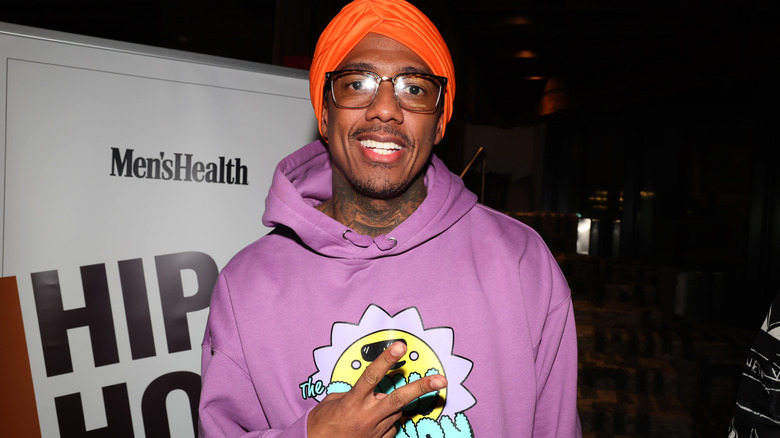 Shareif Ziyadat/Getty Images
Raising one kid alone is expensive. But raising a dozen? That requires some serious financial commitment. Just ask Nick Cannon.
"The Masked Singer" host has gained notoriety over the years for fathering a growing number of children with multiple partners. After splitting with ex-wife Mariah Carey, with whom he shares two children, he went on to expand his brood with his girlfriends, including Brittany Bell, Abby de la Rosa, Alyssa Scott, LaNisha Cole, and Bre Tiesi. According to him, spawning that many kids is by no means his own fault. "I'm gonna be honest, I got some super sperm or something, 'cause I've practiced birth control, and people still got pregnant," he joked on the "Howie Does Stuff" podcast. "But, to say that, I'm trying to be as responsible as I possibly can, learning lessons."
When he said responsible, does that mean financially responsible? Well, that's a tricky question to answer, especially after Tiesi shared on "Selling Sunset" that she thought Cannon isn't required by law to pay for child support. And besides, she said that she's financially stable enough to provide for the needs of the kid she shares with the host, Legendary Love.
Bre Tiesi said Nick Cannon is 'not my sugar daddy'
On "Selling Sunset," Bre Tiesi raised eyebrows when she claimed that Nick Cannon is not financially obligated to support their child, Legendary Love, because he has a dozen other kids. "The way it works is, like, after 10, the court can basically say he can't afford to pay child support," she told co-star Amanza Smith. "Or because he is who he is, they could say, 'We know you can afford X amount for each for each household.'" Then again, she also shared that she's more than capable of providing for her child, so it's not like she's in dire need of Cannon's money.
"I take care of myself, and if my son needs something or we need something, I can ask. That's all I have to do," she said, adding that Cannon is a "good dad." She also shared that Cannon is "not [her] sugar daddy" and played no part in her achievements. "I can make crazy money by myself. I can carry my lifestyle, which is not cheap. I can carry my child and my own s**t."
Tiesi's lawyer, Neama Rahmani, however, refuted her claims and maintained that despite Tiesi's misunderstanding of the law, Cannon should still render financial support for Legendary Love. "Bre, you should know better!" Rahmani said in an interview with Us Weekly. "That is absolutely not true. There's no cap on child support based on the number of children. So, to the extent that Nick Cannon can have babies, he owes child support for those babies under California law."
How much does Nick Cannon pay for child support for all his children?
With Nick Cannon's children outnumbering a sports team, it's hard to imagine just how much he springs for to support all of them. Family law attorney and legal expert Goldie Schon told The U.S. Sun that he likely spends around $3 million monthly considering his high income, but the "Wild 'N Out" star claims that he pays way more. He told The Neighborhood Talk: "I definitely spend a lot more than that on my children annually. I don't plan to ever have to participate in the governmental system of child."
As to how he allocates that over $3 million? Let's just say that his system is far from structured. In a guest appearance on "The Home Morning Show," the host assured everyone that his kids and their mothers can get what they need from him when they need it. "They money is my money. They can have whatever they want," he said, noting that while he doesn't provide monthly stipends, his kids have free rein to take whatever they need from his checking account. "It ain't even about a monthly allowance or amount of money, because I don't give myself that... My account is their account, and there's a lot in there, so we ain't gon' run out." At the end of the day, every child is financially supported, he declared. "What they need, they get. There's never been something that one of the mothers of my children has asked for and they didn't receive."