Scarlett Johansson's Divorce From Romain Dauriac Included A Messy Custody Battle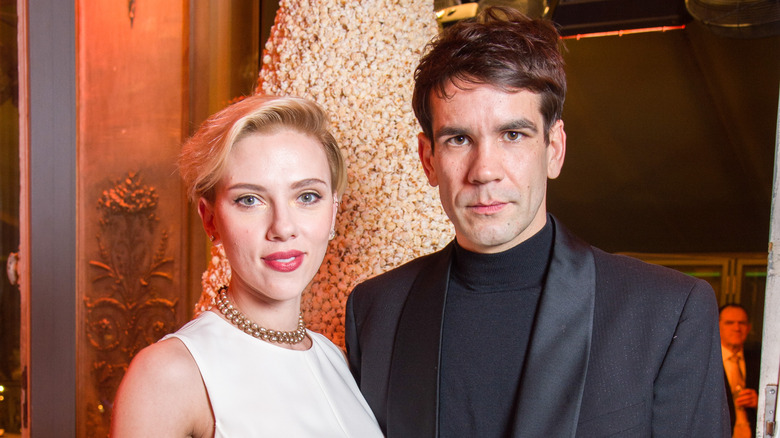 Pascal Le Segretain/Getty Images
Scarlett Johansson's divorce from her second husband, Romain Dauriac, was not pretty. Negotiations that should have been kept under wraps were thrust into the spotlight, so everyone had been privy to what was happening between the two despite their efforts to remain private.
Johansson and Dauriac were married for nearly three years but had been together for half a decade. The pair were first introduced by mutual friends in Paris back in 2012. "It was very romantic. And we became friends. When I'd come back to Paris, I would see him. We started dating," she shared with Parade. "He tells me that he learned English in one night! 'I barely spoke English when we met,' he said. I don't remember that at all." They got hitched in a secret ceremony in 2014, the same year they welcomed their daughter, Rose. But in 2017, they shocked fans when they announced they were parting ways, with Johansson reportedly being the one to pull the plug. Per The Hollywood Reporter, Johansson cited in the divorce papers that their marriage was "irretrievably broken." Meanwhile, Dauriac's lawyer noted that the French art curator was rendered "shocked" by the decision and thought it was a "pre-emptive strike" to gain custody of their daughter.
What followed was a heated legal exchange between Johansson and Dauriac as they figured out how to raise their daughter moving forward.
Scarlett Johansson and Romain Dauriac wanted residential custody of their daughter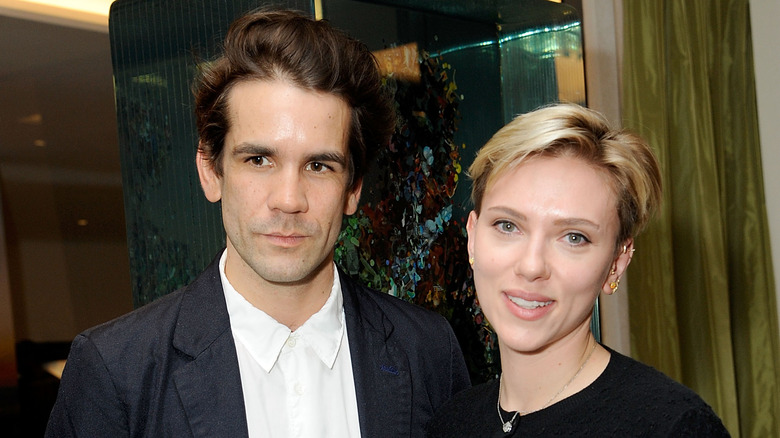 Rabbani And Solimene Photography/Getty Images
When Scarlett Johansson filed for divorce from Romain Dauriac, she also requested residential custody of their daughter Rose, which Dauriac took issue with as he reportedly served as Rose's caretaker while the actor was away for work. Speaking with E! News, Dauriac's lawyer, Hal Myerson, noted that Dauriac was the "primary custodial parent" and that he "desperately" wanted Johansson to be more present in their daughter's life. "You can't have schedules switching all the time. How do you explain that to a child? She's allowed to have her career, and there will be a certain degree of flexibility — but not to suit her schedule or Mr. Dauriac's," Myerson explained. "It will be one that suits the child."
In a statement shared with the outlet, Dauriac — who wanted Rose to live in France with him — also expressed disappointment at Johansson for making their "personal differences so public." He added: "I would implore her to withdraw her action promptly and go back, as uncomfortable as it might be, to the negotiating table. We are the parents of a lovely daughter whom we will continue to co-parent for many years and share her joys and sorrows as only a parent can."
Finally, after much back and forth, Johansson and Dauriac were able to reach an agreement, although what was outlined in it was never made public, as the couple submitted a sealed settlement to the Manhattan courts. Months later, TMZ reported they were spotted together Christmas shopping with Rose, so it's probably safe to say that things worked out well for the family.
How are Scarlett Johansson and Romain Dauriac co-parenting?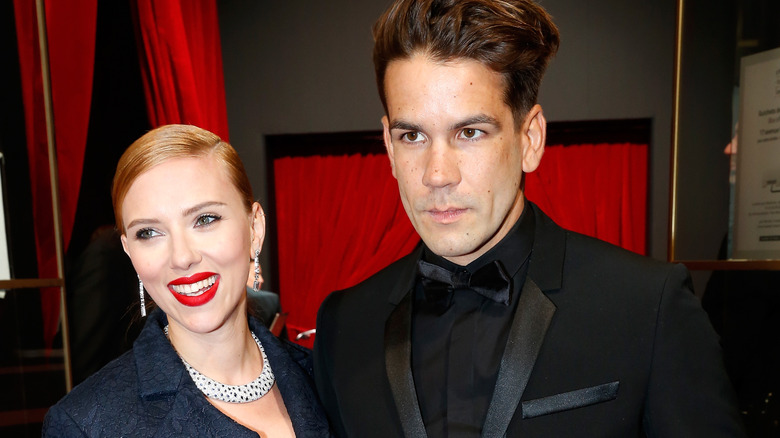 Rindoff Petroff/hekimian/Getty Images
Scarlett Johansson and Romain Dauriac made it a point to keep the media out of their lives since facing off in court, but in 2019, the Marvel star offered a glimpse of what it's like to co-parent Rose. She said it hasn't been easy, but they're finding ways to make it work. "Understanding what it is to co-parent — that's a very specific thing. It's hard to raise a child with someone you're no longer with. It's hard," she shared with Vanity Fair. "It's not probably how it's 'supposed to be' — in quotes — or whatever... But, you know, I think my ex and I do it as well as we can. You have to prioritize your child and not put yourself in the middle. It has its challenges."
The "Marriage Story" actor also admitted to USA Today that she had a tough time adjusting to the new setup following the split, especially since she was essentially a solo parent. "When you have a breakup of any kind, whether it's amicable or not, you question a lot of the choices that you've made. 'OK, who am I now? And I had this new identity as a single mom, so what is that?'" she explained. But at the end of the day, she finds strength in her daughter to make it through. "When I look at her, I feel full of hope and positivity. It's good to wallow for a little bit. And then you have to pull yourself up."