Details About Al Pacino's Unexpected Friendship With King Charles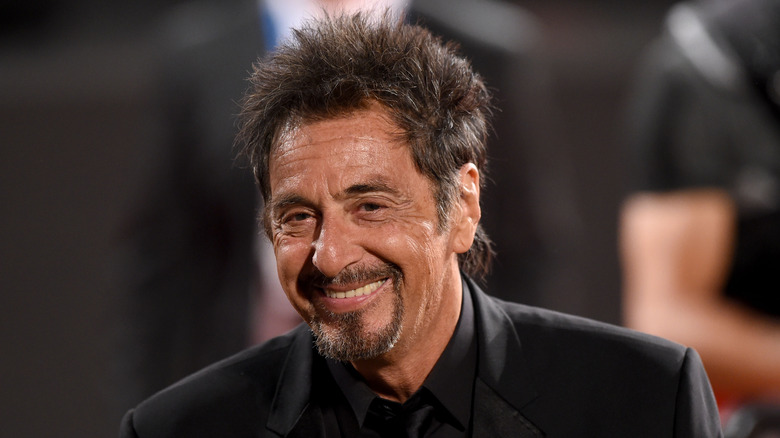 Gareth Cattermole/Getty Images
When it comes to Al Pacino's friend group, the first name to come to mind, for most, would be Robert De Niro. However, Pacino also has another famous face in his inner circle — one who just so happens to be the King of England.
Given the news that Pacino is set to welcome his fourth child as an octogenarian and that De Niro, at 79, has also just become a father again, it only makes sense that there's been a renewed interest in the actor's friends. Granted, the "The Godfather" actor is known for his privacy when it comes to his personal life. As such, it's unlikely we'll be getting a sneak peek into his dynamics with his nearest and dearest on a docuseries any time soon (though "God-Daddy Daycare" sounds like an instant hit, just saying). That said, every once in a while, he'll hint ever-so-subtly at a friendship he has with another public figure. Enter King Charles III. 
Given Pacino's general penchant for discretion, though, it's not exactly hard to see why Pacino has been welcomed into the royal's life — and vice versa. Outside of their mutual preference for privacy, though, just what do we know about their friendship? 
Their friendship dates back to the 90s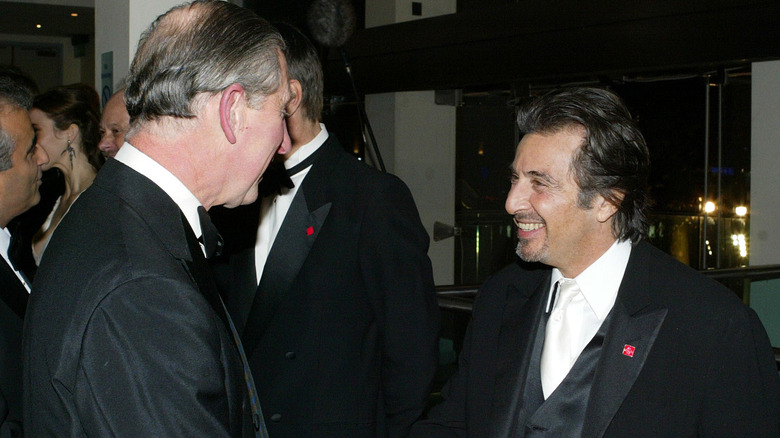 Tim Graham/Getty Images
The 90s aren't typically seen as the golden age of the British monarchy. However, if anything exciting did come of it, it would be Al Pacino's blossoming friendship with the then-Prince of Wales. 
According to Reuters' Screen Ocean, the now-King met the actor back in 1997, ahead of the royal premiere of "Looking for Richard." Though details on that first meeting are scant, Pacino's girlfriend around that time, Lyndall Hobbs, has spilled some English breakfast tea about one of the times they spent together during that period. Speaking to Evening Standard, she joked about staying the night at Sandringham — and being shocked by their host's early bird routine. "Being told by Prince Charles, 'See you for breakfast at 8.30,' when we'd been used to getting up at 4.30 pm, was just exhausting," she reminisced.
It seems that wouldn't be the last time Pacino stayed over at the monarch's digs, either. Though the actor has never said so himself — at least, not publicly — according to the Daily Mail, he's said to have spent time at Highgrove, too, and even caught the royal in his bathrobe. What's more, even that run-in didn't tarnish his reputation as a houseguest. As reported by Evening Standard, a few years later, at the 2004 royal premiere for "The Merchant of Venice," he hinted that he'd be staying with him once again, telling reporters he'd ask the royal if he enjoyed "The Godfather" series, "Later."
... and they bonded over Shakespeare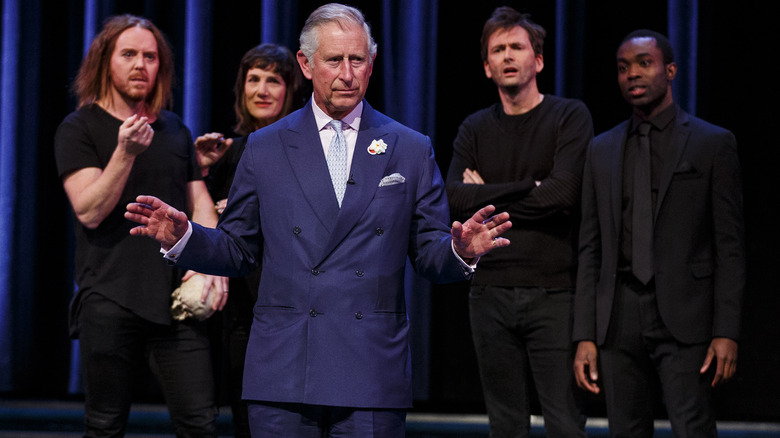 Tristan Fewings/Getty Images
That King Charles and Al Pacino became fast friends after meeting thanks to the actor-turned-director's "Looking for Richard" film isn't all that surprising. After all, both men have spoken of their love for William Shakespeare's work in the past. 
On top of his own project, "Looking for Richard," Pacino also starred in the 2004 film, "The Merchant of Venice" — another film that opened with a royal premiere. Per Daily Mail, the actor was seated next to King Charles for the screening. And, according to BBC News, he referred to the royal at the event as "An ardent Shakespearean devotee." He wasn't kidding, there. Just more than a decade after the premiere, and on the 400-year anniversary of Shakespeare's passing, King Charles joined Dame Judi Dench, Benedict Cumberbatch, and several other famous British actors in sharing their interpretations of the iconic "Hamlet" soliloquy. Plus, in his first parliamentary address after the death of his mother, King Charles even quoted the playwright as a tribute to the late queen. 
Aside from their mutual love for Shakespeare, neither Pacino nor the king has spoken of their friendship. And, though Evening Standard has claimed the two write each other letters, Pacino was notably absent from the king's coronation. Even so, we're not expecting to hear many details from either of the two regarding the status of their friendship today. At the end of the day, with these two, discretion is key.