Teen Mom's Ryan Edwards Pleads Guilty Following Recent Arrest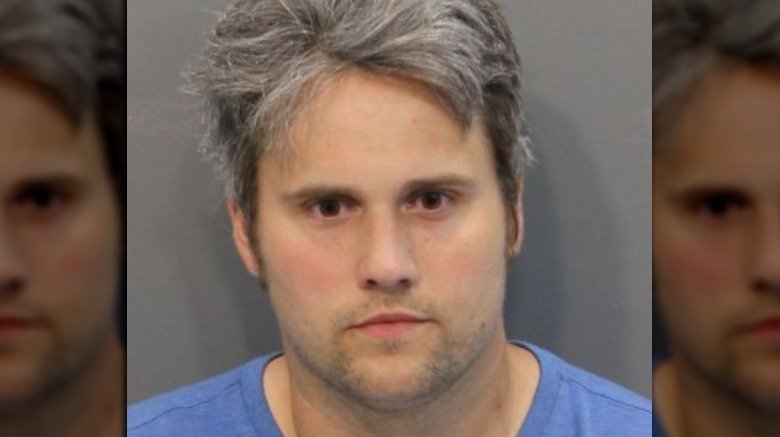 Hamilton County Sheriff's Office
Teen Mom OG alum Ryan Edwards recently appeared in court after being taken into police custody late last month.
According to a Radar Online exclusive, published on Tuesday, Aug. 28, 2018, the reality TV star reportedly pleaded guilty to a speeding charge stemming from his July 2018 arrest. Edwards allegedly paid a $177.75 ticket after appearing in front of a Hamilton County judge in his native Tennessee last Thursday, Aug. 23.
As Nicki Swift previously reported, the 30-year-old was arrested by the Red Bank Police Department on July 23. At the time, a Hamilton Country Jail spokesperson claimed that the MTV star would be held without bond on charges of simple possession of heroin until his scheduled Aug. 6 court date. However, Edwards was eventually released earlier than expected on July 31, and later emphasized that this particular arrest was not drug-related, but rather a simple "misunderstanding."
"I got a speeding ticket and while I was pulled over, it came up that I was in violation of my probation because the community service had not been completed," he told E! News in early August, explaining that this is what led to him being booked. "It's not that I wasn't taking the community service seriously, it's just that we have so much going on, I didn't realize the deadline had passed."
Edwards, who may have an additional six months added onto his probation due to the incident, went on to say, "The only drug-related charge was the original one from two years ago, from before I went to rehab." Regarding his week in jail, which he chalked up to a "learning experience," he said, "I take full accountability. I messed up."
As the television personality alluded to, this unfortunately was not the first time he's faced serious legal trouble. In late March 2018, Edwards was busted at his Tennessee home for allegedly violating his probation, which stemmed from his heroin possession charge a year earlier. He was later released on $5,000 bond.
Prior to this, Edwards had completed a 30-day rehab stint to treat his drug addiction in May 2017 — shortly after he and wife Mackenzie Standifer were secretly married. At the time, he released a statement regarding his recovery, saying, "I made the decision to check myself into a rehabilitation facility. I am back home now doing well, and life could not be better. Without the support of my wife and parents, I would not have been able to do this. Thank you all for your well wishes."
Amid his ongoing legal battle, the former Teen Mom star has been steadily making headlines over the last few months — for both reasons good and bad. Just ahead of his latest arrest, he and Standifer, who are expecting their first child together in October, announced their exit from the hit MTV series.
"We're not returning to Teen Mom this season. The network told us they don't want to show Ryan as a recovering addict," Standifer, who is also mom to 4-year-old son Hudson from a previous relationship, told E! News in mid-July. She added, "We're not going to be on at all." Around that time, Edwards called attention to the epidemic of drug abuse while speaking out against the show on Instagram. "They don't want to show me or Mack in a happy light or that I am active in my recovery. I AM," he wrote in part, captioning a text post which read, "Life can take you higher than drugs. Stop drug abuse. Live life." The TV star added, "They want me to look angry, passive aggressive and uncaring regarding things that mean the most to me."
Meanwhile, Edwards' ex and fellow Teen Mom star Maci Bookout was granted a two-year restraining order against him in May after claiming that he'd threatened her on multiple occasions. The estranged former couple share 9-year-old son Bentley, whom Edwards is still allowed to see.
We're hoping Edwards' recent court date will mark the end of his longtime trouble with the law. At the time of this writing, he has yet to publicly comment on his latest plea. However, for the moment, it sounds like he and Standifer are focusing on their future together. As the latter told E! News earlier this month, "Ryan is my husband. Yes, he's made some mistakes but we are moving past them. He has my full support."
If you or someone you know is struggling with addiction, please call the Substance Abuse and Mental Health Administration's 24/7 National Helpline at 1-800-662-HELP.