Actress Asia Argento Claims Accuser Jimmy Bennett Sexually Assaulted Her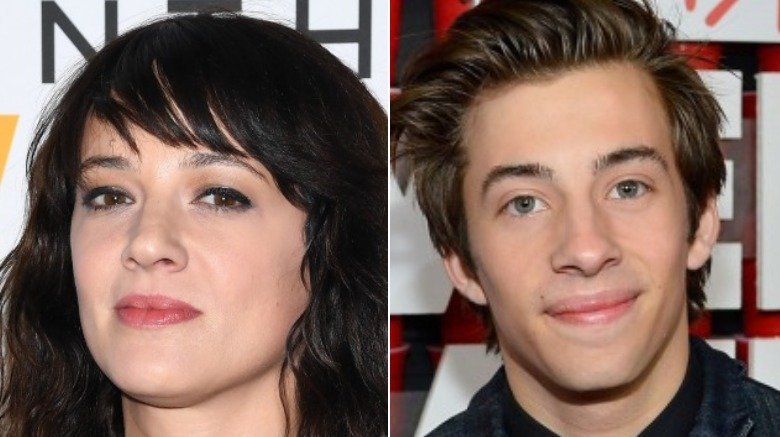 Getty Images
Actress Asia Argento is speaking out against former child star Jimmy Bennett, who accused her of sexual assault last month.
On Wednesday, Sept. 5, 2018, the Italian actress released a lengthy statement via her attorney, Mark Heller, in which she not only claimed that Bennett had actually sexually assaulted her during an alleged May 2013 incident, but also announced the launch of what she calls "Phase Two" of the #MeToo movement.
As Nicki Swift previously reported, The New York Times revealed in late August 2018 that Argento had quietly paid Bennett, her former The Heart Is Deceitful Above All Things co-star, $380,000 earlier this year after he claimed she'd sexually assaulted him when he was just 17 years old and she was 37. Argento later denied the allegations, stating that she'd "never had any sexual relationship with Bennett," and that her late boyfriend, Anthony Bourdain, had paid the settlement in order to avoid negative publicity. Soon after, TMZ leaked a text message exchange in which Argento wrote to her friend and actress-activist Rose McGowan's partner, model Rain Dove, "The horny kid jumped me ... I had sex with him it felt weird. I didn't know he was a minor until the shakedown letter."
In her new statement, Argento, who was recently fired as a judge from X Factor Italy, stood by her previous remarks and the texts, stating that "her relationship with Bennett was never sexual." However, she accused Bennett of "sexually attacking" her during the alleged incident, while adding that she "chose at the time not to prosecute" him. The 42-year-old actress went on to mention his "unfortunate past, stalled acting career," alleged history of drug use, and "desperation to seek money."
"She is hopeful that in the Court of Public Opinion it will ultimately be determined that Asia never initiated an inappropriate sexual contact with a minor," Argento's lawyer stated. "But rather she was attacked by Bennett and might even be suffering the fallback of a smear campaign by those already accused who have a vested interested in their accusers being denied credibility."
Argento had become a leading voice of the #MeToo movement after accusing disgraced film producer Harvey Weinstein of sexual assault in October 2017. While positioning herself as a "pioneer" of the first phase of the movement — an initiative launched by activist Tarana Burke over a decade before Hollywood turned it into a viral social media campaign amid the Weinstein scandal — the actress explained that this new "Phase Two" would mean that "all victims, whether or not they have led a blemish-less life, should have the courage to come forward and not be afraid that the abuse that they are complaining of will be colored by any negative dynamics in their history." She used her current situation as an example.
Soon after Argento released her recent statement, Bennett allegedly decided to file a police report and sexual assault claim against the movie star with the Los Angeles County Sheriff's Department, TMZ reports. Regarding Argento's comments on Bennett's alleged history, the actor-musician's lawyer, Gordon Sattro, told the gossip rag, "The attack on my client's character has no bearing on the events that took place on May 9, 2013. These are statements that are meant to intimidate, shame and insult my client."
While breaking his silence on the matter late last month, Bennett had stated, "I did not initially speak out about my story because I chose to handle it in private with the person who wronged me. My trauma resurfaced as she came out as a victim herself." Adding that he was ready to finally move on from the situation, he wrote, "I have had to overcome many adversities in my life, and this is another that I will deal with, in time. I would like to move past this event in my life, and today I choose to move forward, no longer in silence."
Unfortunately for Argento, not everyone seems to be buying her latest statement — and it's perhaps at the detriment of the #MeToo movement. Former Disney star Bella Thorne, for example, tweeted in response, "I'm disgusted. No longer want to be apart of the #metoo movement. Jimmy was a young kid. This is gross." While writing, "If this is what the me too movement is going to be about now I'm not here for it," she added, "Victim shaming. Just awful."
Earlier this week, actress Alyssa Milano, who popularized the movement on Twitter late last year, spoke out against certain media outlets who have used the Argento allegations to slam the initiative. As she told The Hill on Tuesday, Sept. 4, "I think the media has done a really good job at sort of jumping on top of the #MeToo movement at every single opportunity they have gotten to undermine and discredit what we've all been fighting for."
As new details surrounding Argento and Bennett's alleged sexual encounter continue to surface, it's noteworthy to mention that after Weinstein's ongoing sexual abuse scandal first broke last October, a number of other powerful figures in Hollywood have been accused of sexual misconduct.