Actress Asia Argento Threatens To Sue Rose McGowan Over Statement On Sexual Assault Allegations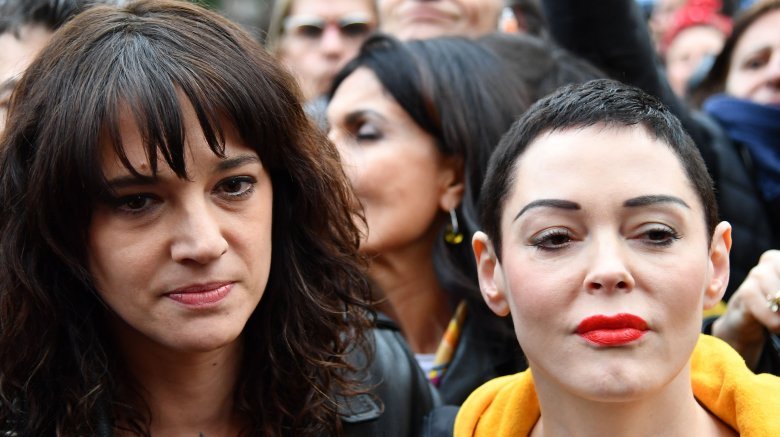 Getty Images
Actress Asia Argento, who has been accused of sexual assault by her former The Heart Is Deceitful Above All Things co-star Jimmy Bennett, is threatening to take legal action against actress Rose McGowan.
On Monday, Sept. 17, 2018, the Italian actress took to Twitter to demand that McGowan, her fellow #MeToo movement activist and former friend, retract her statement made on the allegations late last month.
"Dear @RoseMcGowan. It is with genuine regret that I am giving you 24 hours to retract and apologise for the horrendous lies made against me in your statement of August 27th," Argento tweeted. "If you fail to address this libel I will have no option other than to take immediate legal action."
As Nicki Swift previously reported, McGowan, 45, released a lengthy statement days after The New York Times revealed that Argento, 42, had quietly paid Bennett, 22, $380,000 earlier this year. He previously accused her of sexually assaulting him during an alleged May 2013 incident when he was just 17 years old. 
"Asia you were my friend. ...Do the right thing. Be honest. Be fair. Let justice stay its course," McGowan wrote in part at the time, adding, "Be the person you wish Harvey [Weinstein] could have been." She and Argento, of course, both accused Weinstein of sexual misconduct last fall. The former Charmed star went on to address a previously leaked text message exchange, in which Argento reportedly admitted to having sex with Bennett. Revealing that Argento had actually been texting her partner, model Rain Dove, McGowan said she immediately encouraged Dove to report the exchange to authorities.
Argento has since denied Bennett's claims, while noting that her late boyfriend, Anthony Bourdain, had paid the settlement in order to avoid negative publicity. She also later accused the actor-musician of "sexually attacking" her during the alleged incident. For his part, Bennett is reportedly planning to file a police report and sexual assault claim against Argento with the Los Angeles County Sheriff's Department.
At the time of this writing, neither McGowan nor her reps have publicly responded to Argento's recent post.
As new details surrounding Argento and Bennett's alleged sexual encounter continue to surface, it's worth mentioning that a number of other powerful figures in Hollywood have been accused of sexual misconduct ever since Weinstein's ongoing sexual abuse scandal first broke last October — most recently including CBS's ex-CEO Leslie Moonves and former 60 Minutes executive producer Jeff Fager.