Actress Asia Argento To Sue Rose McGowan Over Statement On Sexual Assault Claims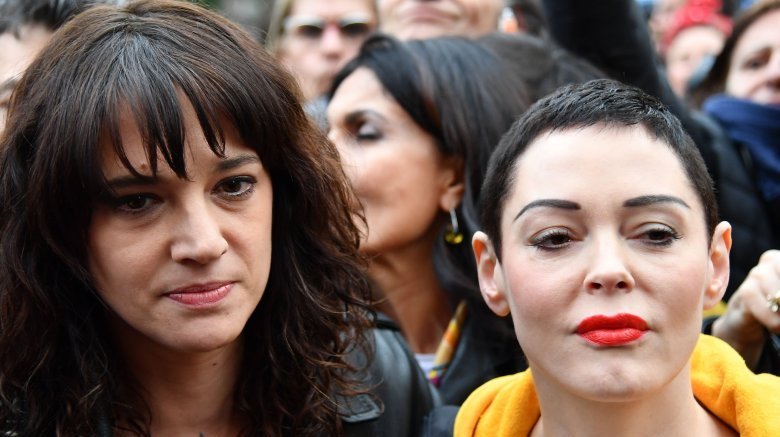 Getty Images
Actress Asia Argento is taking legal action against Rose McGowan.
On Tuesday, Sept. 18, 2018, the Italian actress took to Twitter to announce that she is suing McGowan over claims she made in a statement on Jimmy Bennett's sexual assault allegations against Argento, which stemmed from an alleged May 2013 incident when he was just 17 years old.
"To @rosemcgowan. The 24hr deadline given to retract your recent false statements about me has now passed," Argento tweeted. "I must inform you & @raindovemodel that I've instructed Mishcon de Reya to seek substantial damages for deception, fraud, coercion and libel. You will hear from them shortly."
As Nicki Swift previously reported, Argento, 42, had threatened to follow through on her lawsuit on Monday, Sept. 17, tweeting at the time, "It is with genuine regret that I am giving you 24 hours to retract and apologise for the horrendous lies made against me in your statement of August 27th."
While Argento has since denied Bennett's claims, she later admitted in a leaked text message exchange with McGowan's partner, non-binary model Rain Dove, that she did have sex with the actor-musician when he was a minor. However, in a follow-up statement released in early September, Argento accused Bennett of "sexually attacking" her during the alleged incident. She also claimed that he began sending her nude photos afterward, having previously told her that she'd been "his sexual fantasy since he was 12."
Multiple media outlets suspect that Argento's lawsuit may have something to do with this last point. In McGowan's lengthy statement, which was released a week after the allegations first came out, she urged her former friend and fellow #MeToo movement activist to "do the right thing," before claiming that Argento "didn't take any action" after "receiving unsolicited nudes of Jimmy" ever since he was 12, not 17. 
Dove has since repeatedly taken the blame for the apparent error, as it stemmed from a misunderstanding of their text message exchange with Argento. "@AsiaArgento I'm responsible 4 the misinterpretation," Dove wrote in a series of tweets on Tuesday, Sept. 18. "I informed Rose inaccur8ly as a result & they advised appropri8ly. Rose wsn't slanderous in the st8ment- it was an accur8 1 based on the knowledge I gave. I apologized 4 the mistake. I own it." They added, "Sexual engagement did occur w/ a minor by a much older person in a position of power. Controversial 'age restriction' or not, extortion or not, a lie was told to cover up this engagement."
At the time of this writing, McGowan, 45, has yet to publicly respond to Argento's lawsuit.