Is Hozier Married? What We Know About The Musician's Private Love Life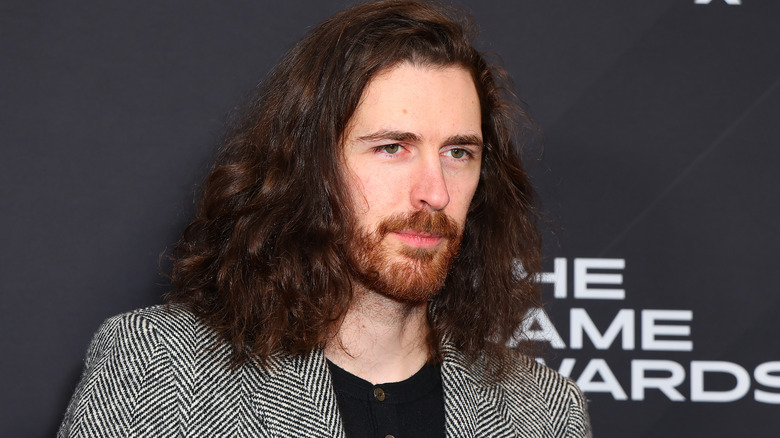 Leon Bennett/Getty Images
A decade on since Irish singer Hozier released his first smash hit, "Take Me to Church," it's safe to say he's kept most of his personal life close to his chest. Even so, we can't help but wonder about his relationship status.
Despite keeping mum, Hozier (full name Andrew Hozier-Byrne) has been no stranger to rumors over the years. Most famously, he was linked to actor Saoirse Ronan after the two had collaborated on a music video for a domestic violence campaign. True to form, Hozier never acknowledged the rumors. In fact, speaking to Goss.ie in May 2017, a Hozier insider debunked the idea altogether. "Saoirse and Hozier are good friends, but they are definitely not a couple ... I think people really wanted it to be true, but they aren't dating," the source claimed. As for Ronan, she never confirmed anything, either. However, she also didn't deny anything. In a December 2017 interview with Irish Daily Mail, she quipped, "That's for me to know!" (via PressReader). 
Whether or not the two were seeing each other at one point, we'll probably never know. Plus, even if there was something between them, it's in the past. These days, Ronan is dating her "Mary Queen of Scots" on-screen husband, Jack Lowden. When it comes to Hozier, though, he's still as quiet as ever. So, just what do we know about his love life ... and is he married?
He was caught in an awkward wedding miscommunication
Given how quiet Hozier keeps his love life, many were surprised in May 2022 when he was pictured in what some interpreted as a wedding picture. However, as it turned out, it was all a big misunderstanding. 
Taking to Instagram on that fateful day, fellow Irish musician Lyra McNamara posted a black-and-white picture of her and Hozier together. In the caption, she shared that Hozier was one of her idols and that she was thrilled to meet him at a wedding where they were both guests. However, it appears the combination of formal attire, the filter used, and the word "Wedding" confused her followers. Soon enough, her comments section was filled with fans offering well wishes. "People were like, 'Oh my God, they've got married! Your babies are going to be so musical," she recounted to Gloss.ie. She was quick to find the humor in the misunderstanding, though. In addition to cracking jokes in the comments section about registering for gifts, she later edited her caption to clarify, "For the record Hozier did not take me to church and we did not get married."
McNamara did let one detail about Hozier's actual love life slip, though. Speaking to Gloss.ie, she revealed, "I was like to Andrew's girlfriend, 'I'm so sorry by the way. I'm sorry that I done that.'" Confirming that he did have a special someone.
... but don't expect any relationship updates (ever)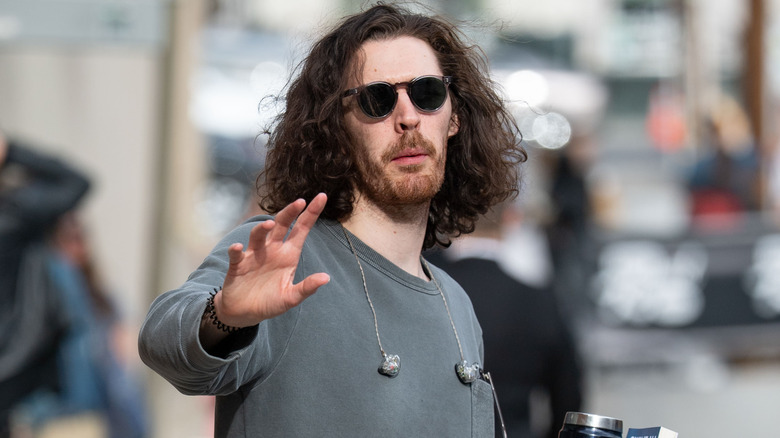 Rb/bauer-griffin/Getty Images
Thanks to Lyra McNamara, we know in 2022, Hozier was in a relationship. Don't get too excited about that little tidbit, though. Unless someone else lets something slip, that's probably as much concrete information as we're going to get. 
Speaking to The Telegraph in May 2023, the musician explained that he had no intentions of opening up more of his life to the world. "It would be a shame if I couldn't just sit in a bar with friends ... There's something wonderful about watching people interact, being a witness to the world. That's very hard when you walk in a door and feel people witnessing you. So yeah, I keep my head down," he said. 
Granted, without giving away any specific details, Hozier did tell People that his 2023 song, "All Things End," was inspired by a split he'd gone through himself. Speaking of the song's message — that breakups (or at least changes in relationships) are inevitable — he revealed that the thought process was. "What I was going through at the time," he revealed of the track. It's not clear if the breakup in question was a recent one, though. As he told Rolling Stone UK, much of the album was written mid-Covid, so there's a chance he was reflecting on a relationship that ended a few years ago. One thing we do know for sure, though, is that this privacy-conscious star won't be setting the record straight any time soon.