What Chelsea Clinton's Husband Marc Mezvinsky Does For A Living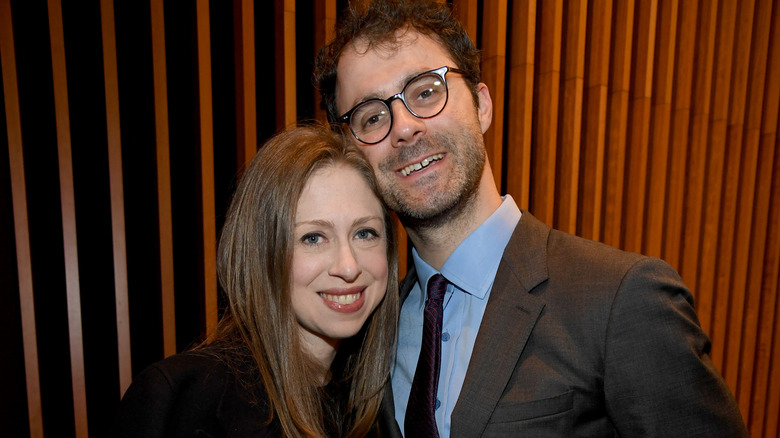 Kevin Mazur/Getty Images
Chelsea Clinton has managed to make a name for herself and step out of her parents' shadow, an impressive feat considering how her dad, Bill Clinton, was the president of the United States and her mom, Hillary Clinton, was a former senator and Secretary of State.
But the former first daughter was pretty adamant about forging her own path from the get-go. Speaking with Stella McCartney for a Harper's Bazaar feature, she shared that she had "tried very hard to care about things that were different from what my parents cared about." Chelsea had worked for various firms, including McKinsey & Company and Avenue Capital Group, and then went on to work for NBC News as a special correspondent, in which she reportedly earned an annual salary of $600,000. She also holds a position on the board of directors at Expedia Group, earning $250,000 to $300,000 annually, while her involvement with IAC/InterActiveCorp led to her ownership of $9 million worth of stock. 
The kicker? None of these were roles she was passionate about. Luckily, her husband, Marc Mezvinsky, inspired her to find the thing she truly loved. "He [Marc] loved what he did and the fund he was working at and I thought, 'Wow, I need to figure out what I'm going to love as much,'" she said at the Fortune's Most Powerful Women Summit in 2013 (via US News). Chelsea now fills the role of vice-chair of The Clinton Foundation, writes children's books, and teaches part-time at Columbia University's Mailman School of Public Health. As for Mezvinsky? He's pretty well-versed in finance.
Marc Mezvinsky works in the finance sector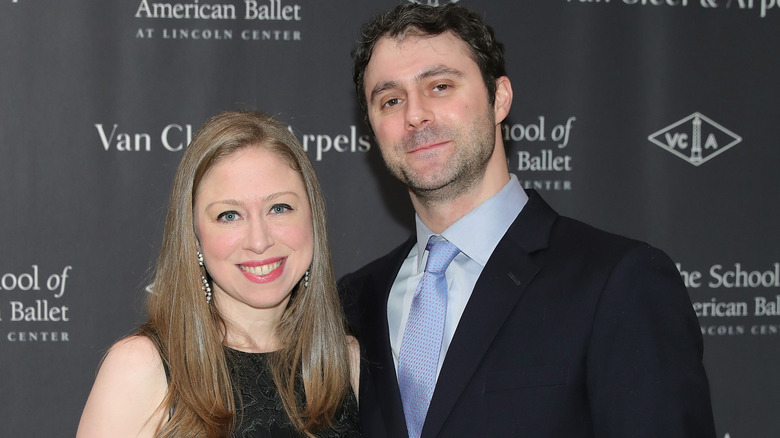 Neilson Barnard/Getty Images
According to Celebrity Net Worth, Marc Mezvinsky is on equal footing with Chelsea Clinton in terms of wealth, with the pair both having a fortune valued at $30 million. But in Mezvinsky's case, his bread and butter lies in finance.
As noted in his bio on The North American Pembrokian, Mezvinsky got his start at Goldman Sachs, where he worked as an investment banker. He worked there for half a decade before moving to 3G Capital, where he oversaw a global macro strategy hedge fund. In 2011, along with former colleagues from Goldman Sachs, New York Daily News reported that he "decided to spearhead his own private [hedge] fund." That turned out to be Eaglevale, which eventually closed in 2016 after incurring a big loss due to betting big on Greece, as reported by The New York Times.
Three years later, The Wall Street Journal reported that Mezvinsky joined private equity firm TPG to work as a managing director and business-unit partner for one of its newest funds. In his free time, though, the father of three keeps his hands tending to their kids. Chelsea told People that he's a "very hands-on dad," which she appreciates. "He's so attentive, he's so engaged with her [Charlotte], reading to her, helping her get dressed, getting her into her pajamas at night, helping give her a bath," she shared.
Inside Chelsea Clinton and Marc Mezvinsky's marriage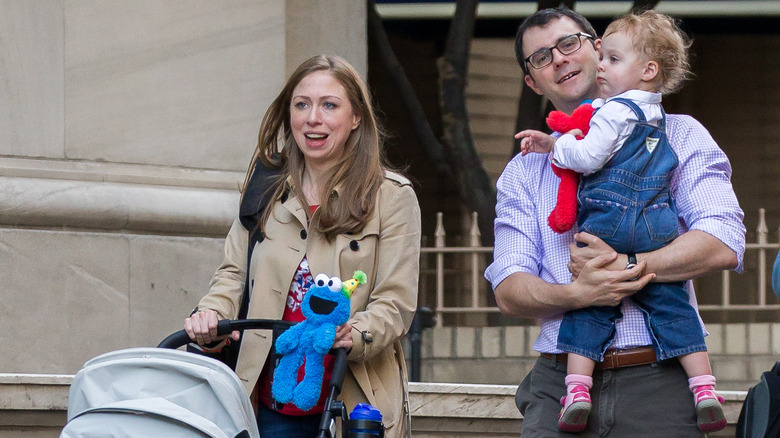 Tal Rubin/Getty Images
Chelsea Clinton and Marc Mezvinsky are aware that they are polar opposites, but they are of the mind that opposites do attract. "She's very much the yin to my yang. I don't want to say I'm aloof, but I definitely can exist in a cloud," Mezvinsky told Vogue. "I walk into parking meters. She's the antithesis of that. She's like: This is where the parking meters go!" Even their friends think that they're a perfect match, with one of Chelsea's bridesmaids, Jen Lee Koss, telling Glamour, "Marc brings out this incredibly silly, sidesplittingly hilarious side of Chelsea, and that's something she really needs."
At one point, the media tried instigating rumors that there was trouble in paradise between the two, but it was all quickly debunked. "Our inside sources between them, looks they're still in love. They're still a young, happy couple," gossip columnist Carson Griffith shared with CBS.
The only real problem they shared with the public was Mezvinsky refusing to change diapers for their baby, but Chelsea assured people that he has since learned his lesson. "He's working on it. He was really rather mortified that I shared that, so he's been changing lots of diapers in the last week," Chelsea told Today (via People). "I didn't know that that would have the impact it would. If I did, I would have talked to People much earlier!" The couple welcomed two more kids, Aidan and Jasper, and it may be safe to say that Mezvinsky had evolved out of his aversion to diaper changing.