How Tori Spelling Lost So Much Of Her Money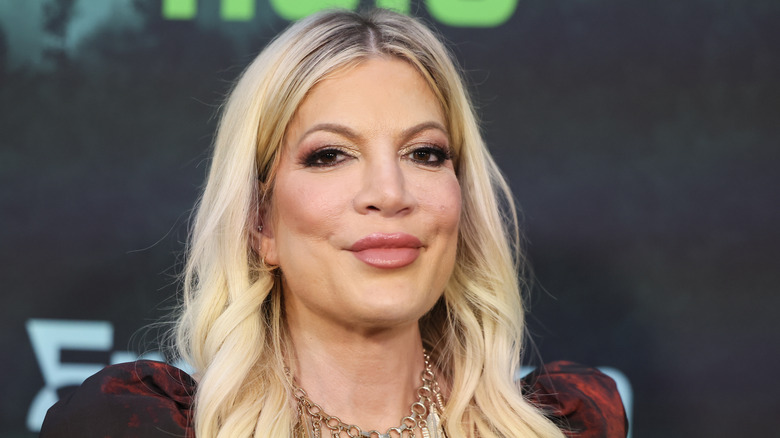 Rodin Eckenroth/Getty Images
Most people believe that because someone is famous or can be labeled as a celebrity, they will never have any money issues, and any financial concerns have been disregarded thanks to their social status. However, this isn't the case for all celebrities. Tori Spelling is the perfect example of someone who has spent her entire life under the spotlight and still struggles to find financial stability.
During an episode of "True Tori" back in 2014, the actor revealed she was under a lot of financial stress, saying, "I'm overwhelmed with life. Sorry. I just feel responsible. I feel so responsible for so many people and I can't do it. [I can't handle] the responsibility of having to take care of so many people financially, the fear of that. [It] doesn't matter. [I] know people look at me and they're like, 'Oh, poor you.' Like, 'Boohoo, you have so many problems'" (via E! News).
However, things haven't seemed to get any better for Spelling. In 2018, her husband, Dean McDermott, had the police check in on her because he was worried about her well-being. According to what a spokesperson from the police department told ET, "We were asked to check on her well-being. Deputies went out to talk to her briefly and determined she was fine." It looks like many have been the instances that have driven Spelling to find herself in this situation.
Tori Spelling didn't receive a large inheritance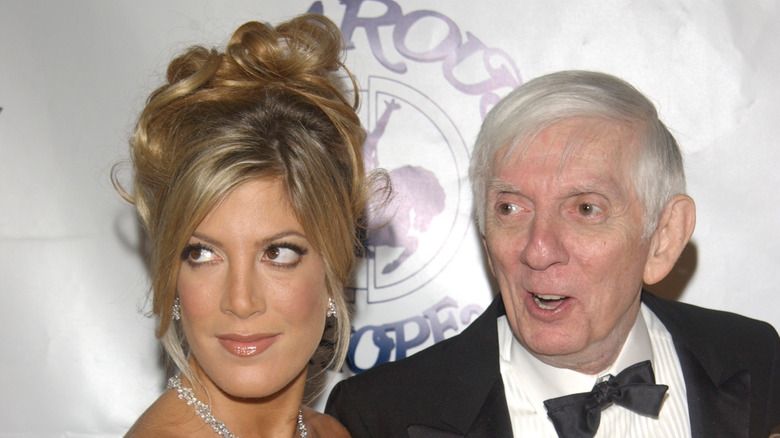 Featureflash Photo Agency/Shutterstock
Tori Spelling is the daughter of film producer Aaron Spelling, who was reportedly worth around $600 million by the time he passed away. However, Tori did not get the bulk of that as part of her inheritance.
When Aaron died, Tori received an inheritance of $800,000, which is not even close to her father's net worth. When her mother, Candy Spelling (also a producer), discussed why this happened, she told The New York Times, "[Tori] would close a store and drop $50,000 to $60,000. I never did anything like that. She just went crazy." Instead of believing her daughter (with whom she's had a fraught relationship) would be able to be careful about the inheritance and use it to raise her children, her mother was afraid everything would be burnt at once.
Many of Tori's fans were surprised at the amount she had received as an inheritance. However, during an appearance on "Good Morning America," she revealed it was what she had been expecting. "It was a hard conversation to have with him. I didn't want him to think that I was asking him for the money, or even talking about something so morbid as when he would pass. But I thought it was a conversation I needed to have ... for myself and for my brother. We had lunch and he said, 'You're gonna be OK. I made sure. You're getting just under a million.'"
Her antique store went out of business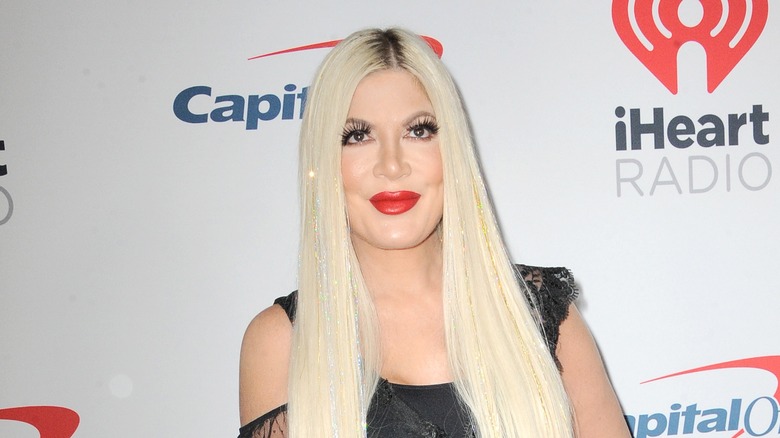 Tinseltown/Shutterstock
During her "Good Morning America" appearance, Tori Spelling said, "I turned into my dad's daughter and I started thinking of things to do, ways to make money," which is probably one reason she decided to open her own antique store, InvenTORI. The store opened its doors in 2011 in Sherman Oaks on Valentine's Day. She told Patch, "We love this neighborhood — it's hip and happening. We love the Valley –- we're family people, and we want everybody to come into the store."
As excited as Spelling may have been for her new venture, on the last day of 2013, Radar Online reported that the space was up for lease. According to their sources, "for leasing" signs were placed outside the store. Real estate agent Dean Cutler said, "There are people interested in the property and they have options in their lease that they are discussing now. The InvenTORI owners have been good tenants and they're in good standings, but the unit is for lease. They haven't said that they are going out of business."
However, three months later, Radar Online once more reported on the status of the antique store, announcing the shop was indeed going out of business.
Tori Spelling made terrible real estate decisions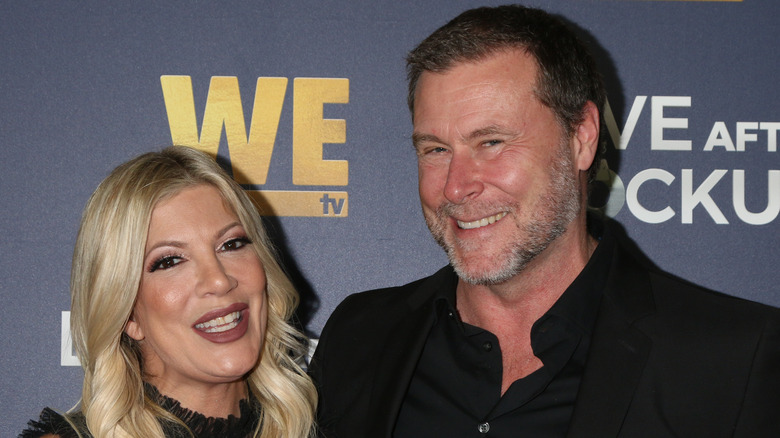 Kathy Hutchins/Shutterstock
Real estate investment is usually what most people with money go for, believing that it is the best investment they can make. However, that may not always work, and sometimes the investors will lose money or not make back what they had invested in the first place. That is what happened to Tori Spelling.
According to the Los Angeles Times, in 2008, Spelling and her husband, Dean McDermott, purchased a home for $2.945 million in Encino. The property was originally listed for over $3 million, so Spelling got a good deal when she purchased it. However, three years later, the house was up for sale again when Spelling and her family decided it was time to move. Unfortunately for them, the property was sold for $2.5 million, which meant they took a loss.
Five years later, Daily Mail reported Spelling was moving her family into a new home, renting it for $9,500 a month. This became controversial, given Spelling's behavior when it came to buying and renting different properties. A source close to her told the outlet, "Here we go again, this is Spelling's pattern. She packs up Dean and the kids every six months to a year and moves to a new rental. She hasn't put down real roots since she sold her Encino home in 2011, and she always has some excuse why she has to leave."
The expensive birthday parties for her children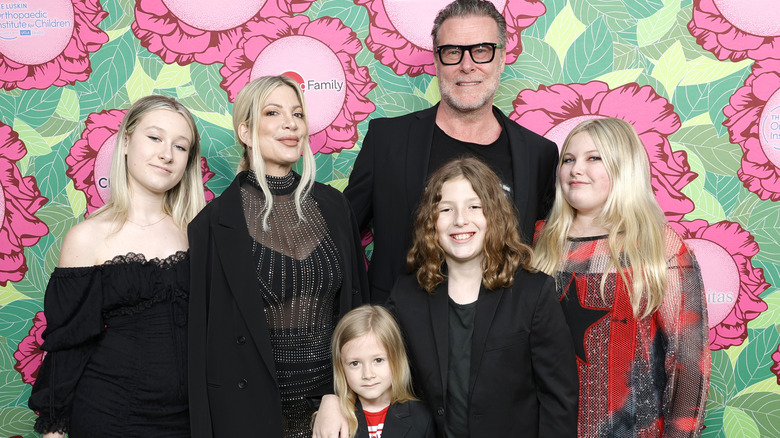 Stefanie Keenan/Getty Images
At one point, Tori Spelling's financial issues became so big that everyone knew what was happening. However, that didn't stop her from spending large amounts of money she didn't have. A lot of money was always dedicated to her children's birthday parties.
Throughout the years, different outlets have reported expensive birthday parties. In 2013, there was a double birthday cowboy-themed celebration that cost thousands of dollars. Then came 2014, when there were reports of an impending divorce, and another huge birthday party that had reportedly cost well over $6,000. Someone close to the celebration told Radar Online, "Dean flew in for the weekend to make sure Stella's birthday was special for her, even though he had to board a plane back to Canada just hours before her party on Sunday. So Tori and Dean celebrated Stella's birthday with family and friends on Saturday."
As her financial struggles continued to grow, the parties did not stop. Similar situations were reported in 2019 for Beau's birthday and in 2022 for Hattie.
Huge credit card debt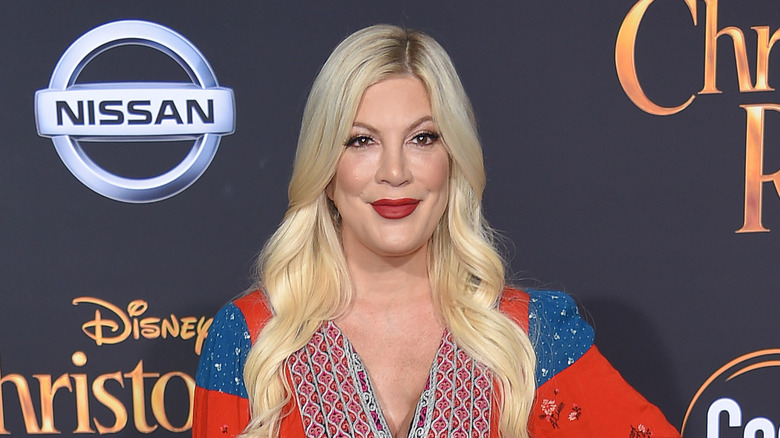 DFree/Shutterstock
Running up a credit card bill, hoping you won't ever have to pay it back, is everyone's dream. But the truth is you have to pay up; otherwise, the payments will come back to haunt you. In Tori Spelling's case, said payments were larger than she could afford as she continued to use her credit card throughout her supposed financial troubles. In her 2014 memoir "Spelling It Like It Is," she wrote, "It's no mystery why I have money problems. I grew up rich beyond anyone's wildest dreams. I never knew anything else. Even when I try to embrace a simpler lifestyle, I can't seem to let go of my expensive tastes."
This expensive taste got her into trouble with American Express when it came to light that she owed the company $88,000. In 2016, American Express filed a lawsuit against her, and in 2017 she was ordered to pay back what she owed. However, that wasn't the only bank going after Spelling and her husband. City National Bank was asking them to pay back over $266,000. Amid the lawsuits, Spelling spoke to People, denying rumors that she had money problems, rumors that started when she tried to be relatable in her memoir. "We have made a lot of choices financially with real estate that didn't work out ... and that just escalated into this story about financial struggles, bankruptcy. To this day that haunts me!"
By the beginning of 2023, Spelling had settled the American Express debt.
Tori Spelling owed the IRS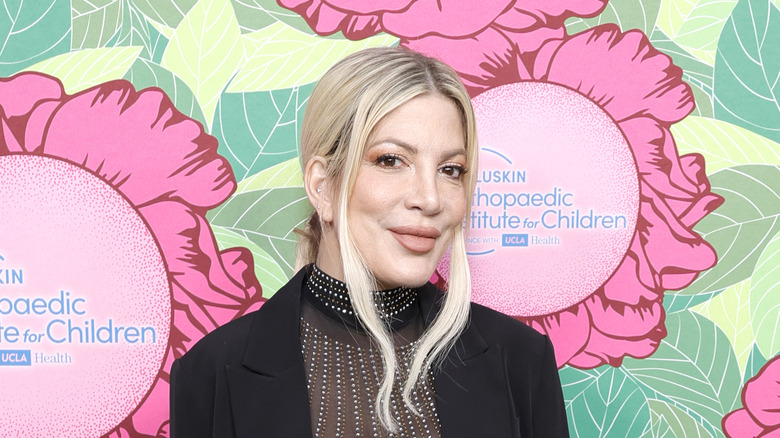 Stefanie Keenan/Getty Images
If you think a celebrity having insurmountable credit card debt sounds wild, you might be surprised to hear that Tori Spelling also owed a large amount of money to the IRS. After the lawsuit from American Express became public, it was reported in 2017 that the IRS had emptied both Spelling and her husband's bank accounts due to money owed from unpaid taxes. They were hit with a federal tax lien for over $700,000.
But by 2020, even though Spelling still owed the IRS, she moved into a new home worth nearly $4 million. Despite her lavish digs, things didn't seem to be getting better for her money-wise. At the beginning of 2023, Spelling and her husband reportedly still owed over $1.3 million to the IRS. If this wasn't enough, in July 2023, the couple had also been met with a $324 tax warrant in New York City.
Living in an RV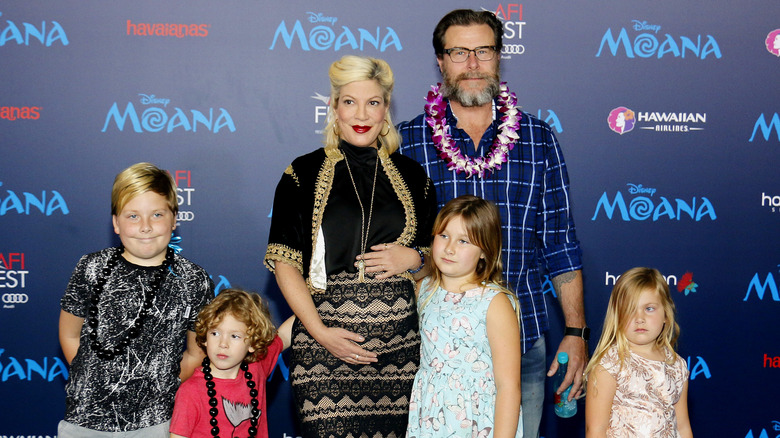 Tinseltown/Shutterstock
Tori Spelling seemed to move her family into a new home every chance she got. In August 2023, it was reported that Spelling — in the midst of divorcing Dean McDermott — was living in an RV park with her children. While living there, she posted a screenshot of a conversation with her real estate agent on her Instagram story. The exchange shows the agent seemingly meant to send the text to somebody else. The agent's messages appeared to mock Spelling's current living situation and financial struggles, although the agent also claimed he thought he was being scammed by someone pretending to be Spelling.
Many pictures came to light of Spelling and her children's situation, making fans worry for their well-being. Someone close to her told ET, "Tori is staying in an RV with her kids as a mini vacation rather than a living situation, but her financial troubles are real." Apparently, this living arrangement came to be after Spelling's children were continuously getting sick, and it was discovered that there was mold in her previous home.
However, a source told Daily Mail that Spelling living in an RV is just a sympathy ploy, saying, "She is not broke and she has gotten offers from friends to stay at their house. Dean does not think that the kids should be living like this and of course he is angry."
Her mom had to help Tori Spelling financially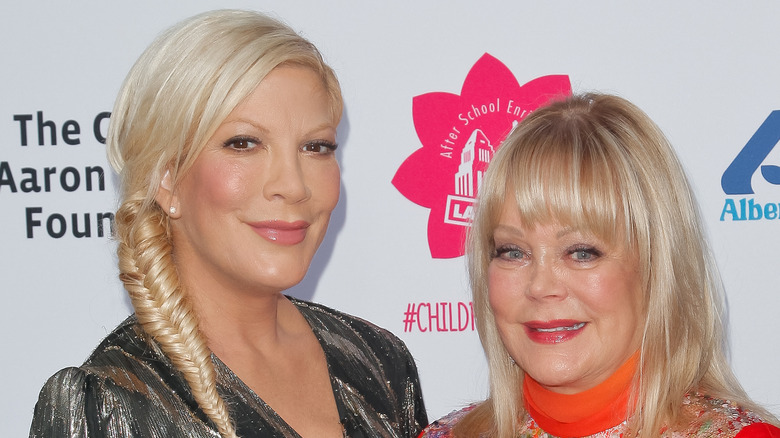 Tibrina Hobson/Getty Images
Even though Candy Spelling was one of the first to admit that her daughter wasn't good at managing her money, she has also been the one to come to her rescue when necessary. Back in 2016, when the lawsuit over her credit card debt became public, Candy told TMZ, "I've been helping her out. I'm paying all her bills now, except I'm not paying extras like that. I'm not paying any back payments, just for the house and the kids' school and their food," while simultaneously insinuating her daughter was in such financial trouble due to her extravagance.
As much as Candy was willing to help her daughter — particularly for the well-being of her grandchildren — a source told Radar Online, "Tori always figured that if she got in real trouble she could turn to her mom [...] Candy pays more than $72,000 a year for four of the kids to attend a private school. And she will take the kids clothes shopping, as well as help out with dental and medical bills. But when it comes to paying for purchases Tori and Dean make that they can't afford, she's done bailing them out."
Another source told the same outlet that Tori's brother wasn't surprised by his sister's financial issues. He told a friend that it was ridiculous to expect to live the same life they were used to growing up when their father had left her such little money.
The actor wants her children to be financially responsible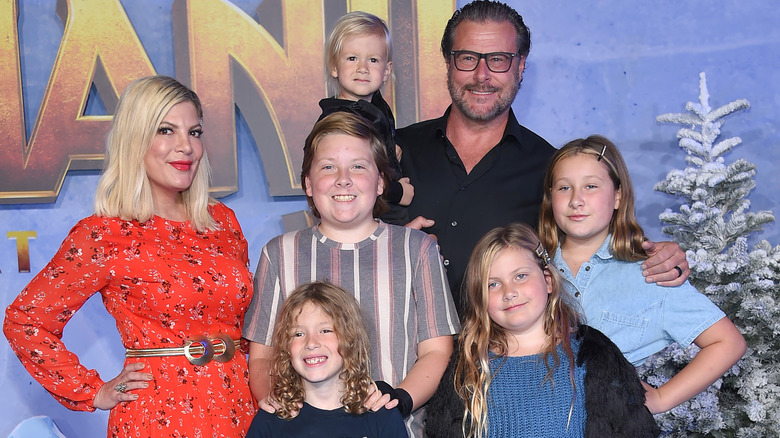 DFree/Shutterstock
Even though Tori Spelling grew up accustomed to a lavish life that her parents could afford, her children grew up navigating the ups and downs of her financial instability. From fancy birthday parties and moving into different homes every other year to living in an RV, they had to experience every struggle alongside their parents.
Back in 2019, she used her YouTube channel to address assumptions people had of her, and one of them was about money. "I had a business manager since I was 18 years old, so I never handled any of my money ... Unfortunately, I never quite learned about money which now raising kids of my own that is so important ... I really want my kids to know about it before they move out on their own."
Hoping to improve her financial situation, Spelling is reportedly looking to do a stint on "Dancing With the Stars."