The Comedian Who Claimed Eddie Murphy Is His Real Father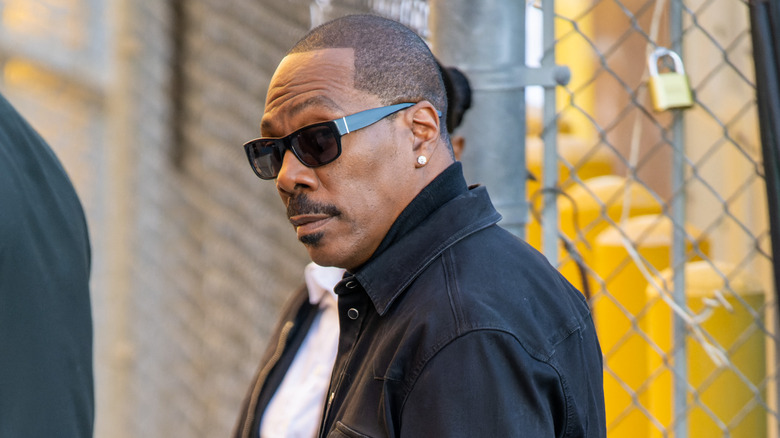 Rb/bauer-griffin/Getty Images
Eddie Murphy may be a father of 10 children, but when one comedian claimed to be part of the brood, the "Beverly Hills Cop" legend was not impressed. So, just who was making the claims — and were there any truth to them?
Despite being an icon in the comedy space, in recent years, Murphy has put his career on the back burner to spend more time with his kids. In fact, during a 2021 interview on the "WTF with Marc Maron" podcast, he shared that he'd made a conscious effort to prioritize them over his career. "If you put your children first, you never make a bad decision," he gushed. He also added that he was close with every one of his children. "I am so blessed with my kids. I don't have one bad seed ... my kids are so great," he said. 
That said, it's also worth noting that Murphy is fiercely protective over who can claim to be a part of his family unit. Case in point: In 2007, he requested a paternity test for Angel Iris Murphy Brown, the daughter he shares with Mel B. Ultimately, it turned out that Brown was his daughter, and an insider has told People that the two became quite close. A few years later, however, Murphy was faced with more paternity controversy — and this time, he clamped down hard. So, who was claiming to be his son? 
Brando Murphy was issued a cease and desist
Back in 2012, Thunderhouse Media debuted "Sons of Comedy." The show included Mason Pryor — Richard Pryor's son — and Brando Murphy. As was pointed out by Shadow And Act at the time, it wasn't clear how Brando fit into Eddie Murphy's family. As it turns out, he didn't — and Eddie was furious Brando had insinuated anything to the contrary. 
In January 2014, TMZ revealed that Eddie's legal team sent Brando a cease-and-desist, calling him out for changing his last name, seemingly to insinuate that they were father and son. Brando's real last name? Robinson-Poitier. The misleading name change coupled with his stint on "The Sons of Comedy" weren't the only things he'd been accused of, though. He was also said to have shown up at Eddie's favorite coffee shop to lament, "My father won't talk to me!" Speaking to TMZ of an interaction they'd had in the same coffee shop, Brando said Eddie had seemed tense. We find it hard to imagine why.
In another interview about the situation with HipHollywood, Brando confirmed that he had no links to the "Shrek" voice actor. "No, Eddie is not my father. I know I look like him, but no," he said animatedly. Granted, he immediately followed up with an ambiguous statement. "He said he ain't my daddy, and we gon' keep it like that," he quipped. He also used several of Eddie's facial expressions throughout the interview — a solid approach to denying everything. 
... then Brando sued Eddie (and several others)
As TMZ reported, from the moment Brando Murphy received his cease-and-desist, he warned that he'd bring a lawsuit of his own. He made good on that, and the situation became even more bizarre because of it. 
For starters, Brando denied in his libel case that he'd ever said he was Eddie's child. As for the name change, he claimed, "The name Murphy is of Irish decent ... and not exclusive to Eddie Murphy" (via The Hollywood Reporter). What's more, as Brando pointed out in an interview with Bossip, Eddie wasn't the only one on the receiving end of his legal wrath. "There's six people, defendants who are being sued, and I'm suing them because they damaged my reputation, they stopped me from any economical gain," he told the outlet. Alongside Eddie, The National Enquirer and Wendy Williams were also included in the six. 
Unfortunately for Brando, the courts ruled in favor of the defendants, and his attempts at securing $50 million (you read that right) in damages came to naught. Though he initially appealed, he ended up dropping the lawsuit altogether just over a month later. His reasoning? He told TMZ his management tricked him into doing it. Awkward. According to his LinkedIn, today, Brando is still involved in acting and comedy and owns a consulting firm. His bio also refers to him as Brando Robinson. However, he's still listed as Brando Murphy, and in all-caps, too. What's in a name, we guess?