What Happened To Jonathan Scott's Ex-Girlfriend Jacinta Kuznetsov?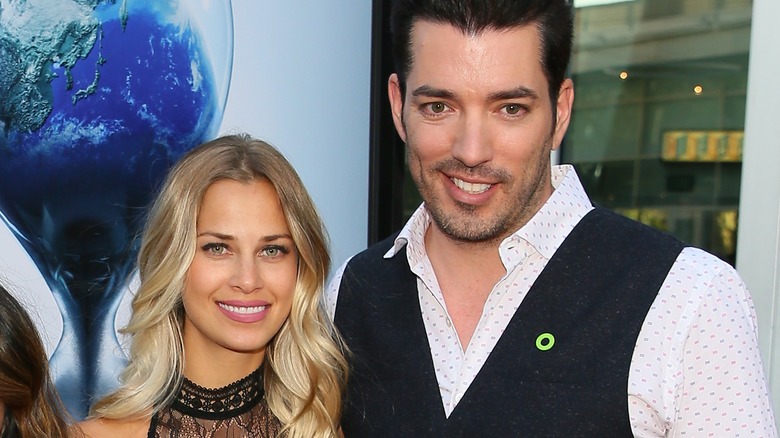 Jb Lacroix/Getty Images
Before HGTV superstar Jonathan Scott got all loved up with actor Zooey Deschanel, he was in a committed relationship with producer Jacinta Kuznetsov, who crushed his heart monumentally (more on this later).
Unlike Scott and Deschanel who fell over heels in love with each other at first sight (sort of), Scott and Kuznetsov had a rocky start. When they first met at a charity gala in 2015, the producer admitted to having "shrugged him off at first," only to give into his charms after he found her on social media sometime later. "It's been happiness ever since," she told People in 2017, with Scott adding that being with Kuznetsov was "the most humbling, unexpected, fantastic place to be in my life" and that he has "never been happier."
However, two and a half years later, the former couple announced they called it quits. In a lengthy post shared on Instagram, the "Property Brothers" star wrote: "Sometimes life takes you on unexpected paths and those paths aren't always in the same direction. There's no drama or negativity; no jealousy or hate. Not even sadness or sorrow. Our memories are filled with joy and we will continue to advocate for each other as friends wherever we go." It did appear that there was no animosity between the two, but just a few months after the breakup, Kuznetsov revealed that she was tying the knot with her new man.
Jacinta Kuznetsov got engaged to someone else
Only seven months after she had split from Jonathan Scott, Jacinta Kuznetsov surprised fans when she made the revelation that she was engaged to photographer and filmmaker Will Allen, who she apparently knew from way back. It's unclear whether or not they ended up making it down the aisle, as no signs of Allen remain on Kuznetsov's Instagram feed, but at the time, Scott extended his congratulations to his ex, telling Us Weekly that he wishes her "the very best always."
But he later admitted to People that he was blindsided by the news, saying that he didn't anticipate Kuznetsov to move on so quickly. After all, he was still reeling from their split at the time. "I was upset, I won't lie. I was not ready to date. It wasn't even on my radar," he confessed. "But I'm a realist, and I knew that it was not for me to say when and who she would date." Ultimately, he knew that it didn't make sense for them to stay together. "Regardless of what we had, I've come to terms with the fact that we were not right as life partners," he added. "Though we don't speak regularly, we are on good terms and both know we are there if needed."
Jonathan Scott eventually found his match, too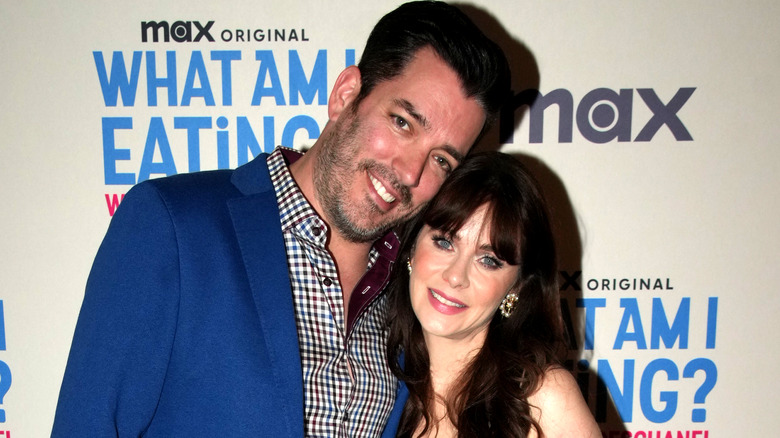 Jeff Kravitz/Getty Images
In his People interview, Jonathan Scott also admitted that he was ready to find someone new, but he had one specific criterion his future lover would have to tick off: "I love to laugh. A sense of humor is really important," he dished at the time. Little did he know that he would meet her a year later, at a "Carpool Karaoke" guest appearance, no less. His "new girl" ended up being Zooey Deschanel. How fitting!
The two hit it off right away, with Scott writing in the newsletter he shares with his twin brother, Drew Scott, that it didn't even take a year for him to realize that Deschanel was "The One." "Eight months into our relationship, I already knew Zooey was the yin to my yang, the PB to my J. We were on parallel paths toward the happiness we'd been seeking our whole lives," he penned. They're so compatible that Scott has even built a rapport with the actor's kids, and even became friends with her ex-husband, Jacob Pechenik, too.
In August 2023, Scott got down on one knee, finally sealing the deal. In the joined Instagram post announcing their engagement, the two wrote: "Forever starts now!!!!"