Tragic Details About Tara Reid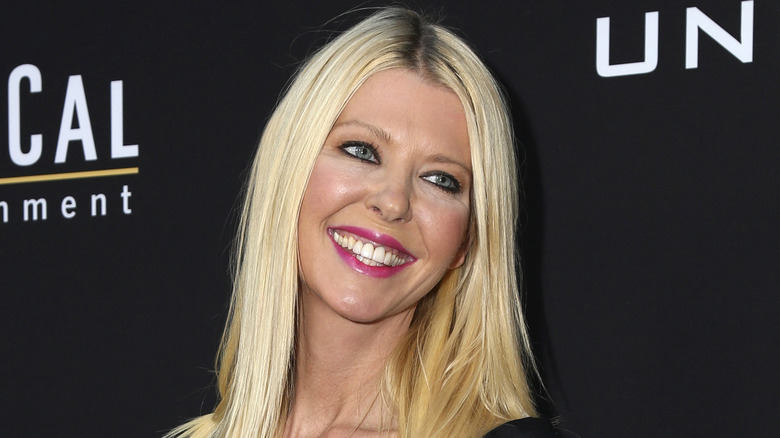 Kathy Hutchins/Shutterstock
The following article includes references to alcohol addiction, body shaming, and allegations of disordered eating.
After a few years of small TV guest roles, Tara Reid's career blossomed when she appeared in five projects in 1998, including the acclaimed film "The Big Lebowski." Really, though, Reid's breakthrough came in 1999, when she shot to worldwide fame after "American Pie" became a smash hit. She continued to book high-profile jobs over the next few years, including "Dr. T & the Women," "Josie and the Pussycats," and "National Lampoon's Van Wilder," none of which did well with critics. Nearly all of her films also bombed at the box office, which may have stalled Reid's trajectory had her offscreen antics not already done that. By 2004, it seemed Reid could only get cast in D-list films, some of which never hit theaters (for example, "Incubus") and one of which ("The Crow: Wicked Prayer") has a shocking 0% critics score on Rotten Tomatoes.
Over the next decade, Reid continued to earn more attention for her personal struggles and reality television appearances than for her acting. Save for "American Reunion" in 2012, she did not appear in anything noteworthy until 2013's "Sharknado," which was essentially so-bad-it's-good fun that it became a cultural phenom. And though she has continued to be a little messy here and there — like that infamous "Today" interview or that time she was allegedly kicked off a plane, both in 2018 — Reid seems fulfilled in her life today. Her career could still use a boost but, to be fair, Reid's life has not always been smooth sailing. Here are some tragic details about Tara Reid.
Both of her engagements ended without a walk down the aisle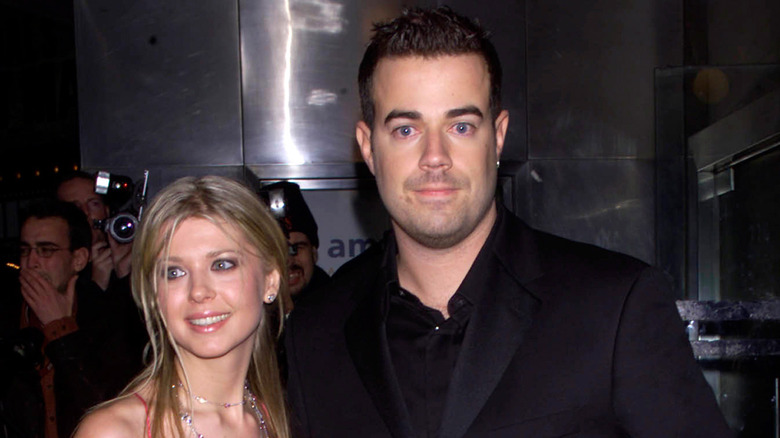 Featureflash Photo Agency/Shutterstock
Tara Reid has never been married — despite once fibbing about getting officially hitched (more on that later) — but she has been engaged. In fact, she has been engaged two times that we know of, first to Carson Daly and then to Michael Axtmann. Though they were together decades ago, many still associate the actor with Daly, whom she initially met at an MTV event in Cancun. The pair got engaged only seven months after their 2000 meeting and initially had a wedding date before Reid cancelled it to film a movie. The wedding was never rescheduled, as the pair separated in mid-2001. 
"I lost my appetite — I was numb," Reid told CosmoGirl of the split (via People). "I literally thought I couldn't breathe. ... Every restaurant, every food, every song reminded me of him. I'm okay now, but there are times I definitely miss him. ... I've never had my heart broken before."
Years later, Daly told Elle that Reid's partying and desire for celebrity ended the relationship. "The Voice" host is now married to Siri Pinter, who worked as a writer's assistant on his late-night show and is perfectly happy behind the scenes. As for Reid, she got engaged again in January 2010 when internet entrepreneur Michael Axtmann proposed, and within months, called off their planned wedding. Reid then had a string of boyfriends before meeting her current beau in 2019. She and boyfriend Nathan Montpetit-Howar live together in Los Angeles, but as of this writing, there has been no engagement.
Tara Reid regrets her reality show Taradise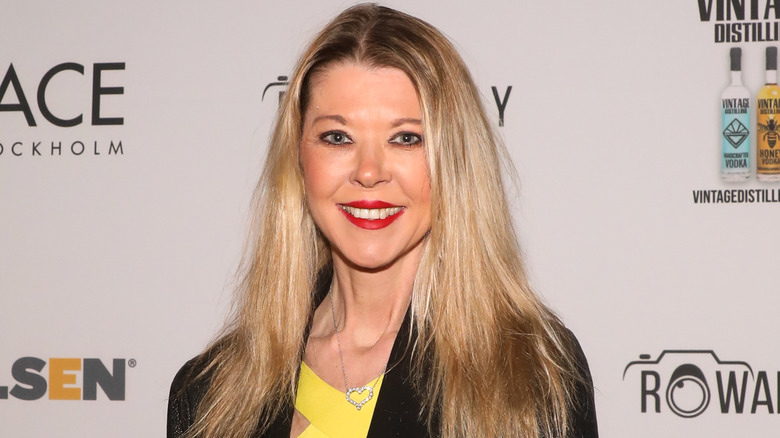 Paul Archuleta/Getty Images
Tara Reid's acting career had slowed by the time she took her first big swing at reality television, although she did not originally sign on for that. Fresh off a failed television pilot, Reid agreed to host the E! show "Wild On..." — which had been on the air since 1997 and had cycled through hosts such as Brooke Burke and Cindy Taylor. No host lasted an especially long time, but the basic premise of the show — the host travels to new places and highlights things like the food, culture, and nightlife — allowed it to live on all the way until 2009. Reid technically never ended up hosting "Wild On..." though, because the producers changed the name to "Taradise" and rebranded the show as a docuseries shortly before it aired. She once dubbed it "probably the stupidest thing I ever did" to Us Weekly (via CBS News), adding, "I didn't know it was going to ruin my career."
"Taradise" only lasted a season, but Reid considers it a turning point in her career — and clearly not in a good way. Though she still went to different places to eat and party, it became about Reid's antics rather than a travel show. "That's where, really, I think the party girl image came," she told BuzzFeed News. "I didn't realize that would actually hurt me. I thought it would be fun." Though that line of thinking seemingly erases some of the truth, since the pre-existing tabloid coverage of Reid partying had already given her that title, the show certainly didn't help.
The actor checked herself into rehab in 2008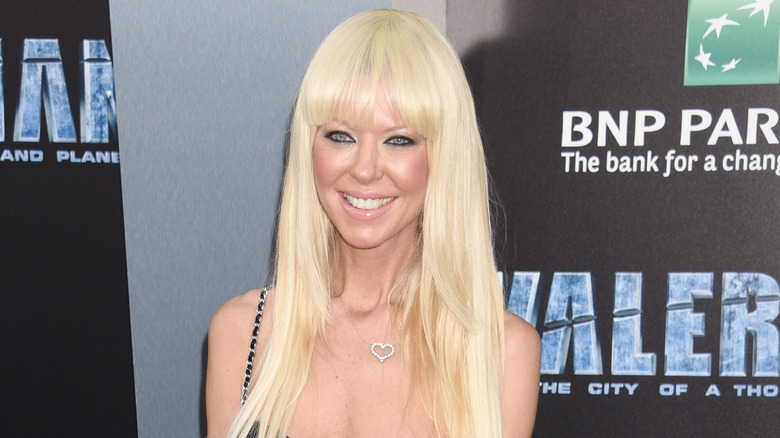 Ga Fullner/Shutterstock
It is an unfortunate fact of life that people go in and out of rehab all the time, but when the average person does it, they are typically able to maintain a shred of privacy. That is not the case for celebrities, who are followed to treatment centers and whose every move is dissected with a fine-tooth comb. Even before she went to rehab, Tara Reid's use of substances was being mocked by pretty much everyone. For example, a 2007 article from TMZ had the deadline, "Tara Reid — Train Wreck: On The Party Train!" — and that is just one instance of the ridicule she unfortunately faced. As a culture, we have gotten slightly better at treating celebrities with dignity since the aughts, but not to the point where it is not still an issue. The tabloids, in particular, can be ruthless to people like Reid, who they deem a joke and therefore unworthy of respect.
Reid checked herself into Promises Treatment Center in December 2008, despite having previously said she did not do drugs and was only a casual drinker. At the time, insiders told People magazine that she entered rehab for alcohol misuse, and that her alleged erraticism when drunk was hurting her relationships with friends and family. Reid painted a similar picture when she spoke to In Touch the next February. "The hardest thing was walking through the door for the first time — finally admitting that I had a problem. I had been in such denial," she said, adding, "Rehab saved my life."
She's allegedly relapsed more than once (and the paparazzi reveled in it)
Markus Wissmann/Shutterstock
As much as we love to see our favorite stars do well, we as a society also revel when others fall down. It's an ugly reality that scandals — affairs, divorces, lawsuits, misconduct, and the like — draw far more eyeballs (and therefore make way more money) than any positive press. So, we can't really blame the paparazzi for documenting the instances where Tara Reid has fallen off the wagon. What we can blame them for is the nasty way they delighted in it, which only encouraged audience members to do the same. Media framing 101, people! Looking back at these instances, we cannot help but feel awful for Reid, whose very public struggle to maintain her sobriety seemingly spanned years.
It was in 2013 that the first big alleged relapse occurred, or at least the first one documented by TMZ. Reid undoubtedly appears inebriated in the video clip, but they made it a point to allege she could "barely stand" and utilized her drunkenness as a headline punchline. TMZ did a similar thing in 2015 when Reid reportedly went with a stranger she met in an airport to get a tattoo on his arm. Reid didn't get a tattoo, but the headline still referred to "getting wasted" and the story referenced her having some drinks on the flight. Other outlets similarly joked about photos of her "double fisting wine bottles" in 2014, or reported on the non-story of her missing a flight in 2016 because she was allegedly drinking at the airport bar.
Tara Reid was bullied by the media for years, almost for sport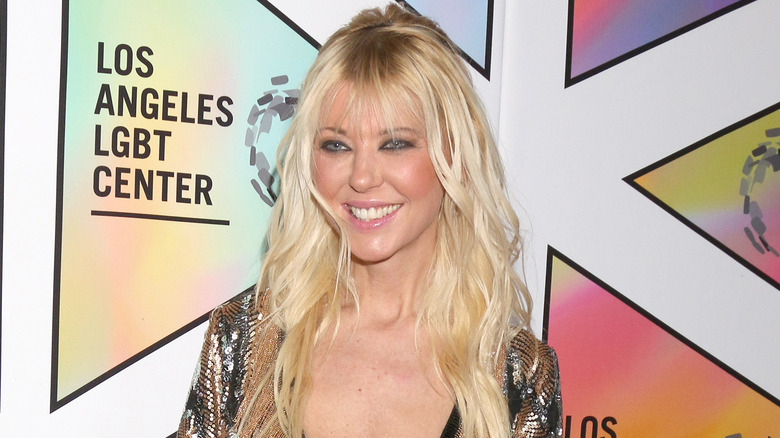 Kathy Hutchins/Shutterstock
We've already talked about how the media reacted when Tara Reid seemingly fell off the wagon in the past, but her relapses are far from the only way they targeted her. We would go so far as to say the media bullied the star, particularly in the early 2000s when tabloid journalism was at an all-time high. There's been a whole movement against blogger Perez Hilton, whom Reid has cited as one of her worst bullies, but however loathsome he appeared to behave, he's reflective of culture at that time (his site was incredibly popular, after all). Reid was given horrible nicknames, mocked for her partying, had her body continuously scrutinized, and had her embarrassing moments become top stories. Reid has named the media's obsession with her as a key element in her career downturn.
"I feel like a cartoon," Reid told TIME in 2014. "Because that's what sells. Let's write a bad story about Tara. Let's show her drunk. Let's show a party girl. Let's show the worst situations." A good example of this are the videos gossip sites used to post of Reid drunkenly leaving clubs or the one where she waited in line as Paris Hilton and Kim Kardashian walked in the door without trouble. Another is simply the way gossip sites and popular bloggers talked about her, with disdain and at times even disgust. Lainey Gossip was admittedly so mean that they even attached disclaimers to some of their old articles (props to Lainey Lui for not just deleting the content, though).
She was mocked after experiencing an embarrassing wardrobe malfunction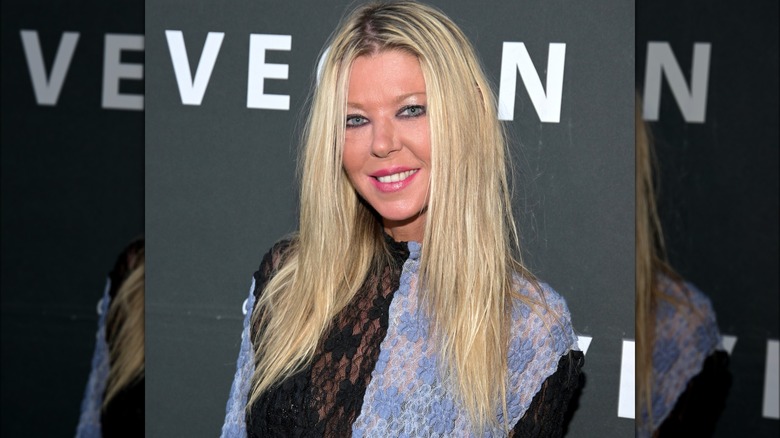 Michael Tullberg/Getty Images
Speaking of media bullying, nothing compares to how grossly Tara Reid was treated after an unfortunate wardrobe malfunction in 2004. Reid posed on the red carpet for Diddy's birthday party, unaware that the strap of her dress had fallen down, exposing her breast. As a publicist ran over to help the oblivious actor, paparazzi allegedly high-fived each other, displaying no regard for Reid's discomfort. Her exposed breast was then mocked by both the public and the media due to a cosmetic procedure that had left her scarred. Most publications picked up the story, but it was the gossip sites and tabloid magazines that went in the hardest. They all ran nasty headlines making fun of Reid's breast, and TMZ even gave Reid the arguably cruel nickname "Franken-nipple."
The incident opened the door to intense ridicule that would have made most people crumble, and Reid was understandably affected by the negative attention and public derision. "I became known as having the ugliest breast in the world. It was all over these [websites]. Millions of them," Reid told "Today" two years later. "I was already dealing with what it looked like. The last thing I wanted to happen was to have the whole world see it." 
After getting another surgery to fix the appearance of her breasts, Reid decided to show off the results in the January/February 2010 edition of Playboy. She cited wanting to show people she looked better as the reason she accepted the offer after years of turning the magazine down.
Tara Reid was ridiculed over another botched plastic surgery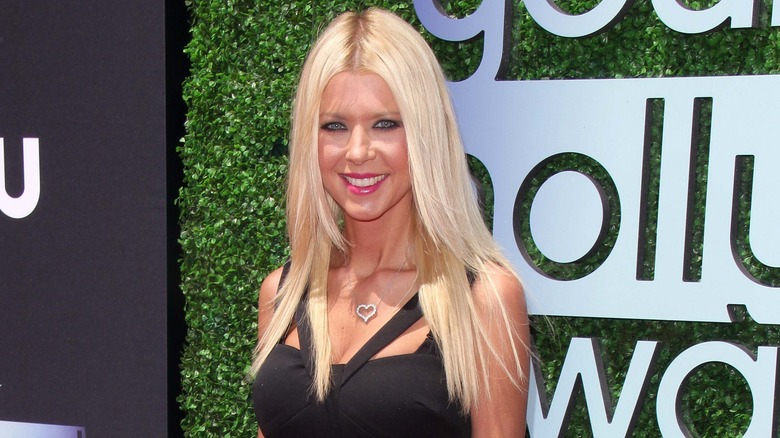 S_Bukley/Shutterstock
In addition to her unflattering breast surgery, Tara Reid also had a liposuction procedure that left her stomach disfigured and led to hundreds of articles detailing exactly how awful they felt it looked, why it looked that way, and basically, how ashamed she should be. Most outlets have become more body positive in recent years, but the basic sentiment at the time was, "How dare she still wear bikinis or show off her belly in any other way?" — and there was very little empathy for Reid. Remember, this was the era of paparazzi taking photos up women's skirts as they exited cars, and Perez Hilton drawing semen on celebrities' faces. Celebrity media may still be problematic — and gossiping about stars' plastic surgeries and dissecting their flaws is still a thing, especially for women — but there's thankfully been some progress.
Reid's liposuction was lumped together with her breast procedure to highlight the way alleged vanity had left the actor disfigured — a narrative that eventually got to the point where you would have thought she was Quasimodo and should hide her hunchback in the Notre Dame de Paris' bell tower. Once again, the gossip websites hit Reid with the nastiest comments. "Before long, the posing turned into some sort of stomach demonstration. It's a ghastly, protruding thing, isn't it? Like it might detach from her and start killing things. Part leather, part plastic, all gross," wrote Lainey Gossip in 2011, in one of those posts that now have a disclaimer about how the site has evolved with the times.
Tara Reid's acting has been continuously derided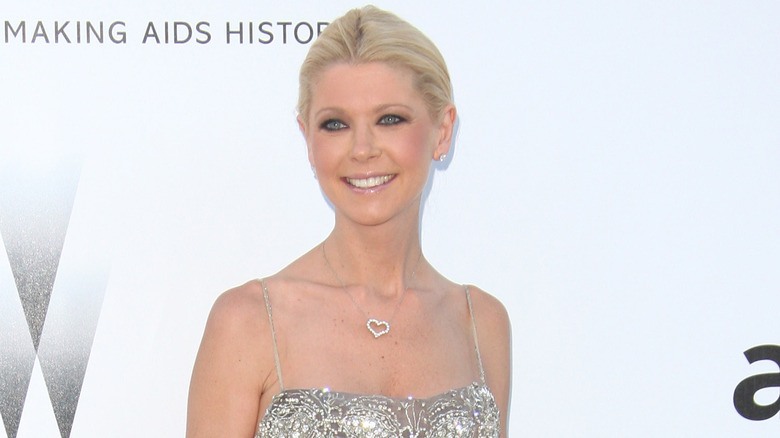 Featureflash Photo Agency/Shutterstock
Tara Reid's first IMDb credit is "A Return to Salem's Lot" — a small horror film that came out in 1987 — but let's discount that movie, given that Reid wasn't even a teenager at the time of filming. Her first film as an adult was "The Big Lebowski," a celebrated Coen Brothers movie wherein she played a trophy wife. She was 21 at the time and, had she continued down a route where she worked with notable directors and esteemed actors, who knows what she could have accomplished. None of Reid's early movies were "Titanic," but she certainly wasn't terrible in "American Pie" or "Cruel Intentions" or "Urban Legend." Heck, she wasn't even bad in most of her other early films, even when they themselves were underwhelming. Take, for example, "Body Shots" or "Josie and the Pussycats."
This is all to say that Reid is not even close to being an especially awful actor, and perhaps she could have grown into a truly acclaimed one had she been given opportunities to grow. She has been nominated for multiple Razzie Awards, sure, but there are far worse actors who regularly appear in mainstream movies. So, why exactly do people make Reid out to be as bad a thespian as the world has ever seen? She has laughed off the Razzies in interviews but has also expressed her desire for more serious roles. 
"It's not that I can't do them," she told TIME. "The studio says no. If I got the opportunity to do them, I can deliver."
The star faced nasty rumors she was experiencing liver damage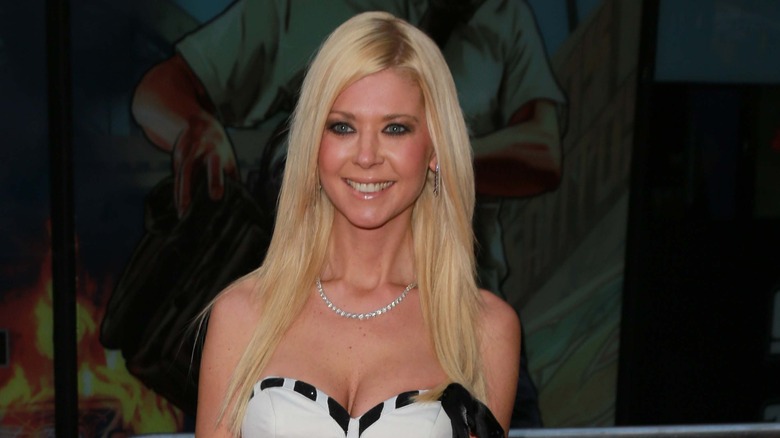 S_Bukley/Shutterstock
Every celebrity is subject to rumors from time to time, but some end up facing more than their fair share. If they're lucky, most of those will be harmless or even positive rumors, but that's a rarity reserved only for the most beloved celebrities. Many stars who are the frequent subjects of tabloid journalism are met with a near-constant stream of negative stories, and a fair number of these stories lack validity. It is not uncommon to see "insiders" or "an anonymous source" quoted in celebrity media, which gives the reader no way to authenticate the informant. But it's not like readers are typically doing much fact checking anyways, and a good portion of the audience will most likely believe what they read without hard proof.
Some unsubstantiated stories inevitably turn out to be true, but that's not always the case. Tara Reid has been subject to a lot of unpleasant rumors, but there's one that stands out as being especially cruel given her struggles with alcohol. In 2007, a few outlets reported that Reid was in the hospital because of liver damage caused by her drinking. Reid had to deny the claim publicly, per OK!, despite the story being mostly circulated by less-than-credible blogs (many of which don't even exist anymore). One newspaper detailed the specific hospital, the length of Reid's supposed stay, and the testing conducted — without one cited source. 
Even if the story were true, to report on someone's private medical information they haven't already shared is beyond gross.
Did Tara Reid fake a marriage just for the attention?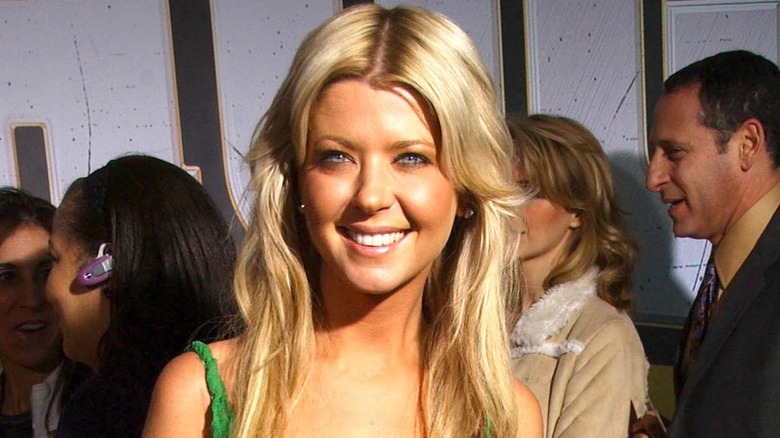 S_Bukley/Shutterstock
This is a confusing one, so bear with us here. It's baffling that someone would pretend to be married, at least without a plan for how to make it believable. It's a lie that doesn't really work without both parties and a whole team in on it (tell your publicist!). The situation was extra confusing because it was initially unclear who Tara Reid supposedly married when she sent out a tweet announcing her nuptials in August 2011. "Just got married in Greece I love being a wife!" she wrote. That was her fifth tweet on the matter, with the first one announcing an engagement and the second one, two hours later, declaring she was married. The media immediately pounced on the story, with Reid's uninformed representative confirming to People that businessman Michael Lilleund was the groom.
And once something is in People, everyone else picks it up, so Reid had to clarify (via Twitter) that it wasn't her ex, Lilleund, whom she married, but new boyfriend Zack Kehayov, also a businessman. It wasn't until November of that year that a seemingly inebriated Reid confessed in a TMZ video that she never officially wed Kehayov. "We were never really married. ... No, never legal," she simply said, offering no further explanation. 
Some outlets presumed it may have been for the attention, since odd antics were how Reid seemingly kept her name in the news cycle at the time. We don't know exactly when the pair split, but by March 2012, Reid was telling interviewers she was single.
She was booted from a reality show for faking another relationship
Kathy Hutchins/Shutterstock
Tara Reid once faked a legal marriage, but that wasn't her only time being untruthful about her love life. In 2016, Reid faked being in a relationship so she could be cast on a reality show and was then expelled from the show when the lie was exposed. While that is the kind of thing we expect from "Bachelor" contestants, it was a low for an actual actor who has appeared in some notable films (even if it had been a while). Reid does not discuss the scandal, according her 2022 BuzzFeed News interview, so we have little to go on — but the facts themselves are not pretty. Neither is the footage from the series, "Marriage Boot Camp: Reality Stars," which painted Reid as an allegedly chaotic and definitely not sober mess.
To get cast on the "reality stars" version of the show, which has been in production since 2014, Reid and Dean May claimed to be an item in 2016. Despite not actually being in a relationship, they fooled people by fighting over things like cheating allegations and personal behaviors. May eventually said, "We're just friends. We're not having a relationship," to which Reid shot back, "I did it for you because you said, 'I just wanna make a little bit of money, and I wouldn't mind the fame'" (via Us Weekly). They knew they were being filmed, so it's unclear if they just forgot or wanted off the rollercoaster, but the disclosure got them booted from the show in the finale.
Tara Reid's endured years of accusations about disordered eating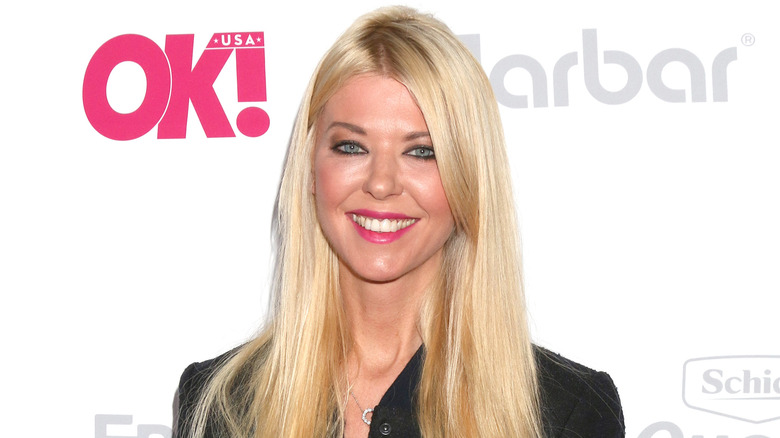 Kathy Hutchins/Shutterstock
There's a theme to many of Tara Reid's lows and that is the presence of degrading and invasive media coverage. One of the big lines of coverage has been Reid's body, and we have already talked about the ways the media referenced her body in relation to her plastic surgeries — but Reid's weight has been an equally large topic. She's been critiqued for being too thin and accused of having an eating disorder for years, and this still happens these days. Social media has only exacerbated things, because now individual citizens can publicly comment on celebrity bodies too (and they do so often).
It's clear from the way Reid hits back at her haters that she understandably takes comments about her body to heart. For instance, after people made negative comments on a 2021 bikini photo, she posted on Instagram again the next day directly calling out the body shaming, but also felt the need to include a new photo to show people "it was the angle" and talk about how much she eats. 
This is by no means new territory for the actor, who in 2017 did a sit-down video interview with the Daily Mail after a particularly unflattering photo of her made waves. "It hurts. It does hurt. And I am here now to stick up for myself and to say this has to stop. The body shaming needs to stop. Leave me alone," she said. "... I am not anorexic. I've never been anorexic, and I don't have an eating disorder."
If you or anyone you know needs help with addiction issues or an eating disorder, help is available. Please contact the relevant resources below: