Inside Elon Musk's Mother Maye's Sad Love Life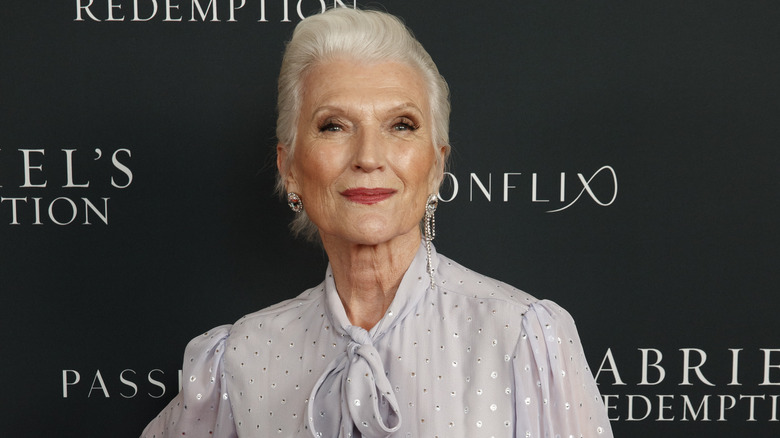 John Phillips/Getty Images
SpaceX billionaire Elon Musk is just as likely to make headlines for acquiring a social media platform as he is for his love life. But while the tech mogul was last married to actress Talulah Riley (as of 2016), he has struggled to find his happily-ever-after since then. Following his divorce from Riley, Elon dated "Aquaman" alum Amber Heard circa 2017. After the pair split, Elon went on to find love with Canadian singer Grimes and is currently dating Shivon Zilis, an executive at his Neuralink company, per People. In a 2017 interview with Rolling Stone, Elon self-identified as a serial monogamist, explaining that he finds fulfillment in his relationships. "If I'm not in love, if I'm not with a long-term companion, I cannot be happy," he said. "Going to sleep alone kills me."
It's safe to assume that Elon has somewhat of an unconventional dating life, and the same can be said of his mother, Maye Musk — though in an entirely different capacity. Maye was married to Elon's father, Errol Musk, for a decade. According to Business Insider, the marriage was an unhappy one, and the couple divorced as soon as they were able, the same year that the Divorce Act passed in their native South Africa. But since splitting from Errol in 1979, Maye has remained single. It's not necessarily by choice either; to hear Maye's story, she's never truly found love or fulfillment in relationships.
Maye and Errol Musk had a troubled marriage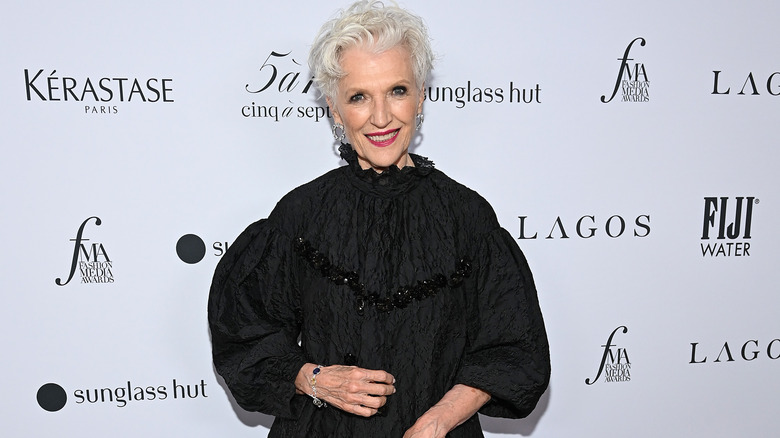 Dave Kotinsky/Getty Images
Maye Musk's most significant relationship to date has been with Errol Musk, and it didn't end well. "The only time I was ever married was in the '70s. It was a period in my life when I was so sad that I turned to romance novels, and they gave me hope," the CoverGirl spokesperson wrote in a 2020 essay for Glamour. However, Maye knew that there were problems going into the marriage, writing in her 2019 memoir "A Woman Makes A Plan" (via Page Six), "I got married to a person who was aggressive, and then he said he would change when we got married, and he got worse." She further detailed their time together as "physically and mentally abusive."
Maye and Errol's son Elon Musk has a troubled relationship with his father and has used harsh words to describe him. "Almost every crime you can possibly think of, he has done. Almost every evil thing you could possibly think of, he has done. ... It's so terrible, you can't believe it," Elon told Rolling Stone in 2017.
But Maye's romantic troubles began before her ill-fated time with Errol. As she wrote for Glamour, "From the time I was 13 years old and first dating, boys would pursue me, and as soon as I'd spend time with them ... they'd dump me. Or they would treat me badly." Ultimately, she believes that she's never been in a mutually loving relationship, and her friends agree that she's a "jerk magnet."
Maye Musk hasn't dated much since her divorce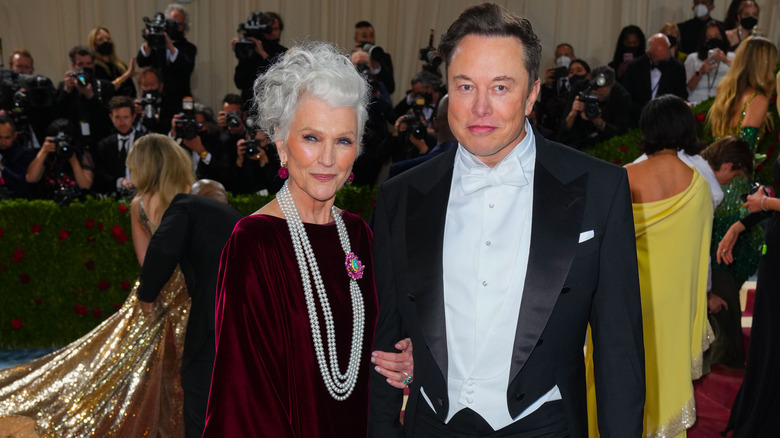 Gotham/Getty Images
Maye Musk's love life hasn't improved much since she split from Errol Musk. After the breakup, she was overwhelmed by the world of dating, as she explained in her piece for Glamour. Acting on a friend's advice, she did her best to put herself out there, but all her dates were subpar. "I remember once, on Valentine's Day when I was about 44, I was supposed to go out with a guy I'd been seeing for a while. We had plans to attend a dinner with six other couples. And that night he called me saying, 'Actually, I'm going to a friend's party instead, so I won't be joining you,'" Maye recalled.
Other potential suitors were intimidated by her appearance, career, and wealth. This isn't a unique situation — celebrities like Katy Perry have previously talked about how men were insecure in the face of their success. But Maye hasn't let her bad luck in the love department get her down. A successful model and dietician, she has a thriving career and a good relationship with her three children. "I've never been happier. ... I'm fulfilled," Maye said.
She appears to be close with Elon and weighs in on his up-and-down romances. Of his first wife, Justine Wilson, whom he married in 2000, Maye is quoted in the book "Alignment" by Walter Isaacson (via The New York Post) as having said, "She has no redeeming feature." OK, at least she has his back!