Here's What Olivia Rodrigo Looks Like Without Makeup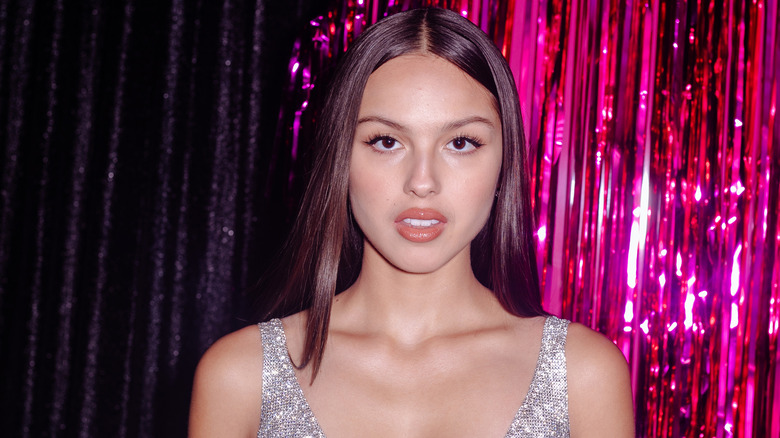 Catherine Powell/Getty Images
It wasn't too long ago that Olivia Rodrigo was a fledgling artist attempting to forge a successful career in music. The "Vampire" crooner started as a Disney darling starring in a reboot of "High School Musical," and like Miley Cyrus and Selena Gomez before her, went on to use her Mickey Mouse-powered clout to advance to superstardom.
Her debut album, "SOUR," was a testament to her singing and songwriting prowess, proving that she can belt out notes like Avril Lavigne and write poignant lyrics, Taylor Swift-style. In 2022, just a month after she turned 19, Rodrigo won her first-ever Grammy. "This is my biggest dream come true," she said on stage.
Rodrigo quickly became the de facto face of the Gen Z population, with her peers pegging her as their generation's It Girl. Teenagers coveted whatever she wore, from her Y2K platform boots to her plaid skirts, down to the lip balm she used. She even became Glossier's first-ever celebrity ambassador, with the brand's creative director noting in a statement that Rodrigo is a "Glossier girl because she is unapologetically true to herself." Her statement holds merit, of course, as the singer is open about insecurities she has about her appearance, all while subscribing to the less is more beauty philosophy.
Olivia believes that less is more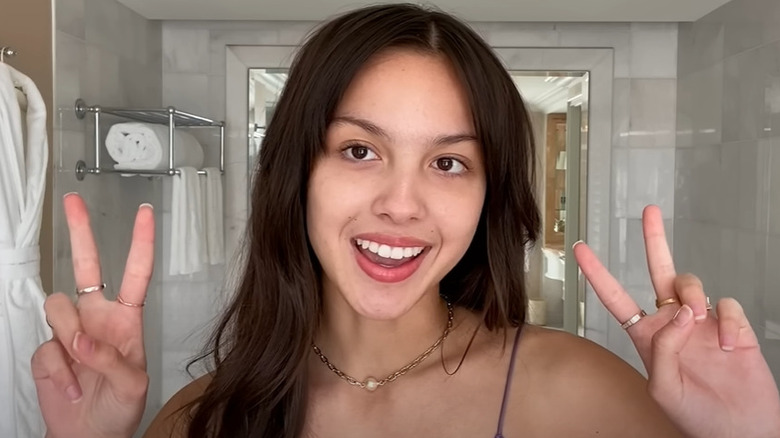 Olivia Rodrigo may often be glammed up on red carpets, but when she's doing the dolling up herself, she prefers to keep things at a minimum. In the beauty routine video she did with Vogue, she said: "I think less is more with skincare a lot of the time."
With Rodrigo being young, frequent breakouts are inevitable (she said she gets bad cases of dermatitis), which is why she has pared down her beauty regimen to just the basics. "My skin is alright. I am a teenager. I am 18 [at the time] so I cannot expect to have perfect skin all the time. It's pretty good, all things considered, but I definitely have my moments," Rodrigo explained. Even her makeup doesn't involve any dramatic looks, although she does love a good cat eyeliner. "I think the biggest thing I've learned in makeup is less is more, especially with me. Just accentuating your natural features is always the move and always when I feel the most confident," she added. We stan a girl who is confident in her own skin!
Even her makeup artist is careful about not altering her look too much in public outings. "Olivia has such cool, individual style, I wanted to keep that freshness and youthfulness, but have an edge to it," Lilly Keys shared to the outlet, adding that this way, her fans will still be able to easily replicate her looks all on their own.
But she's also not afraid to experiment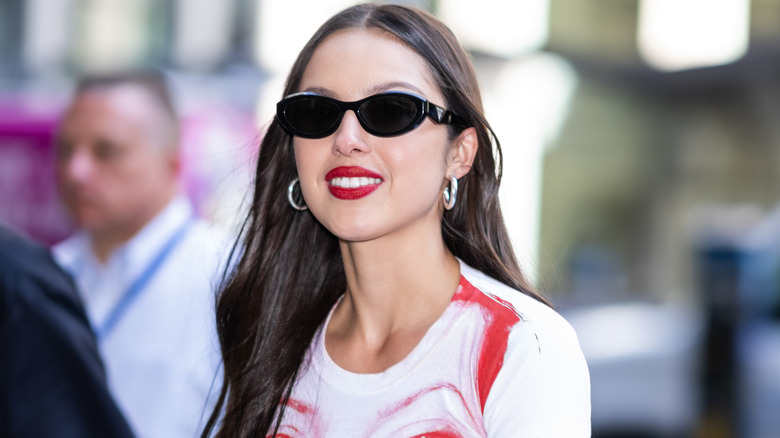 Gotham/Getty Images
The Olivia Rodrigo of today is one who oozes with confidence, but it took years before she got to this point. Speaking with The Guardian, the "Driver's License" singer, who is Filipino-American, admitted that she didn't feel attractive growing up because she lacked the physical qualities of people the media deemed conventionally attractive. "It's hard for anyone to grow up in this media where it feels like if you don't have European features and blond hair and blue eyes, you're not traditionally pretty," she said. "I felt that a lot — since I don't look exactly like the girl next door in all these movies, I'm not attractive. That actually took me a while to shake off. It's something I'm still shaking off now."
Her approach to beauty now has changed, and just like she spills her guts in her songwriting, she has learned how to use beauty as a medium for self-expression. "I'm still figuring out what works for me," she told Vogue. "I imagine that'll continue to change as I get older, but that's what's fun about it — getting to grow up with your beauty, style, and routine, and, most importantly, having your own relationship with it and not worrying about what others say or think." Atta, girl!