Melissa Gilbert's Son Dakota Is All Grown Up And Lives A Normal Life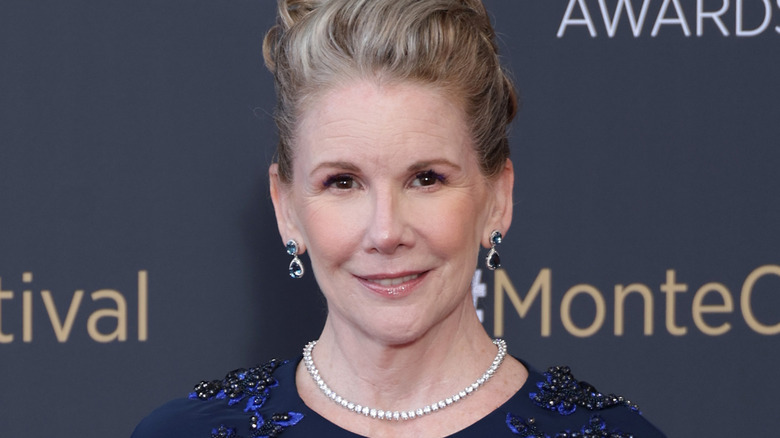 Pascal Le Segretain/Getty Images
Melissa Gilbert is a proud mom of seven. The "Little House on the Prairie" star gave birth to two sons, Dakota Brinkman and Michael Boxleitner, from her first two marriages, per Closer Weekly. Over the course of her three total marriages, she also became a stepmother to five children. The actor took to Instagram in September 2020 to celebrate International Son's Day. While posting photos of herself with her four sons, Gilbert tagged the accounts of all of the boys except Brinkman, whom she noted "doesn't do the social media thing." Gilbert wrote, "How blessed I am to have the four generous, kind, funny, talented souls in my life." 
Gilbert described Brinkman as "compassionate, funny, loving, kind and fiercely loyal" in a 2020 Instagram birthday tribute. Back in 2016, Gilbert announced via Instagram that Brinkman and his partner, Marissa, had become engaged. The couple went on to get hitched in 2018. Gilbert expressed her excitement in December 2020 as she announced that Marissa was pregnant. "There's a third person in this picture ... my GRANDDAUGHTER!!!" Gilbert wrote on Instagram alongside a photo of Brinkman and Marissa. In the past, Brinkman has dabbled in entertainment.
Dakota Brinkman mostly stays out of the Hollywood spotlight
Melissa Gilbert's eldest son, Dakota Brinkman, is now an adult father of one. Gilbert stated on social media that Brinkman and his wife, Marissa, were soon going to be welcoming their first child, a daughter, in June 2021. "Any day now. #newgrandbaby #grandaughteriscoming #granddaughter #grandma #cantwait #cantsleep #soexcited," Gilbert captioned a photo of the couple. She shared a picture of Brinkman and Marissa's daughter Ripley Lou in June 2022 to celebrate Ripley's first birthday, writing to her granddaughter, "Nana and Papa love you sooooooo much!!!"
In regards to his career, Brinkmanhas taken on three acting roles over the years: young Evan in "Laws of Deception," Chad MacKenzie in "Safe Harbour," and, most recently, James Schenker in the 2016 short "Shay." Aside from this, not much information has been revealed about his professional life. In May 2023, Gilbert wished Brinkman a happy 34th birthday via Instagram. "A sweet, sweet soul and a wonderful husband and father. Being your mother is one of the great honors of my life. I love you!" she wrote. Gilbert is relishing the opportunity to fulfill the role of grandma.
Melissa Gilbert remains devoted to family
Melissa Gilbert has given some updates on grandparenting. For a May 2023 Instagram post, Gilbert showed photos and videos of her granddaughter and Dakota Brinkman's daughter, Ripley Lou, running around the outdoors in a gingham and lace dress. "A late birthday gift from my kids @martobes and Dakota. Apparently, this little apple didn't fall far....." Gilbert captioned the post. Valentine's Day 2023 on Instagram, Gilbert shared a picture of Ripley Lou wearing a dress with a heart print collar, writing, "Ripley Lou- what a valentine!!!"
Gilbert chatted with Entertainment Tonight in May 2022 about having moved away from Los Angeles and relocating to a house in the Catskills Mountains of New York. While Gilbert detailed how she found her residence "very restorative," she also mentioned missing her loved ones. "I miss my mom, and I miss my sister and my nephews, and I miss my kids who live there and my granddaughter who lives there and my girlfriends who live there," Gilbert said. She previously voiced her love for her grandkids on social media in October 2021. "Im madly in love with #ripleylou as I am with all of our grandchildren and grandchildren yet to come," Gilbert wrote beside photos of her and her husband, Timothy Busfield, spending quality time with Ripley Lou. "Im truly having the best time of my life."